One year after raising $1.9M CAD, Byta.com is introducing a complete redesign and enhanced platform.
A stunning brand and product redesign introduce a new look, improved functionality and updated features. Byta continues to innovate, supporting user needs within the audio sharing space.
Byta's redesign results from a $1.9 million CAD funding round led by the Canada Media Fund in 2020. This funding is the first new money in the audio sharing space since Soundcloud over ten years ago.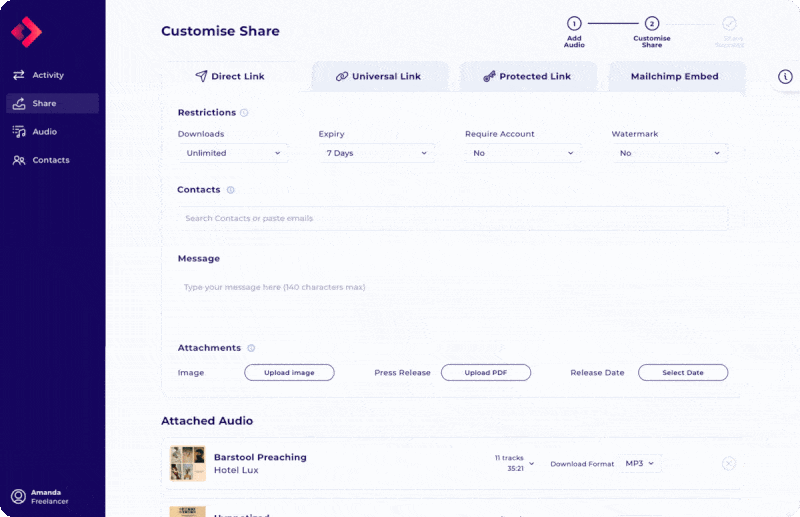 Byta (byta.com) enables everyone to send and receive digital audio clean, simple and securely. Built for everyone working with music today. Byta is unrivalled in taking advantage of audio files' unique properties. Byta reads and writes file metadata, converts file formats and delivers fast yet secure streaming.
With more than 60,000 new tracks being uploaded to Spotify daily, artists and their teams privately share music to build pre-release interest. Privately sending files and streams—tasks repeated millions of times a day worldwide—is incredibly difficult to accomplish efficiently on a desktop. This problem is also near impossible on mobile. Shortcuts and insecure products cause leaks resulting in artists losing control of their narrative. Files are mislabelled and misplaced. Music goes unlistened, and artists remain undiscovered. With this new redesign, Byta has become even more effective in solving these industry-wide problems. In turn, making listening easier while still ensuring unparalleled security.
What is new with the Byta redesign?
"The new, cleaner layout makes the whole Byta experience even easier to navigate. This saves you time when you need to share your music," says Byta Co-founder and Head of Product, Jen Pomphrey. Over a year, with the help of Byta's most dedicated users, the team redesigned the app from the ground up. "A completely new colour scheme, new logo and streamlined features, which of course includes our continued commitment to security", adds Jen Pomphrey.
Marc Brown founded Byta in 2017, inspired by his time as a radio plugger based in London, UK. DJs complained about how disorganised things had become since the advent of digital audio files. Additionally, music was arriving mislabeled and in the wrong file formats. "Music discovery has two layers. The first and most obvious is by music fans after release. However, the second, the discovery of music within the music ecosystem pre-release, was completely broken and needed reimagining," says Marc Brown. Using this knowledge from working in the global music industry for over 20 years, he used this background to develop Byta to respond to these concerns. Specifically, the need for a more effective way to exchange audio files and streams privately. Byta's new redesign redelivers this promise.
More About Byta:
Byta ("Bee-tah": the Swedish word for exchange) is run as a distributed team across three continents. Byta is exceptional in being music's only Freemium Vertical SaaS, a SaaS business focusing solely on the music ecosystem built for music. Byta's users range from bedroom artists to the largest record companies in the world.
Byta also runs #HowWeListen (howwelisten.org), a non-profit dedicated to providing musicians and their teams with the knowledge required to move their careers forward.
About Byta Co-founder & Head of Product, Jennifer Pomphrey:
Jen is a front-end developer and multi-disciplinary designer and has been designing websites for almost two decades. She holds a degree in Graphic Design from the Cumbria Institute of the Arts and moved into digital design whilst working at IPC Media on its groundbreaking publication Wallpaper*. Before Byta, Jen worked at various London advertising agencies, including OutsideLine and Saatchi & Saatchi leading creative for numerous international brands such as Rekorderlig Cider. She then moved into the music industry, working for MAMA Group, rebranding its' music venues and marketing collateral for its major music festivals, such as LoveBox, The Great Escape and Wilderness Festival.