Embeddable Audio Player: add audio to your website
For Byta Creator, Freelancer and Teams Plans. Securely add audio to your website using Byta's new Embeddable Player feature. Create a simple Embed by copying a few lines of HTML and dropping it into a web page you control. Limit to stream-only or share downloads in lossy or lossless file formats and track stats. Users stay on your website, no need to click away to a streaming platform in order to access the music.
Working in tandem with Byta's Playlisting Feature, the Embeddable Player allows you to customize and showcase audio on any web page: albums, singles, playlists and podcasts. Adjust the size of the Embed to fit your existing web page. Every link in your Embeddable Player is delivered with Byta's unparalleled security. This includes tracking downloads and streams and setting expiry. Embeds also include rich album artwork previews.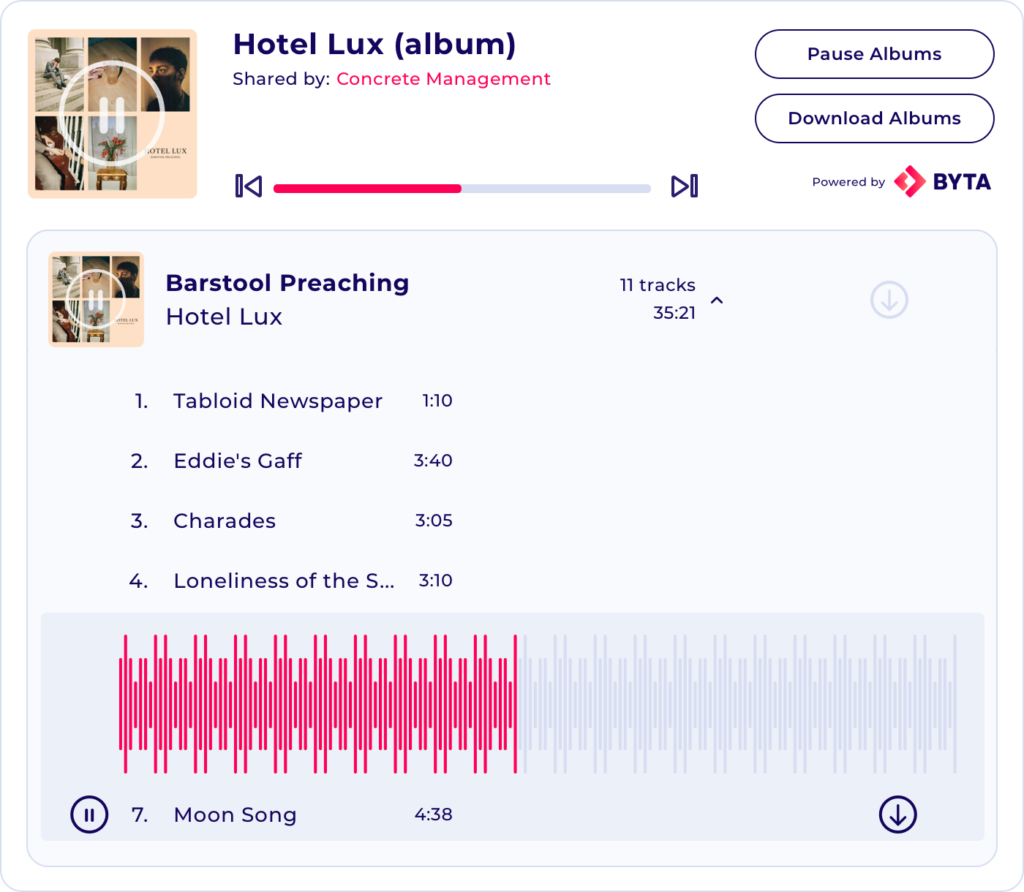 "Artists, labels, managers and publicists come to Byta looking for ways to easily and securely share their audio. Adding the Embeddable Player into your web pages makes securely sharing streams and downloads even easier," suggests Byta founder Marc Brown.
Quickly build an Embeddable Player the same way you create a Universal Link on Byta. Then, on your Activity page, click the "copy embed" button then drop your Embed code into a web page you control. Read more about embedding audio on our Knowledge Base 
The Embeddable Player allows you to share your audio as a stream or download on a website you control, confident that the music is secure and will be heard. It's a great way to promote your music and highlight singles, albums or playlists.
More About Byta:
Byta ("Bee-tah": the Swedish word for exchange) is unrivalled in taking advantage of the unique properties found in audio files. By simplifying the reading and writing of file metadata, conversion of file formats and delivery of fast yet secure streaming, the platform enables everyone to send and receive digital audio in a clean, simple and secure way.