Korie is a lawyer with experience working at the biggest law and professional services firms in Nigeria. His current endeavors at The Plug involve communications, building marketing campaigns and creating viral moments for clients by leveraging data and social media. Prior to The Plug, he founded one of Nigeria's biggest music-focused publications — TXT Mag.
Who are you? Where do you work?
Hello! I am Samuel Korie. I work at The Plug Entertainment in the Communications and Marketing team. My job involves building and deploying rollout plans for clients, ensuring that the firm's messaging across multiple channels has the right brand voice, and coordinating influencers and external partners on campaigns and projects. My work also overlaps with and supports the Plug Live and Plug Music teams.
What are you currently listening to?
Currently gassed about TMXO's 'Monica'. The song was released by The Plug's music distribution business and I'm loving how the artiste/producer is marketing the release through relatable content and memes. I also have 'Blessings' by Fridayy and Asake on rotation. I'm excited about the record because an American artiste is leveraging data in an attempt to penetrate the Nigerian market. Plus extra points because the genius behind the boards, Magicsticks, is a client.
Give us a small insight into your daily routine…
These days, I wake up at 7:30/8am because we operate a hybrid system and work timelines are flexible. From the time I conclude my morning routines till I get to the office, I'm typically responding to emails, and texts, compiling execution summaries or analysing dashboards. However, as we work in an extremely dynamic industry, things change pretty quickly. My job revolves around creating options through which our business can react to or create these changes.
How Technology is Revolutionising Afrobeats…
Technology has always been with Afrobeats, and for every single moment in history where this gift from Fela has transcended our borders, somehow, technology made it possible. Thinking carefully one recalls key moments like, 2 Face's 'African Queen' becoming the earliest face of the Afrobeats movement internationally, Burna Boy's never-ending momentum from 'Ye' off a search query coincidence on streaming platforms, Davido's 'Fall' becoming a crossover hit, CKay's 'Love Nwantiti (Ah Ah Ah)' becoming the Despacito moment for Afrobeats, even more recently, Tems and The Leading Vibe receiving international acclaim and multiple co-signs from the biggest stakeholders in international markets. Interestingly, these highlights and several more can be chalked down to the overarching influence of technology and the advancements of the last 20 years.
One of the fruits of technology within the context of Afrobeats is data. The full cocktail of marketing is now data backed. This has been a blessing to independent artistes, their teams and niche creators. Technology has been instrumental to marketing efforts for live events and tours within the Afrobeats space. Data backed business decisions have ensured that even rising acts can sell out venues in the most obscure corners of the world! The results can be seen in many underdog success stories like Omah Lay and his triumphs from the pandemic year and rapper, BlaqBonez leveraging TikTok and relatable content to score a series of hit records, sell out a headline show in the heart of Lagos and bag a number of brand sponsorships. From larger decisions around DSP support, ad placements on music marketing campaigns and playlisting to even smaller branding decisions like what emojis an artiste uses on social media, or typefacing on media assets, technology is helping the Afrobeats community reach levels previously unfathomable.
Tech's impact on Afrobeats has also democratised opportunities and made it more lucrative than ever. It has effectively cut out the middleman. Producers, songwriters, instrumentalists, A&Rs, distributors and artistes can collaborate globally without the need to travel vast distances. Payments for services can be effected without excessive bottlenecks and label bureaucracy. The only recourse to labels within the current ecosystem is access to funding, this is perhaps the final frontier. For artistes and producers, investment is simply not decentralised enough. However, when deployed correctly technology can become the most important tool in the arsenal of an unsigned artiste frequently highlighting key opportunities for growth.
Interestingly, it has not always been blue skies and daisies for technology's impact on Afrobeats. The bloodlust for streaming numbers and the need to highlight opportunities for growth have given rise to a streaming farm epidemic within the Afrobeats scene. In an industry where numbers shape the narrative, gaming the system is now somewhat commonplace. Streaming farms are not a standalone problem as even social media followers, likes, comments and retweets are frequently purchased by artistes and stakeholders in a bid to secure more commercial appeal. While some observers would argue that it is the price of advancement, it is impossible to discount how technology can be leveraged insidiously.
Technology has set Afrobeats off to a flying start. However, while technology has influenced the growth of the genre, there is no questioning the fact that it will play an even bigger role in shaping the creative industry. From a purely marketing and communications standpoint, technology remains Afrobeats's most powerful tool for exporting its most resounding success stories globally. For a sound with its roots in the world's poverty capital — we are witnessing history being written in very rich colours.
Where should readers go to find out more? Any further reading or digital gurus to recommend?
For more information on tech's influence on the genre: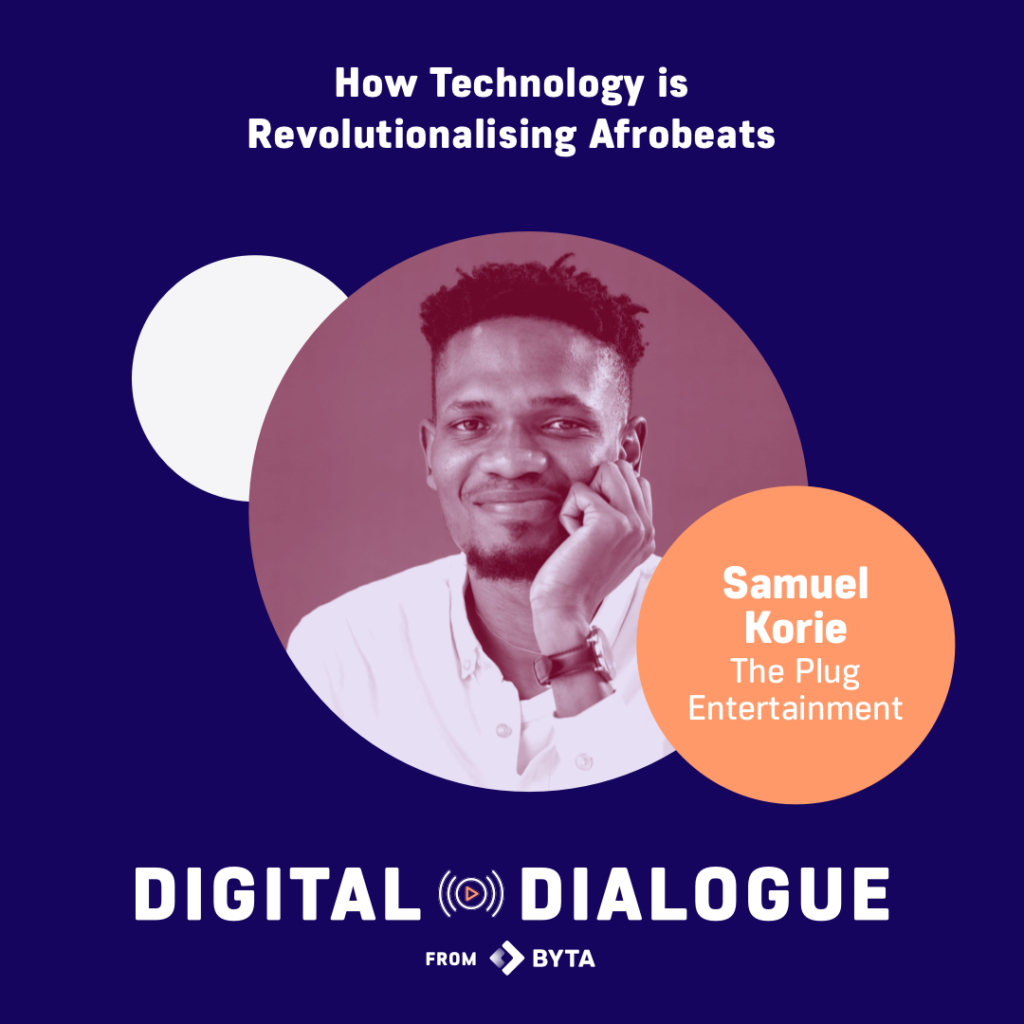 Thanks for talking Afrobeats as part of Byta's Digital Dialogue series, Samuel!