Jamie Ford is part of the team at Byta / byta.com. As Artist & Label Services, he's in constant dialogue with individuals and teams across the global music ecosystem - including artists. With work spanning across artist management, live promotion, label management in addition to his work at Byta, Jamie understands the importance of metadata.
Metadata in digital audio files. What is it?
Metadata is the information embedded into the audio files themselves. On a basic level it works to make it easier for people to browse and find your music. It is the identity of the individual tracks and album. This information attributes the music directly to the artist(s) and release, allowing further discoverability. Ultimately, it is essential for artists who want their music to be played; be it by fans or media such as radio.
Metadata is essential for different reasons at two specific stages:
Pre-release
Post-release.
In this article, we will talk specifically about "pre-release"…
Why should we care about Metadata?
Inputting the correct metadata on your music/audio files is fundamental for several reasons. There are likely even more reasons than described in this blog post, but these are what we deem to be the most important.
The pre-release process looks different for everybody – but chances are, the two key parts of the pre-release timeline are:
Sharing between collaborators during the creative process. (i.e. producer, fellow band members, mastering, mixers)
Sharing with the wider industry and external partners in the build-up to release day. (i.e. journalists, media, PR, radio, manager, record label, publishing & sync)
In both circumstances, the recipient needs to know exactly what they are listening to. During the creative process, that likely means going beyond just the song title and artist name. Here, metadata might even help you to stay organised during communication and revisions. Is it an unmastered version? An early mix? Or the final audio, all mixed and mastered – ready for release? All of this information can be tagged using metadata.
So, the information that gets pulled into iTunes when you download and then play a track – that's the metadata. This can include the artist name, song title, album title, track numbers, album artwork* etc.
*Only applicable for certain audio file formats. For instance, .wav files do not hold artwork in their metadata… more on that below!
What are the common problems?
Here is a common sight when people first upload music to their library. Whether it's their own or downloaded from someone else's share:
A title, stamped with the date it was mastered or mixed, but no artist name, album name, artwork… nothing! (Note for the reader: this is a genuine example, sent by an artist who had just received a final mix from a producer)
Now, put yourself in the shoes of someone in the music industry. They receive your audio via email link. Be it from Byta, SoundCloud, Dropbox, WeTransfer or any other file-sharing platform. Then, interested enough to listen to your music before release, they download the audio file(s). (Likely frustrated that they have to download and can't just stream).
First and foremost, once added to their track library, they can't see who the artist is. With many tracks coming their way daily, chances are they've already forgotten who sent the track. Alternatively, a task or distraction comes up. When they head back to their library to listen, maybe they've clicked a different email already, so how will they know whose music that is ever again? Just another unlabelled track due to poorly managed metadata. It stays there with no further listening or worse, heads to their trash. 
What to do? A simple solution…
Byta reads and writes audio file metadata. When you upload music, Byta keeps hold of and displays any metadata already embedded into your digital audio files. So you can see what metadata already exists. Then, you can keep it the same, or edit it.
Anything you add or amend will be the exact information that embeds in the digital audio files (that includes artwork unless it's a .WAV file). So when you upload elsewhere, you can be confident any recipients of your music will see it precisely as you've labelled it. 🏷
You can edit the metadata at any time. Better still, if you've already shared that audio with someone via Byta when you update that metadata, it will update on all other previous shares automatically. No need to share again just because you corrected or updated your audio file metadata.
Once you get into the habit of correctly inputting metadata for your audio files, it becomes a natural routine. Discoverability and organisation will never be a worry. Less confusion and, a quicker workflow; all thanks to good practice. Your manager, label or distributor will love you!
Metadata's relationship with file formats
Let's go back to metadata and audio file formats. How certain audio files hold information differs. This also affects how day-to-day platforms and websites work with your audio files.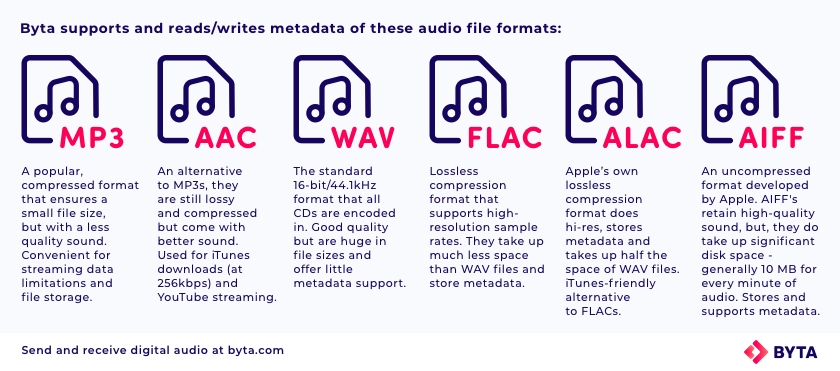 Lossy file formats, such as MP3 and AAC, are compressed to allow for faster sharing and streaming, which does result in poorer audio quality. (Though some streaming platforms now offer streaming in lossless file formats, typically referred to as "hi-res audio"). 
WAV is one of the lossless audio file formats. The main reason for it being used so commonly is that the audio is completely uncompressed. Lossless files are commonly preferred by music producers and devoted listeners, due to their greater sound quality which is a result of being uncompressed. 
Another popular lossless format is the AIFF:
"AIFF was developed by Apple as an alternative to WAV, and although not as widely popular, AIFF files have better metadata support, meaning you can include album artwork, song titles and the like." (What Hi-Fi?)
So why should people be favouring the AIFF over WAVs? The downside of WAV files is the way they handle metadata. Decibel Peak sites: 
"you should be aware that WAV files cannot hold metadata. However, that doesn't mean that we can't "attach" metadata using ID3 Tags". (Decibel Peak)
This is exactly what Byta does. Byta can read and write WAV file metadata – one of the only platforms to do this. So, if you download a .WAV file (with correctly labelled metadata) shared from or stored on Byta and export it to a music library (such as iTunes) – it will appear with the very same metadata. Repeat that process using WeTransfer, Dropbox, Google Drive or other platforms that do not read or write audio file metadata, and you will not see any labelled track information. All that sticks is the file name. That's the benefit of using a platform specifically built for audio – Byta takes advantage of audio files' unique properties. Built for music, yet super handy for podcast producers too. 
So why should you make peace with Metadata?
Getting metadata right pre-release is essential for everyone working with music: from DIY artists and creators to teams working with external partners such as press, radio and digital. I'll sum up the reasons why, as follows:
Discoverability
Getting paid AND played: royalties
Organising your library and catalogue
Good practice & improve workflow: don't rely on others!
So, if you are sharing digital audio files during the pre-release process, making peace with your metadata is essential.
This article covers pre-release metadata: the information that lives directly in your audio files. These are the parts that people will see when you share files directly or through file-sharing platforms. This is not the same metadata that you will be asked for when submitting to your digital distributor. 
Stay tuned for part II on why metadata matters post-release. For now, get yourself warmed up with Striving for Metadata Standardisation with Jessica Von Hertsenberg (formerly of Partisan Records, now of ByteDance).