In the world of music, and now podcasting, few practices are more widespread than the sharing of digital audio files and streams. What follows here are highlights, an overview, from Byta's The State of Music Sharing whitepaper. In addition to some pre and post-contexts.
Byta's mission statement is: to provide artists and their teams with the tools and knowledge needed to move their careers forward.
After months in the works, Byta / byta.com released a Whitepaper on The State of Music Sharing in December 2021. This research report was the first of its kind to examine the current challenges faced daily when sharing digital audio files and streams across the music ecosystem. 
The Whitepaper is authored by Barcelona-based freelance music journalist and editor Shawn Reynaldo, who is also responsible for First Floor, a newsletter devoted to electronic music. The project was developed in partnership with researcher Dr. John Sullivan (PhD Music Technology, McGill University, Canada).
The State of Music Sharing Whitepaper
What follows here are highlights, an overview, from Byta's The State of Music Sharing Whitepaper. In addition to some pre and post-contexts.
In the world of music, and now podcasting, few practices are more widespread than the sharing of digital audio files and streams. Whether you're a professional musician, host, producer, a casual hobbyist or one of the countless people working behind the scenes in the industry, it's a near certainty that part of what you do involves sending or receiving audio files—and in many cases, both.
Objective:
Despite these limitations, there's been little concerted effort to elevate the discussion beyond the level of informal gripes between colleagues. In 2021, Byta conducted a wide-ranging, academically crafted survey focused on musicians and music professionals from around the globe. Collecting and compiling information was our starting point, and by analyzing survey responses, we sought to build a coherent, data-backed snapshot of the larger file-sharing landscape. And after examining that snapshot, we then attempted to properly diagnose some of its inherent challenges.
Survey:
To capture a high-level understanding of common trends and use cases along with more nuanced insights from individuals, we chose a mixed-methods approach that combined quantitative and qualitative methods for data collection and analysis.
Who:
Before we could begin our analysis of file-sharing practices across the music industry, we first needed to know who our respondents were, which is why we began each survey with a series of demographic questions.
Roles of survey participants
Genres:
We also wanted to see if there was any relationship between genre and file-sharing practices, so we asked each respondent to select the primary genres that they work with. The list of genres was sourced from allmusic.com, and respondents were permitted to make multiple selections. (Note for the reader: podcasting was not a choice).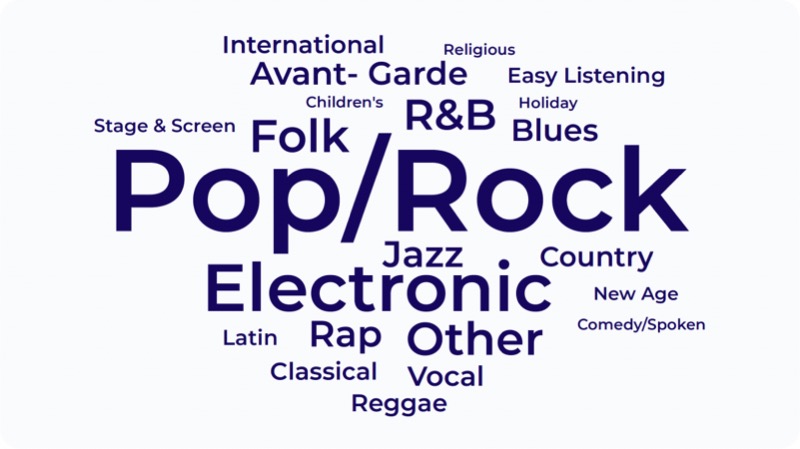 Users:
As we started our analysis, we realized that it would be helpful to group similar users and platforms into larger categories.
Platform Types:
There are dozens of audio file-sharing platforms in existence, several of which have been specifically designed for the music world, but rather than discussing them individually, we grouped them into three distinct categories:
Generic File Services (GFS): Dropbox, Google Drive, WeTransfer and iCloud are in this category.
Artist Streaming Platforms (ASP): Tailored to the music world, these include outlets such as SoundCloud and Bandcamp. Like GFS, they tend to offer both free and paid tiers.
Watermark Promotion Services (WPS): Tailored to the music world, these include platforms such as Disco, PromoJukeBox and FATdrop. They are the most specialised.
Across all categories, survey respondents use an average of four to five different file-sharing services. One survey respondent summed up the situation by saying:
"All of us use everything. If we could just use one service, that would be fantastic, but the world isn't really doing that."
Types of services and platforms used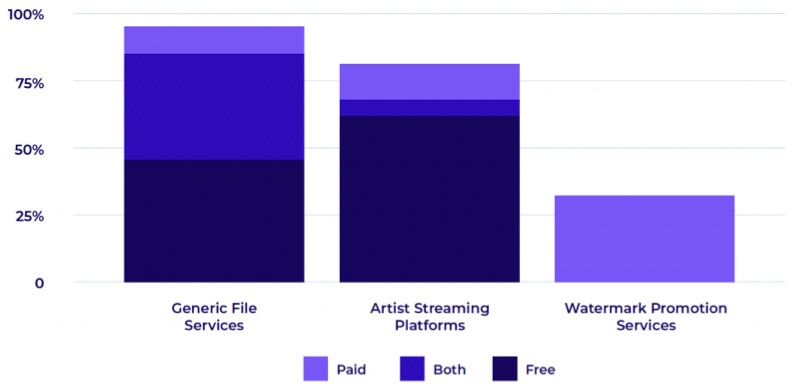 Sending and Receiving:
At the most basic level, there are two sides to file sharing: sending and receiving. And when it comes to pre-release audio files, the responses to our survey make clear that at the individual user level, sending and receiving are frequently out of sync.
Streaming vs. Downloading:
In the past, the act of sending and receiving files was limited to the transmission of literal data files, which then usually had to be downloaded by the recipient. However, the rise of streaming technology (and platforms that use it) has significantly altered the landscape. Audio files can still be sent of course, but they can now also be shared via streaming links, giving rise to a new slate of practices (and preferences) when it comes to sharing music.
Complicating matters further is the fact that even amongst those who prefer downloads, there's no consensus about what file format is preferred. One survey respondent who works in radio states,
"I hate it when people only send WAV files. I'm not your label/mix engineer/ etc. A 320 MP3 is broadcast quality. Please don't fill up my computer with your large files."
Knowing how to proceed is tricky, as one artist who responded to the survey specifically notes:
"I'm often not sure if the receiver would prefer streams or downloads."
Another survey respondent who works as a journalist states:
"Almost everything that comes my way comes in a different form that suits the sender, rather than those receiving files."
Priorities and Frustrations:
Security and storage space are clear priorities, but more than anything, survey respondents want something simple and easy to use. A journalist who completed the survey writes:
"I strongly dislike anything which adds layers to being able to click through and listen."
Sending and Receiving:
When respondents are asked specifically about sending and receiving files, the list of user priorities (and frustrations) expands a bit further, centring around three main issues: stream quality, metadata and security.
Metadata:
Then there's metadata, an issue which generated some of the most impassioned responses to our survey's open-ended questions. One respondent, who works in radio, puts it simply:
"Metadata is often all over the place, and file types are a mixed bag of MP3s, WAVs and FLACs."
Key Takeaway:
The status quo is complicated, to say the least. User behaviour is highly personalized and context-driven. In the absence of standard practices, users are piecing together workflows that fit their specific preferences. They are using a combination of platforms with the exact functionalities they need. Navigating all of this is challenging. This gives rise to all sorts of frustrations but it also creates a potential opportunity. Any file-sharing platform that shows a similar sense of flexibility, allowing users to tailor services to align with their personal needs, is bound to make significant headway in the marketplace.
File sharing affects the entire music industry, and with any luck, The State of Music Sharing Whitepaper will help to kick start a long overdue conversation.