Kristin Grant
Guest Author
My name is Kristin Grant. I am the founder of Westcott Multimedia, a data platform that optimises when to spend marketing dollars for music rights holders. Our mission is to put a thousand marketers in the pocket of every musician on the planet.
Who are you? Where do you work?
My name is Kristin Grant. I am a triathlete and the founder of Westcott Multimedia. I am based between Los Angeles and Toronto. Westcott is a data platform that optimises when to spend marketing dollars for musicians, labels, and investment firms that invest in catalogue music. By bringing the speed of high frequency trading to ad buying in the streaming media market. We monitor millions of artists and launch thousands of campaigns at a moment's notice. Our mission is to put a thousand marketers in the pocket of every musician on the planet.
What are you currently listening to?
Gosh, how much time do we have?
Fat Freddy's Drop "Based On A True Story," 2005 album (listen to the whole thing)
Anything by Burna Boy
Retro Road Trip, Spotify Playlist (also good on a rainy day)
Dinner With Friends, Spotify Playlist (a reliable go-to)
Everything Is Everything, Lauren Hill (got to love the classics)
Loved By You, Kirby (phenomenal developing artist's song that has yet to hit the way it should have, but never say never)
Do It To It, Acraze (when all that is left to do is dance)
Give us a small insight into your daily routine…
I am a product-focused CEO, so I spend a lot of time overseeing the product strategy, building out features for the engineering team, and participating in scrum meetings.
My day is filled with meetings with my team to customer to investor. I love to write, so when I can, I will dive into subjects related to trends or patterns I am seeing in the music industry.
On unlocking access to data in the music industry…
A few weeks ago, Kate Bushes 30 year old song got placed on Stranger Things and got over 100 million streams in just a few weeks.
Surprise spikes like this happen all day, every day, big and small across any artist.
However 85% of the industry doesn't have access to the data that they need to identify that these spikes in streaming are occurring and understand who's paying attention at that moment. So the industry wastes $2B a year on mistargeted ads leaving $3B in annual revenue on the table.
A 2018 report, by Buzz Angle Music Group, now a part of Rolling Stone Magazine, reported that 99% of the 377 billion streams that occurred in 2017 came from the top 10% of songs. In contrast, that same year, 3,500 independent labels on Bandcamp saw a 73% increase in revenue. What this shows is a glaring disparity between what consumers are organically consuming and what is promoted to the masses.
What access to consumer data from streaming will do is provide rights holders the ability to promote their music. In turn it will allow the consumer to dictate what music is promoted to them.
The data required to solve this problem, does not exist on Spotify For Artists because it is not granular enough. It is the difference between saying, "here are the top 10 cities where your song is streamed" versus, your song was streamed by, "80% males in Queens, New York, 25-34, 90291." The specificity and timeliness of consumer data from streaming directly impacts its effectiveness when promoting music.
Our company, Westcott, has worked for years to grant access to and apply this information to promote rights owners. Although access is improving, it is still not rampid. For this reason, today we sell to labels and investment firms purchasing catalog. While our Everest is to provide our product to independent artists.
Once a subscriber has uploaded ad dollars and connected their stream data to our platform. All the subscriber needs to do is turn the artist's Ad Toggle On. Westcott will monitor stream activity across audiences across the globe. When stream consumuption spikes from a particular audience, Westcott will automatically generate ad assets and place an ad on Facebook and Instagram across any artist in the label's roster. The subscriber will then receive notifications like, "Lil Uzi Vert saw a spike of over 300k streams from males 25-34 in Hockenheim Germany, Westcott spent $23 driving an uplift in streams of 700k.
Marketing to your audience when they are listening to your music and paying attention, will increase the return on your ad spend by a minimum of 25%.
For the last ten years, the industry has been hyper focused on the micro-cents paid out to artists and the meta data issues preventing stream revenue from being identified, collected and paid out.This is an incredibly important piece of the puzzle. However, it only solves half the problem.
If 85% of the music industry doesn't have access to the data they need to promote themselves effectively and drive a substantial number of streams. Then improvements in payment tracking are largely going to benefit the ones that have access in the first place.
Where should readers go to find out more? Is there a
ny further reading or digital gurus to recommend?
A few places:
Join our waitlist at Westcott.com
Read more about how Westcott's inception at SynchTank
Learn more about consumer data from streams through Forbes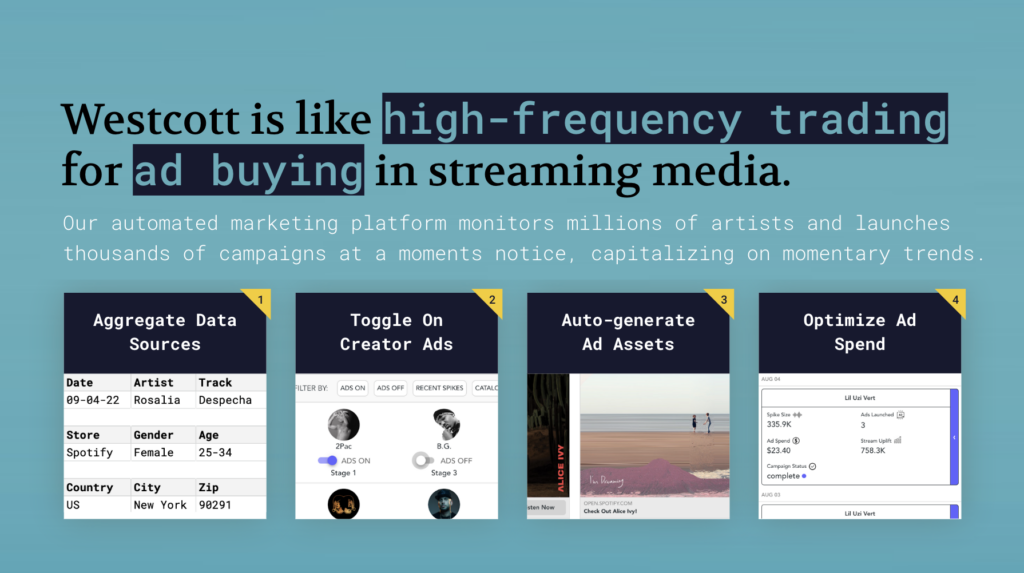 Thanks for being part of Byta's Digital Dialogue series, Kristin!