Digital Dialogue is an interview/guest blog series presented by Byta, and written by friends of Byta. Exploring niche, behind-the-scenes topics within the digital realm of the music ecosystem, Digital Dialogue presents readers with insights into challenges, successes and passion topics in the day-to-day life of those working deep in digital.
"We still very much have trust issues around data transparency. We need clean, accurate, easily transferable data to make the next act truly great."
Who are you? Where do you work?
My name is Britnee Foreman, I work at Exceleration Music Partners as head of data strategy and digital operations. I sit on the board of Women in Music as co-chair of membership and I'm currently based just outside of Los Angeles.
What are you currently listening to?
Leaning into fall chill vibes with Hope Tala, Cleo Sol, and Nai Palm/Hiatus Kaiyote.
Then I throw in some Doechii and Beyoncé to keep it fun.
Give us a small insight into your daily routine…
First thing I do is check emails. I work remote from home so I can do that before coffee to make sure there is nothing urgent or a fire drill as my team is on the East coast. After cleaning out and sorting my inbox, I check in with my team, or our partners, or project group for larger strategic stuff. I have all my meetings front loaded in the week to hope for some deep work time towards the end of the week. After my block of meetings, I take a lunch break, then work on tasks or chase down data for the rest of the afternoon.
Why Collaboration, Automation, and Synchronization of Metadata Matters…
I love where we're going in terms of immersive worlds, decentralised platforms, Web3, etc. However, we are in dire need to attend to some of our data problems that we currently have.
We do not have a universally accepted and practised data standard (I know DDEX is working on it). We have systems that do not allow for ease of transition of metadata instead creating a barrier to getting large amounts of metadata from one system to another. We still very much have trust issues around data transparency. We need clean, accurate, easily transferable data to make the next act truly great.
Music creators getting paid in real time doesn't have to be the far off future, if we invest in getting all of our data right, having the pipelines to make sure accurate data is being exploited end to end, and agreeing (or getting close to agreeing) what data we all think is important and how it should be standardised. It would make coding for this data a hell of a lot easier. We could be building more efficient workflows because everything is standardised.
So, my plea to anyone who handles data, has a company that handles data: let's all get on the same page, please. If you see columns of metadata and want to call it something fun, don't. If you could refrain from storing metadata with the visual breaks instead of the straight data, that would be stellar. Do I have very specific pain points about data, absolutely. I want data to flow through XML, DDEX feeds, and APIs like a bullet train on a straight stretch (fast and uninhibited).
I want us to be able to take our clean and accurate data with all of the appropriate markers and calculate usage and rates in real time. I want to make the number crunching and analytics easy and automated so we can focus on the fun stuff: How do we wow the next generation of fans? How can we further build these music communities? That is where I much rather prefer we spend our collective brainwaves.
Anything that is redundant and repeatable should be automated, but to do that we have to get clean and accurate data at scale. Have I beat this drum loud and frequently enough? I absolutely acknowledge there are lots of new orgs and companies working on this in silos fixing their part of the industry, but none of us are in a vacuum, so we need a consortium of everyone on the same page. I realise, very ambitious.
We also need data literacy education and empowerment so that it can be corrected from inception of work. I think all music creators should be very data savvy about their career, but that's a whole other TED talk. I want a world where musicians and songwriters have equitable and long-lasting careers from their content.
I want the music industry to be insulated against new tech trends and antifragile. I sincerely believe being good data stewards is how we get there.
Where should readers go to find out more? Any further reading or digital gurus to recommend?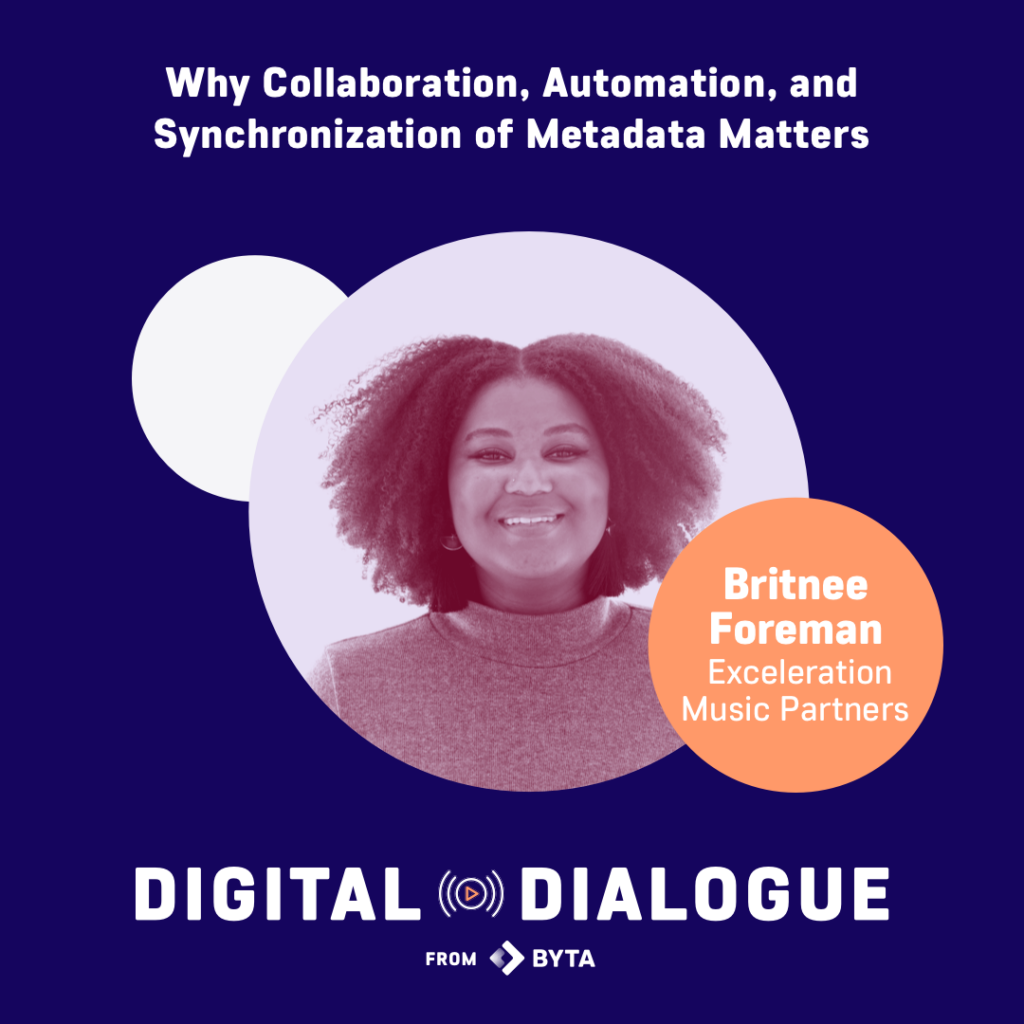 Thanks for being part of Byta's Digital Dialogue series, Britnee!