Digging into the creative process, Byta speaks with artists, musicians, producers, DJs and anyone involved with music creation. A conversation about how they create, collaborate and share music. From studio setups to routines, and the first person to hear about the next 'big' work.
Where are you based?
Hi, I am Abdallah Harati and I am based out of Munich, Germany. However, I'm originally Brazilian, from São Paulo.
How, when and where did you start making music? Are you primarily a musician or a producer, or do something else?
I started with music quite early, when I was still a kid, around 6-7 years old. At the age of 12, I started composing and producing music with the resources available at that time (mid 80's). And since then, I've never stopped! I used to consider myself a musician, but with minor production projects. However, since the pandemic in 2020, I've invested a lot in production and have become a producer. So today I consider myself a producer and a musician.
Who would you consider some of your biggest influences when it comes to your "sound"?
The type of music that I make is something I am pretty particular about. I focus on real instruments and organic and acoustic sounds. I am that type of old-school producer. Basically, all music produced under "Abdallah Harati" was recorded with real instruments, in an acoustic environment and the songs were actually performed for recording. I have a few reference albums I use, like the recordings of Marco Pereira (O Samba da Minha Terra), Elis Regina (1974), Dori Caymmi (Contemporâneos), Lenine (Na Pressão) and The Pedrito Martinez Group (The Pedrito Martinez Group). The tricks I use are not really tricks: I've invested in a good acoustic room for nylon guitar and studied a lot of Reaper and their plugins. I keep learning every day by listening to things I like and things I don't like plus discovering new technologies. I also spent lots of time exploring microphones – both different types and positioning, which made an amazing upgrade to my sound, just using the correct placement.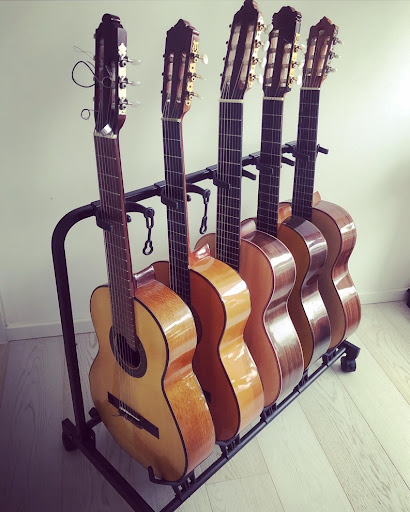 Explain your creative process. Do you have a routine?
My creative process varies a lot and it is not very uniform. The process could be split into a few steps:
Composition – the melody comes naturally to me and using one of my instruments, mainly the guitar, I establish the major melody "narrative" of the song. Sometimes, I compose songs with lyrics too.
Arrangement – I'm passionate about the arrangement and carry a lot of jazz influences. Once I get the bases of the melody, I start working on the song structure and explore the most different chords and harmony lines to be used. This is a very similar process to the songs composed by João Gilberto and Tom Jobim.
Orchestration – based on the previous step, I start already thinking about the instruments I would like to have on the song. I limit myself here based on availability. I know people worldwide and outstanding musicians, however, not all of them are ready for a speedy collaboration. So I focus on the people that really deliver and can work at my pace (boy, I'm a pushy guy…)
Recording, Editing, Mixing and Mastering, which is another chapter of its own :-).
During the pandemic, from 2020 till early 2022, I pushed myself to release an average of one song a month, which was a great project. A large volume of material was created and lots of learning. However, this "craziness" project management in music became counter creative and I decided to take it easy. Boredom and lack of "work" helps a lot with my creative process so I decided to slow the pace and work at a different speed. Also, with venues opening, I started playing live much more, which is an excellent way to experiment with new songs and check audience reactions.
However, I do practise the guitar almost every day, for a few hours and when I am working on production projects, sometimes I forget to sleep, which is bad. Today I am paying more attention to that.
What is your "studio" setup?
My studio is based on an old iMac 27" (late 2012) with Reaper (the latest version). I use a PreSonus ioStation 24c as an audio device. As output, I connect everything to a Mackie Mix 8 mixer and use a pair of Genelec 8020A. As my main headphone, I use an Audio-Technica ATH-M50x. For microphones, I use the Røde NT1A for vocals, in a vocal booth, Røde NT5 for percussion and the 2nd mic for guitar and a DPA 4099 as the main mic. Depending on the sound I need, I will also use the AKG C411.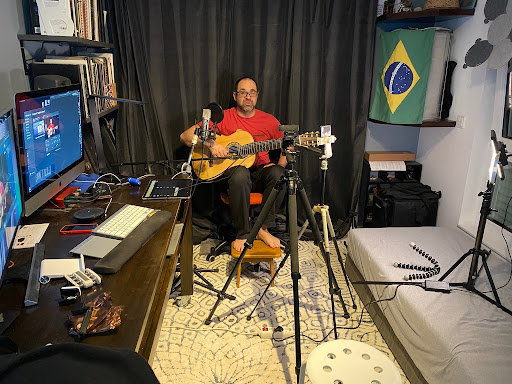 I have plenty of Brazilian percussion instruments (mainly samba and capoeira instruments) here, which is the base for most of my records. The quality of my guitars is what I consider the "secret sauce" of my recordings. Basically, I have a series of nylon string guitars from 6 to 8 strings, all handmade.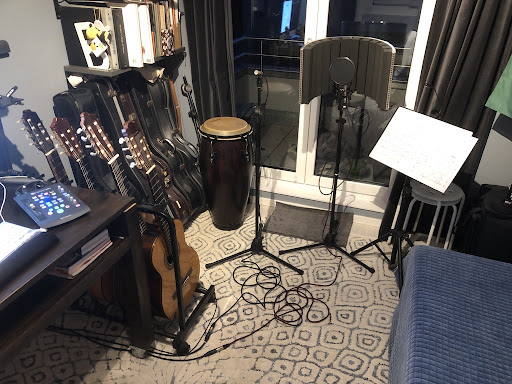 What is your process when working with other people? How is collaboration different in the studio vs working remotely?
In today's world, collaboration is key. Here in Munich, I set up my home as the place mainly for guitar and percussion recording, while in a friend's home, mainly for the winds and brass. The convenience of recording at home overtakes the old studio "full band" simultaneous recording, IMHO. So basically today, all my recordings are based on collaborations or only recorded in my studio.
I have the benefit of being a multi-instrument player, so very seldom I would need a session musician for my productions. I don't play the horns, brass and winds, and then a friend of mine pops up. And vice versa, I cover his needs as well.
In a nutshell, I've embraced the best of the "pandemic times" and "pre-pandemic times" work and tried to make the best out of it. To set things correct, I've needed to adjust myself to new tools. As an example, it is a no go for me to work via WhatsApp. I use Slack for music collaboration, communication, version control, etc. 
At what point(s) are you comfortable letting other people hear what you are working on?
It really depends. Sometimes I get the base or guide concluded, with a few ideas, and then I start sharing with some people to get feedback. Normally, once I reach my first mix, then I start sharing with people in my network to get their feedback. I normally have around 15-20 versions after my first mix.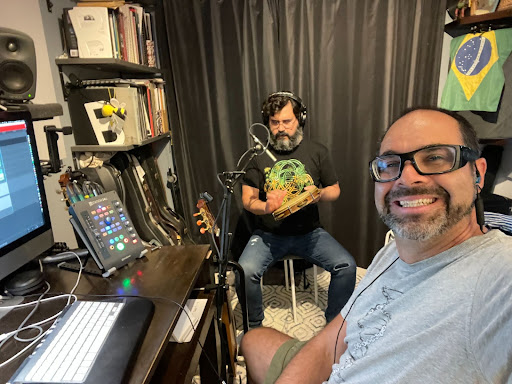 Do you share your work in progress (streams or downloads)? Any technical frustrations?
Yes, I share the work in progress, but technology is on my side. As I have everything well organized, once I want to share my mixes for feedback, I use many different communication tools for comments, and Slack for version control. I do not like to upload to Soundcloud as for some people, and agility sometimes means listening on WhatsApp, so I need to adjust myself to that.
How do you know when a track/album is finished?
A friend of mine has said: we never finish a track, we abandon it :-). After all the feedback, several mixes are done, mastering, etc, I need to listen to the song/album and get emotional about it. It needs to touch my heart. That's how I considered it done.
How do you listen to the final mixes/mastered work?
I have established a process that works for me: first, I listen in my studio, with my Genelec speakers. Then with my headphones, the Audio Technica. I will listen on my phone, with earpods. Next, I listen in the car and last but not least, a mono version in my studio and directly on my smartphone speakers.
How important is pre-release security when sharing new work?
Well, it is a big fuzz of pre-release and I am not very convinced it really works. Maybe I am not that important of an artist to have a private SoundCloud link that the media would be eager to listen to before it is released. Usually, I share the song with my network and we have full trust between us. Some parts of the music I share in my pre-release marketing program on Social Media, and that creates lots of attention.
Who on your team gets to hear the final versions first and why, what formats do they each need?
I do have a team. Usually, the bandmates and a few other friends provide excellent comments to improve the track/album. Usually, the best way for them to listen is simply to share on Whatsapp or Telegram. For the bandmates, the versions are in Slack.
Outside of your inner circle who are the people that will need to hear the new tracks next?
Outside my network, people would listen on their preferred Digital Music Platform. I exclusively push only digital (and iTunes for download) as this works well for me.
Anything you are working on, anyone you are working with and want to share?
I have 3 fantastic tracks on the go right now, still to be released this year. Fantastic collaborations with people that I really admire, so stay tuned!