Digging into the creative process, Byta speaks with artists, musicians, producers, DJs and anyone involved with music creation. A conversation about how they create, collaborate and share music. From studio setups to routines, and the first person to hear about the next 'big' work.
Where are you based?
I'm from Scotland originally, but I'm now based in York, UK.
How, when and where did you start making music? Are you primarily a musician or a producer, or do something else?
I started making music as a kid when I began playing guitar and writing songs. I had a super-simple set-up with a cheap mic, a 4-track recorder and borrowed Casio keyboard. I guess "producer" fits best for me – I play, sample, sound design, collaborate or whatever it takes to create the music in my head!
Who would you consider some of your biggest influences when it comes to your "sound"?
My biggest influences are acid-house and rave pioneers from the late 80s and early 90s. Artists like The KLF, The Prodigy, Inner City and Orbital, plus loads of artists that maybe only had a handful of singles like Bizarre Inc, Strike and Awesome 3. I'm also really inspired by graphic design – I try to get the atmosphere of designs by people like Peter Saville and the rave flyer designers into my music. I'm always trying out ideas I hear in other artists' tracks, that's just the way music works!
Explain your creative process. Do you have a routine?
I don't really have a routine but I definitely need a creative spark to get me started on any track. This could be anything really – a vocal sample, an interesting drum loop or hearing a track by another artist that inspires me. From there I like to work super-fast and get all my ideas down quickly until I've got a rough demo track – at this point, it's just about capturing a vibe. I then try mixing the demo with other tracks on my decks to see how it feels. If I'm still excited by it, I then spend a long, long, long time mixing it, tweaking it etc., etc. until I'm almost sick of it, and then I know it's done!
What is your "studio" setup?
My studio set-up is still super-simple. I've always loved the rugged energy of dance tracks from the early 90s that were a bit rough around the edges but captured an amazing vibe. I don't want to waste my time or attention with too many plugins or bits of outboard gear – it's all too distracting for me! So, I just have a MacBook Pro with Ableton Live 10, a midi keyboard (Alesis Q49), a few softsynths (Sylenth1, Korg M1, Arturia suite) and some great quality utility plugins (FabFilter EQ, MB and Limiter, Valhalla Reverb, PSP Vintage Warmer, Waves compressors). I work mostly on headphones (AKG K702s) but have some nice Adam A7Xs too. I'm lucky to have a dedicated room in my house to make music, so I just put my headphones on and get lost for hours!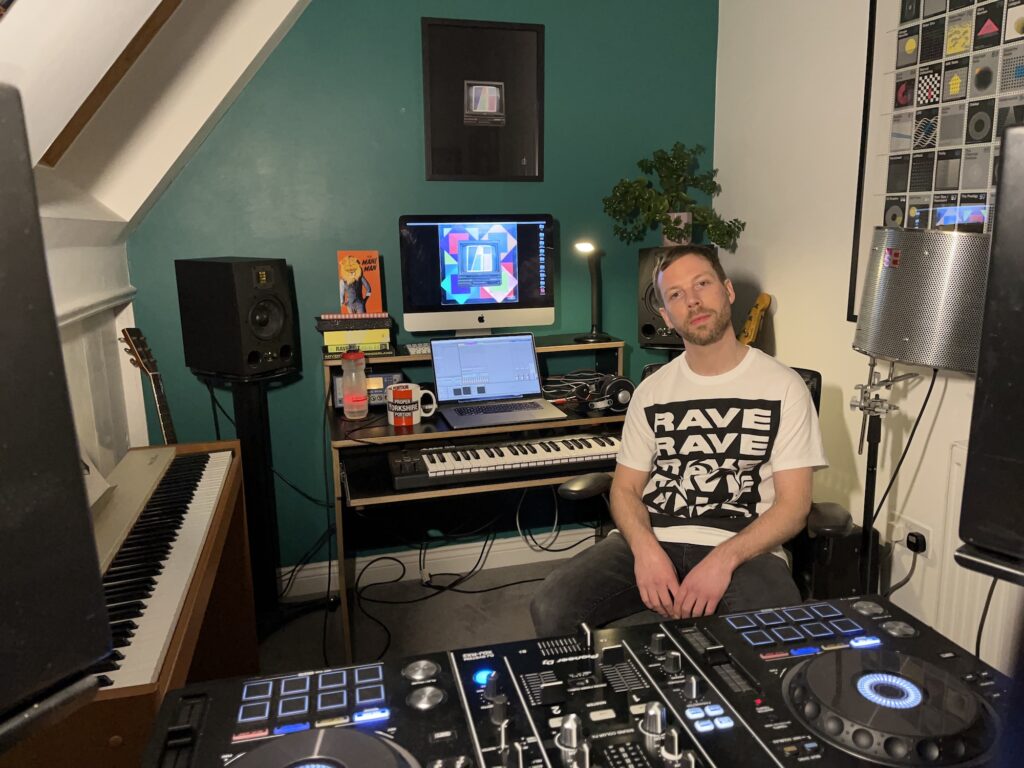 What is your process when working with other people? How is collaboration different in the studio vs working remotely?
I spent years in live bands and then collaborated with different producers when I had a drum & bass project. But with Arkley, I haven't really worked with other producers or artists yet, although that looks set to change this year. I definitely prefer being in the same room as people I'm working with, it's so much easier to share a vibe and spark off each other like that.
At what point(s) are you comfortable letting other people hear what you are working on?
I'm not really precious about people hearing my tracks in the very early stages, so long as I think I have captured the basic idea right. I think a track has either got it at its genesis or it doesn't!
Do you share your work in progress (streams or downloads)? Any technical frustrations?
Yes, I share demos with a few close fellow producers and also sometimes put ideas on social media if I'm excited by them. I've never had any issues with this.
How do you know when a track/album is finished?
Just before I get sick of it! Nothing will ever be perfect, so I prefer to "finish" tracks when they still have an exciting vibe and move on to the next thing.
How do you listen to the final mixes/mastered work?
I listen to mixes and masters on as many systems as possible including the car stereo and headphones while I'm out walking. The most telling process is when I mix them with other similar tracks on my decks and hear how they stack up.
How important is pre-release security when sharing new work?
This has never been a problem for me, thankfully. I only share my tracks beyond my close circle of friends once I'm ready for them to be heard.
Who on your team gets to hear the final versions first and why, what formats do they each need?
My producer friends usually hear my tracks first. I tend to upload WAVs to SoundCloud as the most convenient option.
Outside of your inner circle who are the people that will need to hear the new tracks next?
Everyone who I can get to listen! I usually start by sending the finished tracks to key radio producers and artists who I see as being in a similar lane to me.
Anything you are working on, anyone you are working with and want to share?
I've not long released my new EP 'Channel A'. It's three acid-house and 90s rave-inspired tracks that all have amazing sampled gospel vocals on them. This gives them a really uplifting energy, which really resonates with me. I'm also putting the finishing touches on my next EP which will continue to evolve my sound – I'm so pleased with all these tracks and feel like I'm hitting my groove now!
And, my new single 'Wiggle It (Acid Grooves)' is out today!