Digging into the creative process, Byta speaks with artists, musicians, producers, DJs and anyone involved with music creation. A conversation about how they create, collaborate and share music. From studio setups to routines, and the first person to hear about the next 'big' work.
Where are you based?
Ottawa, Ontario, Canada.
How, when and where did you start making music? Are you primarily a musician or a producer, or do you do something else?
My love for music started when I was really young listening to records with my parents. When it came time for me to pick an instrument, I picked the saxophone. It's been an amazing journey ever since. I graduated with my Bachelor of Music from Carleton University. After that, I started to tour with an amazing guitarist JW Jones. Watching him run his very successful band really helped me understand music from both the stage side and the business side.
Fast forward a couple of years and I was fortunate enough to tour as the saxophonist for the Legendary Funk Brothers. Looking back, that was probably the biggest force of change which led me to what I do now. I have always loved the music from Motown. Being a jazz musician I was intrigued by how one could take elements from pop and jazz and meld them together to create such an iconic sound.
After my run with the band, I started to write my own music in a similar style. When it came time for me to start recording I reached out to the touring lead vocalist of The Funk Brothers, Delbert Nelson. He agreed to start the project with me. So we started Delbert & The Commotions. We released our first album, Let Me See Ya Dance, in 2013. This rendition of the band played around Ontario at several festivals. However, it came to be too much. Delbert is a very accomplished musician back in Detroit and as such had other projects to perform in.
I absolutely adore Delbert and I cannot thank him enough for his creativity, time, and musicianship. It took me about 2 years after the fact to start writing. I reached out to both Jeff Rogers, and Rebecca Noelle to take the lead vocal chair. They are both musicians I have known for most of my life. I am forever grateful that they both decided to take this journey with me.
We wrote and recorded our 2017 album, Volume II, and we have been hitting the pavement ever since. The Commotions is a powerhouse group with three vocalists, a rhythm section and to top it off a 5-piece horn section. Since the release of our second album, we have performed at many different festivals in Ontario. We have also been featured on TV shows such as HBO (Looking), ABC (The Fosters), and FX (Snowfall).
The Commotions have been working hard for the past two years writing our Volume III release. We hope to get back in the studio in the early fall.
Who would you consider some of your biggest influences when it comes to your "sound"?
Every original song The Commotions perform is a collaboration between myself and someone on our team. The musicians in the band have skill sets that range between pop, jazz, funk, and blues. As such, our sound is a combination of all those elements.
Explain your creative process. Do you have a routine?
Great question. Our creative process is a little different depending on who I am co-writing with. Sometimes I will bring an idea to one of my three singers. Sometimes someone else in the band will bring an idea to me. When I am bringing an idea in, I try to write a lead sheet accompanied by lyrics. Sometimes it's just a chorus or a lyric hook, sometimes it's more. Once the writing session starts with my co-writer everything is on the table. This means that the song can and does go in any direction it wants.
One of the best things I ever did was start to co-write. In the beginning, I have to say, it was difficult. The reason why I had such a hard time, was because I held on to my ideas too much. Instead, I need to let the creativity of the moment dictate the direction of the song. You must be open-minded if you are going to write as a unit. You need to get out of your comfort zone if it enhances the piece. I learnt this very quickly. I am forever grateful for that because it allowed our music to really reach that next level. Once we are done with songwriting and we have crafted a demo, I use Sibelius. It helps me draft a lead sheet and horn arrangement which then I can bring to a rehearsal.
What is your "studio" setup?
I have a Logic Pro set up and my main gear is my Native Instruments Komplete 88 keyboard and my NTK Rode Microphone. I use my studio to help me solely in the creative process. Once I have enough recorded I will jump on Sibelius. I will write a lead sheet and horn arrangement which then I can bring to the band.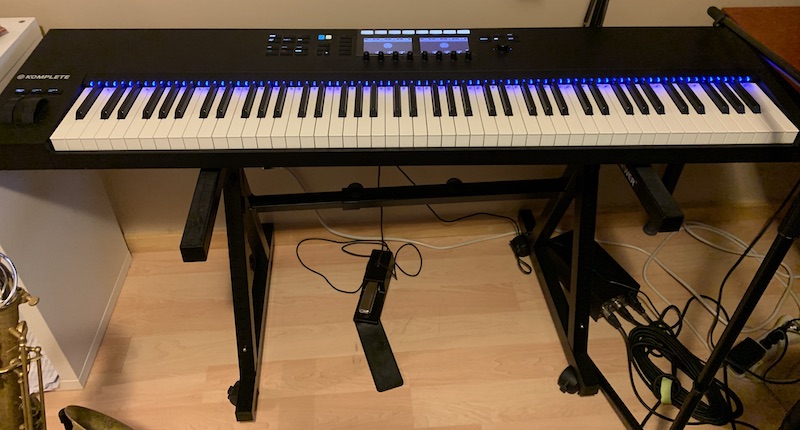 What is your process when working with other people? How is collaboration different in the studio vs working remotely?
The process changes depending on my co-writer. Sometimes we will use my studio. Other times I will go over to my co-writer's house and we will use their equipment. Over the last 2 years, we have written about 14 songs. Due to the pandemic, we used Zoom to write most of the tracks. The Commotions are a 12-piece band so rehearsing and performing over the past 2 years has been sporadic. Thankfully, we had the opportunity to intermittently work on some new material when the rules allowed it. Writing on zoom was challenging at first because of the delay – this meant we were not able to play at the same time. Writing on zoom to me is more like a tennis match – one would play an idea then the other would either respond to that idea or play a different idea.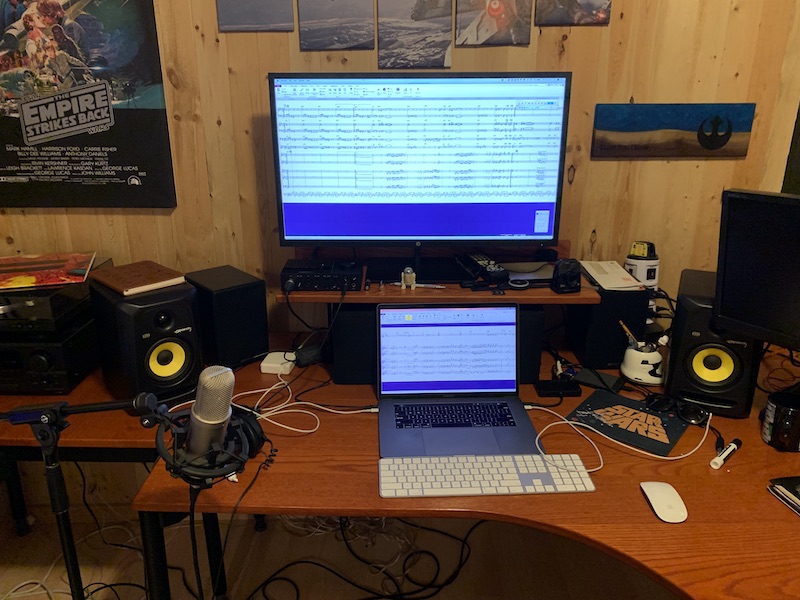 At what point(s) are you comfortable letting other people hear what you are working on?
I have hundreds of videos of myself singing demos which I won't allow anyone to hear lol. By no means am I a vocalist. I do, however, really try my best to put my best foot forward to help in my writing process. When I am bringing an idea to a co-writer, I will try to sing my intended line to him/her. Then they take it to a much better place.
Once the tune has been rehearsed a couple of times with the band, we try to get it out there on stage as soon as possible. I find our new songs will evolve over the course of a couple of gigs as I record every performance and listen back to hear what works and what could be better. Once we are all happy with the product we then head into the studio.
Do you share your work in progress (streams or downloads)? Any technical frustrations?
We don't share our work in progress at the moment but we do have some ideas about sharing some behind-the-scenes content on our next release. I think following the origins of a song to the recorded version is an amazing thing to witness and we would love to share that with our audience.
How do you know when a track/album is finished?
We as a band spend so much time on pre-production that when it comes time to record the track we tend not to change it after the fact. Once a new song is introduced in our set we will perform the song at all our shows until we can get in the studio. Since I record all rehearsals/performances, we can listen back to hear how the audience reacted and from there we can make changes if necessary.
How do you listen to the final mixes/mastered work?
The actual recording process is all done outside-of-house meaning we always go to a professional recording studio to record our content. I am always in the studio either producing or co-producing our tracks so I get to hear the song quite a lot during this process. Once the engineer has finished a mix, he/she will send me that mix and I will try to listen to it on as many different speakers as I can.
How important is pre-release security when sharing new work?
We perform every new song before the recording process starts to help us make sure we are crafting the song for our audience. I also share tiny clips of unreleased material on our social platforms. So far, we have been fortunate to say we have not had any pre-release security concerns.
Who on your team gets to hear the final versions first and why, what formats do they each need?
Once I get the finished mastered tracks I will give everything a listen first. Then I share a Dropbox link with the band or we hold a listening party where we are all in the same room. Sometimes this is the entire band, sometimes it's just a couple of members. The Commotions is a collaboration so I want to make sure every musician is happy before we release anything.
Outside of your inner circle who are the people that will need to hear the new tracks next?
The Commotions are signed to YOW Music Group so once we have the tracks the way we want them we will share the content with our team. Once the tracks are fully mixed and mastered I will share the tracks with our entire team. This consists of You Will Love It Live (Booking), and Byron Pascoe (Music Attorney).
Anything you are working on, anyone you are working with and want to share?
We, The Commotions, are really excited to be working with some outside arrangers for our next release. One of our biggest influences being a horn band is Tower of Power. We are thrilled to have Dave Eskridge onboard. He arranged for the group to help us with 3 arrangements for our next release. We also have Philip Lassiter (who worked with Prince) to help us out with a couple of tunes. If you don't know Philip check him out as he is inspiring. 
Check out and keep up to date with The Commotions here thecommotionsband.com