Digging into the creative process, Byta speaks with artists, musicians, producers, DJs and anyone involved with music creation. A conversation about how they create, collaborate and share music. From studio setups to routines, and the first person to hear about the next 'big' work.
Where are you based?
Fort Smith, NWT, Canada
How, when and where did you start making music? Are you primarily a musician or a producer, or do something else?
I started making music when I was around 13 years old. Starting out, I played drums and guitar mostly, but back then I didn't have the self-confidence to sing. It wasn't until my 20s that I actually started to rap or sing in front of people.
Who would you consider some of your biggest influences when it comes to your "sound"?
My biggest influences are the people of my home community, Fort Good Hope. The life that we lived and the trials that we endured together are material enough to write a lifetime's worth of music. My community is the lens that I approach the world through.
Explain your creative process. Do you have a routine?
My creative process involves a lot of random thoughts and chance encounters with something to write on. I have tried many times to make a structure for this thing I do, and it's never helped or hurt the situation. I simply could not take my creativity and place it into something I could set an alarm for. Though it would be amazing to have a standard process, I am still very much the fly-by-night writer. When the song comes, it has to get to paper all at once or it is gone forever.
What is your "studio" setup?
It's just a computer and a notebook, to be honest. I've never had my own setup to work with. My experience with computers didn't start until I was already well into adulthood. Not saying that I'm some sort of dinosaur or anything, but man, this thing is wacky.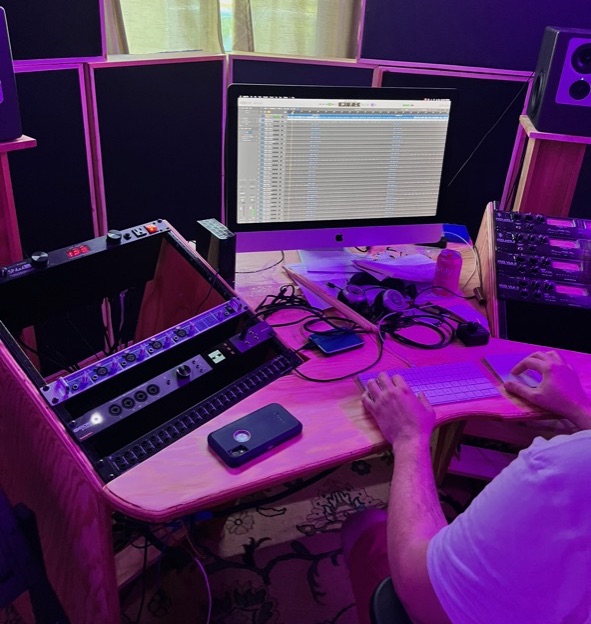 What is your process when working with other people? How is collaboration different in the studio vs working remotely?
We all-the-way remote out here. Most times, we get to each other through this mess of emails and online data transfer sites. On rare occasions, we are in the same community and get to jam it out in person. When we're in the studio together it just flows. I'm a pretty out-there guy and my ideas can come on all at once sometimes, being there in person helps with the translation between my crazy ideas and reality. I'm finding more and more often now that this long-distance thing really makes the vibe turn down.
At what point(s) are you comfortable letting other people hear what you are working on?
Unless it's my kids listening, I don't think I've ever been comfortable with my music being out there. These stories get so personal to me, sometimes I wish I could just forget what inspired them.
Do you share your work in progress (streams or downloads)? Any technical frustrations?
Dude. This is the bane of my existence! I have 99 technical issues but a pencil ain't one. The Internet out here where I live is spotty at best, sending large files and making big posts is out. If I can't get my laptop to a Wi-Fi spot in town (I live 10km down the highway), it's just not going to happen.
How do you know when a track/album is finished?
When the emotion of the sound matches my intent. Sometimes it happens right away and sometimes I throw the track in the garbage. But nothing goes out until the vibe is right.
How do you listen to the final mixes/mastered work?
I get the track sent over to me in a couple of formats, drive my computer into town and couch-surf till I can get my files down. It's not glorious but it's what I got. Once the track is in my hands it's straight to the most telling of all systems, the truck stereo.
How important is pre-release security when sharing new work?
It would take an axe and four days to get to me. All my tracks and lyrics are physical until the day they hit release, not really by choice haha. I've never had anything bad happen surrounding my releases. Maybe it's dumb luck, but all that I've had go sideways is a few kids making themselves out to be me on social media. Youngins have this social stuff handled, I had no idea until festivals were tagging them in pics of me.
Who on your team gets to hear the final versions first and why, what formats do they each need?
The team gets the goods. We're small but we're here and we stand for the same goals. It took a long time for me to realise the importance of having a team and how necessary it is to have people around you that can tell you straight up. They are the real MVPs.
Outside of your inner circle who are the people that will need to hear the new tracks next?
THE PRIME MINISTER OF CANADA. The story of my community is intertwined with the tragedies that this government allowed to take place. They will hear this story before there are none of us left to tell it.
Anything you are working on, anyone you are working with and want to share?
My FIRST, in a real studio album, is out this November! I couldn't be more excited to share this with you. Stay tuned on my website here!