Digging into the creative process, Byta speaks with artists, musicians, producers, DJs and anyone involved with music creation. A conversation about how they create, collaborate and share music. From studio setups to routines, and the first person to hear about the next 'big' work.
Where are you based?
Istanbul, Turkey.
How, when and where did you start making music? Are you primarily a musician or a producer, or do something else?
I am primarily a songwriter. I also have a band, where I sing and play the guitar, and a producer as well. We have albums and singles/videos with the band Ahmer Beyler (www.ahmetbeyler.com) and I produce music scoring for movies, as well as music for commercials and corporate internal communication needs. (www.wearesocialmusic.com).
I started to play guitar and drums in high school, and almost 30 years have passed like that :). Finally, I have been a full-time musician for the last 7 years.
Who would you consider some of your biggest influences when it comes to your "sound"?
Not in terms of sound but in terms of creativity, The Beatles and Freddie Mercury are the biggest influences for me. Anything can be music; this is the idea I stole from these creative artists.
Explain your creative process. Do you have a routine?
I earn my living mostly from commercial music, so I deal with all the operations and sales processes of that as well. So when there is time left from this work, I record some tunes, and then if I have something to say on my mind, I make up the lyrics with that. And sometimes some lyrics flash into my mind, and then I sing them with some melodies. And sometimes both melody and lyrics appear in my mind suddenly… so my creative process changes.
What is your "studio" setup?
I have a home studio setup:
I have 2 Yamaha hs5 speakers.
A Macbook pro, an Edirol FA-66 sound card, Rode NT1 mic.
Fender acoustic guitar, Yamaha electric guitar, Hohner bass, Yamaha Classical guitar, flutes and percussions.
A very simple and minimal setup: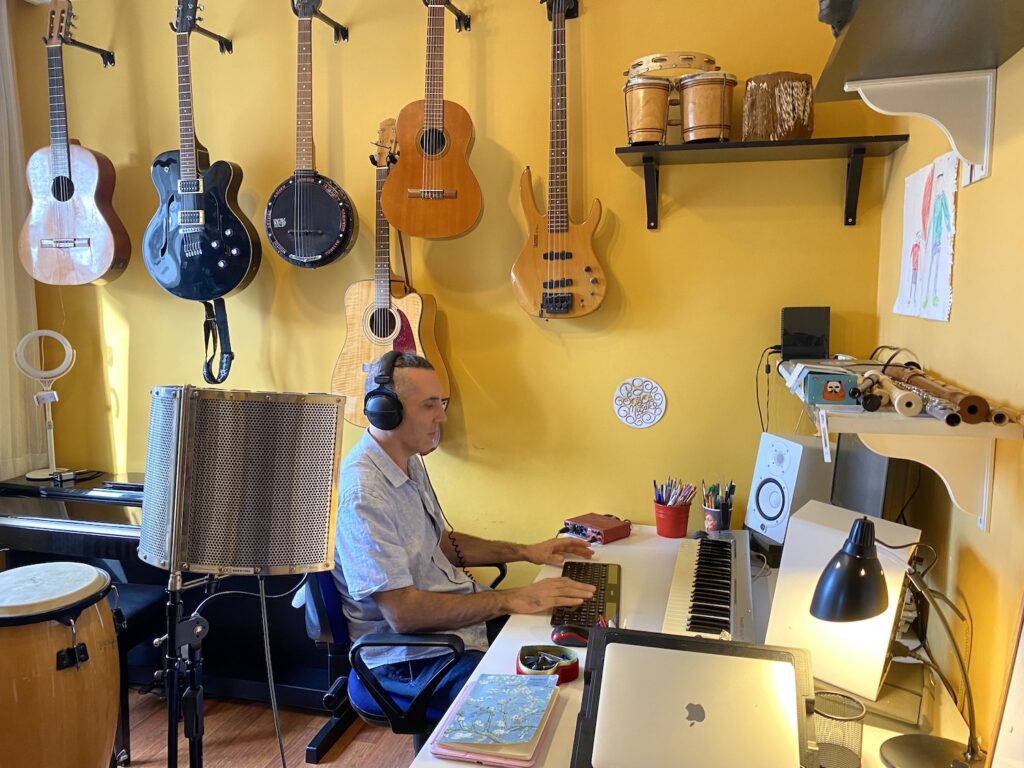 What is your process when working with other people? How is collaboration different in the studio vs working remotely?
I work with lyricists/vocalists/guitarists etc remotely. As long as they are professionals I work so much easier than meeting up and recording/writing together in person. Of course, a zoom meeting before is helpful if we do not know each other well, before the collaboration project begins.
At what point(s) are you comfortable letting other people hear what you are working on?
If I am confident in the melody and the lyrics myself, then any stage is ok for me. If I am not, then I prefer to produce it a little bit before sharing it with other musicians and audiences.
Do you share your work in progress (streams or downloads)? Any technical frustrations?
I don't share any work before it is totally produced and finished. I do not do the mixing/mastering myself. I do the recording/arrangement/production and rough mix, then a sound engineer does that for me. I will then share afterwards.
How do you know when a track/album is finished?
Whenever a song excites me each time I listen to it, then it is finished. When it does not, it sticks in your mind forever and you live with that feeling of something is lacking / missing.
How do you listen to the final mixes/mastered work?
I listen to it in every possible way I can. I listen with my monitor headphones, from my phone with iPhone headphones, from the iPhone speaker, and from the car speaker.
Who on your team gets to hear the final versions first and why, what formats do they each need?
I work alone. But I share the final mix with some of the current and ex-bandmates whom I trust. The guys I choose, have a vision in music and also have the ability to hear any issue technically. They even comment properly on mp3s.
Outside of your inner circle who are the people that will need to hear the new tracks next?
The industry people. Michele Maslin. Music critics. Other musicians/artists whom I can reach out to. I send streams, usually.
Anything you are working on, anyone you are working with and want to share?
The second album for Ahmet Beyler will be on air soon. (It is already released as a music bank here!). Working on a new video for one of these songs currently.
I'm currently working on some collaborations with songwriters Patricia Zehentmayr and Katie Wellenberg and make music day community.
And working on some corporate songs for internal communication with my Social Music project. (www.wearesocialmusic.com)