Digging into the creative process, Byta speaks with artists, musicians, producers, DJs and anyone involved with music creation. A conversation about how they create, collaborate and share music. From studio setups to routines, and the first person to hear about the next 'big' work.
Where are you based?
I'm born and raised in Toronto, ON. Besides 4 years of living in NYC, I've been here making music my whole life!
How, when and where did you start making music? Are you primarily a musician or a producer, or do something else?
I've been making music since a very young age. I started performing publicly around the age of 10 in youth bands, and I've continued to perform ever since. I grew up making music all the time, and studying 3 different instruments very seriously – piano, drums and clarinet. I have performed professionally on all 3 instruments, but my main focus now is definitely the drums.
Who would you consider some of your biggest influences when it comes to your "sound"?
One of my main influences on the drums is NYC-based drummer, Matt Wilson. I really admire the joy he brings to the instrument, and I also love how active he is as a bandleader. I've definitely fashioned my career after his. As jazz musicians, we are constantly checking out other musicians and "stealing" their licks! I've been doing a ton of transcribing lately, and learning from all of the drummers that I admire.
Explain your creative process. Do you have a routine?
I love writing and composing, but I don't have a set routine for this. I work much better with a deadline! In terms of my process, I always write at the piano, but I don't have a rigid order in which things happen. Sometimes the melody comes before the chord changes, and sometimes the changes come first. Sometimes there's a written-out bass line I'm working with… sometimes not! It really depends on the song I'm working on. On my last album, Joy, I had a strong inspiration for each of the songs, so that really helped.
What is your "studio" setup?
I have a wonderful "studio" in my basement with my drums and a piano, as well as my desk, etc. This doubles as my office. Although I do have mics set up on my drums, I always record professionally in studios. Jazz is an interactive form of music, so it's vital to be performing with the band in the same studio at the same time! In terms of gear, I have a beautiful Ayotte drumset that I've been playing since I was a teenager. I have a gorgeous set of cymbals that I have acquired and put together over the past 10-15 years.
The last time I was in the studio, I was recording a new album for my jazz sextet, Turboprop. We spent a day in the studio, and recorded 10 tunes! Pro-fesh!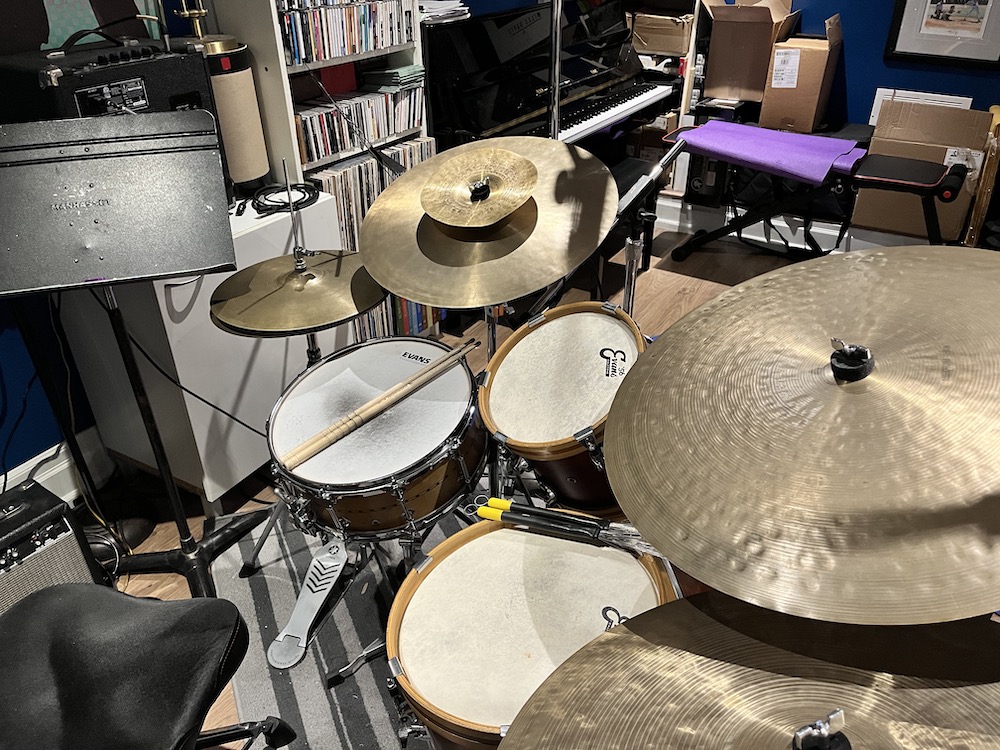 What is your process when working with other people? How is collaboration different in the studio vs working remotely?
I love working with other people…that's what music is all about! As I mentioned, jazz is an improvised art form, so working remotely is very challenging. I love the back-and-forth involved in creating music with my peers. I'll write a song, and bring it to the band, and then we play it, and sculpt it based on what we are hearing. Performing in front of an audience is also key to helping this process along.
At what point(s) are you comfortable letting other people hear what you are working on?
I try to get the music out in front of an audience as soon as possible. It's very helpful for the overall shaping of the tune to see how it works in a performance setting.
Do you share your work in progress (streams or downloads)? Any technical frustrations?
I might do something like this informally – share a live version of something with my mailing list. I like to reward the people that read my monthly newsletters with a small token of my appreciation… something that is special for them.
How do you know when a track/album is finished?
Ears, baby! Once it sounds done, it's done! There isn't a ton of editing in post, so generally, once a song has been recorded, it's just a matter of mixing/mastering and getting it out there.
How do you listen to the final mixes/mastered work?
I listen to the stuff at home. In fact, that's on my "to-do" list for later today!
How important is pre-release security when sharing new work?
I think this could go either way. Sometimes "leaking" something early can be a nice treat for your fans and can get people really excited for the release of your album.
Outside of your inner circle who are the people that will need to hear the new tracks next?
Once we are finished with the music, it's ready for a full release.
Anything you are working on, anyone you are working with and want to share?
I'm really excited to be working on the next album by my Juno award-winning band, Turboprop. As I mentioned we recorded in December, and I'm currently choosing takes. The music sounds great! The album is a dedication to Canadian songwriters, and I can't wait to release it. It should be coming out in the Fall of 2023, or early in 2024.