Digging into the creative process, Byta speaks with artists, musicians, producers, DJs and anyone involved with music creation. A conversation about how they create, collaborate and share music. From studio setups to routines, and the first person to hear about the next 'big' work.
Where are you based?
Barrie and Toronto, Ontario, Canada
How, when and where did you start making music? Are you primarily a musician or a producer, or do something else?
I am a producer, songwriter, composer, mixer, recording engineer, multi-instrumentalist and artist. I was 12 when I started playing and writing songs. My first band was with a bunch of girls from my school. By 13, I was playing the clubs in Toronto. At 15, I started to experiment with recording myself on a laptop in my bedroom.  By 16, other artists started asking me to play (guitar, bass, keys and/or vocals). By 17, I was touring and writing music for other artists. I continued to balance and develop these skills for my own projects and other projects. Eventually, it all got to be too much to balance and do as well as I wanted to. I eventually chose to focus on songwriting, composing and production.
Who would you consider some of your biggest influences when it comes to your "sound"?
When I started my first all-girl band, it was The Go-Go's that inspired me the most. As a multi-disciplinary artist, Sheryl Crow became one of my biggest inspirations. It was her first few records that first sparked the possibility that I could be more than an artist. I could also write my own songs, play a bunch of instruments and produce my own records. Then came Surrealism, classic Hollywood scores, New Wave, Swedish Pop, Surf Rock, the British Invasion, 50's sci-fi flicks, Motown, Rockabilly, David Lynch and Quentin Tarantino films.
I am Greek, and the music of my ancestors really hits me on a cellular level. I also grew up loving all Top 40 pop, rock, rap and R&B music. Some of my favourite artists growing up continue to inspire me. They include David Bowie, The Beatles, The Cure, The Cardigans, Beck and Radiohead. Producers and engineers that inspire me include Dalbello, Tony Visconti, Danger Mouse, Shawn Everett and Trina Shoemaker. It's very eclectic. In some way, all of these sources have fuelled my creativity in sound.
Explain your creative process? Do you have a routine?
My creative process varies depending on the day and the period I find myself within. I go through phases, but the vibe is the most important part of it. Feeling comfortable and open is important.
I usually hear the music in my head first. If I'm not in the studio, I'll record nonsensical voice notes trying to remember all the parts. Other times, I will get a spark of a lyric. I'll quickly run to get it out on paper or on the notes app on my phone. In rare cases, I have woken up in the middle of the night from a dream where the entire song was written and poured out of me. Because I balance production with writing, I do schedule times to write and times to produce for specific things. However, songs and ideas are constantly flying around all the time, so it's just a matter of catching them and saving them for that moment so I can sit down and explore them.
What is your "studio" setup?
My studio is called The Lair. It's essentially a room in my house that houses all the main gear. Then I have the rest of the house to track things in. It's a hybrid analogue/digital set-up. I am running a UA Apollo interface (x8 and Twin) and have a UAD Satellite to expand my DSP. In recent years, I began integrating more boutique outboard gear. It adds that analogue flavour that cannot be replicated through plug-ins.
I tend to gravitate towards stuff I can't find in the bigger studios I work out of. As such, I have a ton of variety around me. I also have a collection of mics that complement many different sources and give me different characters. Then there are tons of plug-ins and many, many terabytes of samples in addition to guitars, basses, keyboards, drums, etc. and fx pedals. I also love tape and have a 1/4" tape machine that I can use to re-amp audio or use as a tape echo.
Having all of these tools available to me ensures that I can execute any project, whether it's a record for an artist and/or band or compositions for film/tv. It's a constantly evolving set-up as new things inspire and influence me. The most important part of my set-up is flexibility and ease of workflow. Everything is essentially patched in at all times or can be patched within seconds, so I can quickly flip through instruments and fx and layer easily.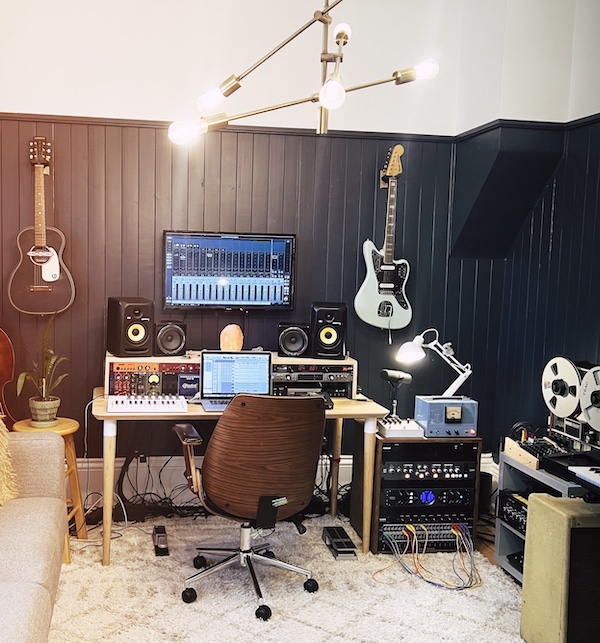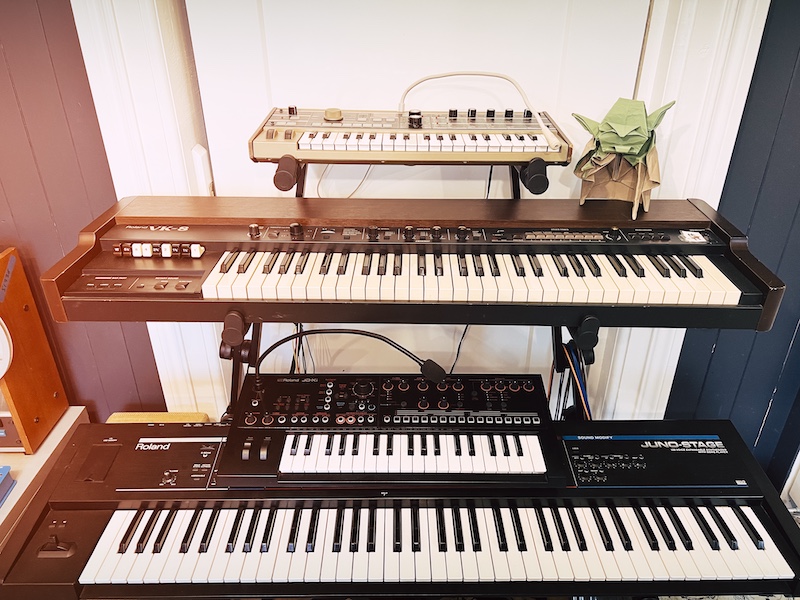 What is your process when working with other people? How is collaboration different in the studio vs working remotely?
My process when I work with other people is chameleon-like in nature. I think it's important to be adaptable when writing and producing for other people. To deliver the most honest work, I think establishing a relationship and getting to know each other is the most important thing. A foundation of trust and openness is what allows for vulnerability, and it is through vulnerability that we are most open to receiving creative inklings and taking risks. I think it's important to stay open to ideas and let them flow first. Then there is a second phase once all the ideas are out, where you can further refine, edit and sculpt things into the final work.
My process is adaptable to serve the best interests of the project. I have created every way. From just a guitar and an artist writing in the room to building entire tracks simultaneously while writing to recording bands live off the floor in a larger studio to writing and producing entire records via Zoom. Everything is on the table. Anything is possible.
At what point(s) are you comfortable letting other people hear what you are working on?
I am not precious at all when it comes to working with an artist and their team. I am very conscious and protective of the artist's process, though, and that's what usually influences my decisions when we share things at certain points. When it comes to working with artists, transparency and trust in the creative process are extremely important to me. I am confident that if I send something to an artist, even in its early stages, they will get the idea and also have great input. That is because I do not begin creating without having a creative conversation and getting to learn the artist's musical language. I also never dive into any project without having a period of getting to know the artist, not only as an artist but as a human being. All of these things shape where the music will land.
As a producer, I am acting as a facilitator for the artist, so I think it is integral for them to be as involved in the process as they wish to be. That will ensure they are happy and their music is a true representation of themselves at the end of the day. That's what makes the collaborative process so beautiful. That trust and openness. No egos. Beyond the artist, I do like to have things a little more fleshed out before sharing our progress. If there is a team involved, I do like them to get involved once the artist and I feel that the songs are in a good place for feedback. They don't necessarily need to be completely finished, but I like to develop the ideas to the point that they are hearing the artist's impression of how they want to sound.
Do you share your work in progress (streams or downloads)? Any technical frustrations?
I do not publicly share any work in progress.
How do you know when a track/album is finished?
I know a track or an album is finished when I can listen to it with pure enjoyment and not be distracted by something I want to tweak or change. Furthermore, I know it's finished when the artist is ready to sign off on it and is proud of their work.
For me, albums or songs are relative to time. They are a time capsule of where an artist is at a particular time. Our perception of our work can shift years down the road. You may hear things down the road that you would have changed if you did something at that point in time. But if at this moment, you feel you have spoken, sung or played your truth, if you feel this is a true representation of who you are as an artist, if you are proud of this work and are excited for others to finally hear it, that is when you know it is finished.
How do you listen to the final mixes/mastered work?
I like to listen to mixes and masters in various environments. I listen in my studio through several monitors. I listen in my car. I listen through a good set of studio headphones. I listen through my AirPods. I listen through my iPhone speakers. I listen through laptop speakers. I also listen through my Sonos One SL speakers. This gives me a really good sense of how the songs will translate on various sources. I can get a great sense of the balance of mixes or the depth, floor and ceiling of the masters. I want things to translate and sound amazing, whether it's through a phone speaker or a Hi-Fi system.
How important is pre-release security when sharing new work?
Out of respect for the process and the artist, I keep the music I'm working on sacred, and it does not leave the studio and is not shared with anyone until it is officially released. If the artist chooses to share the music with their team, close friends, peers or even listeners, that is up to them.
Who on your team gets to hear the final versions first and why? What formats do they each need?
The artist hears things first. With their blessing, we then share the material with their team. I do like playing things for my manager and publisher as well, not only for feedback but so they are aware of what I am creating.
Outside of your inner circle, who are the people that will need to hear the new tracks next?
Once the artist receives their final master, we wait until the music is officially released and shared with the world!
Anything you are working on, anyone you are working with and want to share?
I recently produced the upcoming Digging Roots, Amanda Rheaume and Aysanabee albums for Ishkode Records, an Indigenous and women-owned record label. I'm very excited for the world to hear these records!