Digging into the creative process, Byta speaks with artists, musicians, producers, DJs and anyone involved with music creation. A conversation about how they create, collaborate and share music. From studio setups to routines, and the first person to hear about the next 'big' work.
Where are you based?
Hey, I am Horace Tempo, I was born and raised in the Republic of Benin, so I also speak French very well. I now live and work in Accra, Ghana. I am 38 and I create at The Madroom Studios in Accra or Studio 313 in Johannesburg, South Africa.
How, when and where did you start making music? Are you primarily a musician or a producer, or do something else?
Music actually is the first thing I fell in love with and it has remained one of the things I am still in love with to date. I have been a fan since forever, so I feel really blessed to be able to experiment and be a part of the creative process. I have also built a 15-year career in Information Technology, however, my personal and artistic project is branded TEMPO, which defines a fusion of unrelenting creativity and style. I decided to enter the domain of music production and its distribution around mid 2019. Early 2020 when the pandemic hit, I could afford a lot of time so I attended almost every virtual conference that I could find about the music industry, enrolled for mentorship sessions, self-taught when it comes to production and then emailed demos out to record labels. This gave me a good knowledge of how things work and an idea of how far I am headed for success.
In May of 2020, I released my first single about self-empowerment called SELF (streamed over 700,000 times on Spotify to date) and now it's a habit to dedicate at least one hour every day to all things music, which could include finishing writing lyrics, creating a beat, learning or simply discovering new music or artist.
Who would you consider some of your biggest influences when it comes to your "sound"?
I am into EDM, Dance-pop, and House music, so to name a few, my influencers will be Timbaland, Swizz Beatz, David Guetta, Sarz, and many gifted YouTubers. What I quickly learned was to not steal anyone's tricks, I think it's not sustainable to create music by following a method. That's like limiting yourself within a set of tools and downplaying your own potential. I do read about tips and tricks like everyone else, but I don't adopt them.
Explain your creative process. Do you have a routine?
This is a good question. For me, the end goal is to produce, co-produce, co-write, write or simply be part of the idea or concept creation and ultimately I must be proud of the end product which is the song when it is released, I must feel proud whenever and wherever I hear it. You know the feeling when you get your weekly "shazam for artist" report that shows you how many people are discovering your song through Shazam? It's almost like poking the universe and watching it poke you back. It's a moment I believe every creator cherishes. So, yes I do have a routine.
First of all I must force myself into a creative headspace before I go into the studio. Before I step in, I go on my knees and pray to God for guidance. I don't listen to any music for a week before I start creating a new beat. I try my best to keep every single track, kick pattern or melodies, created separately and as unique as possible, no loop no sampling no preset allowed. Once I am done with the beat, I let it sink in for a couple of days, then most times I have forgotten what it sounds like by the time I come back to it, then I listen with fresh ears and criticise. After that I name it, build up the storyline and then write the lyrics, record and produce.
What is your "studio" setup?
My workflow combines a bit of both. And it's hard to favourite my studio gears but in no particular order, here are a few:
Sceptre 27″ Curved 75Hz LED Monitor Full HD 1080P HDMI
Apple MacBook Pro 2018
Grovemade iPhone Charging Dock
ROLI LUMI Studio Edition
Universal Audio Apollo Twin Quad
Yamaha HS8 Speakers
ROLI Lightpad Block M
Avera 43" Widescreen LED TV
Trademark Soundproofing Acoustic Panels
Apple iPad Pro 2016
Headphones Sony MDR-7506
Arturia KeyLab 49 MkII MIDI Controller
Airturn Bluetooth Pedal
Boss FS-5U
Korg Piano Sustain DS-1H
Samsung SSD 1TB
OWC 14-Port Dock
Livewire PC1100 Power Conditioning Distribution System
G-Technology 1TB G-DRIVE Mobile SSD
Mevo Streaming Camera
Apple AirPods Pro
TMA-2 Studio Wireless+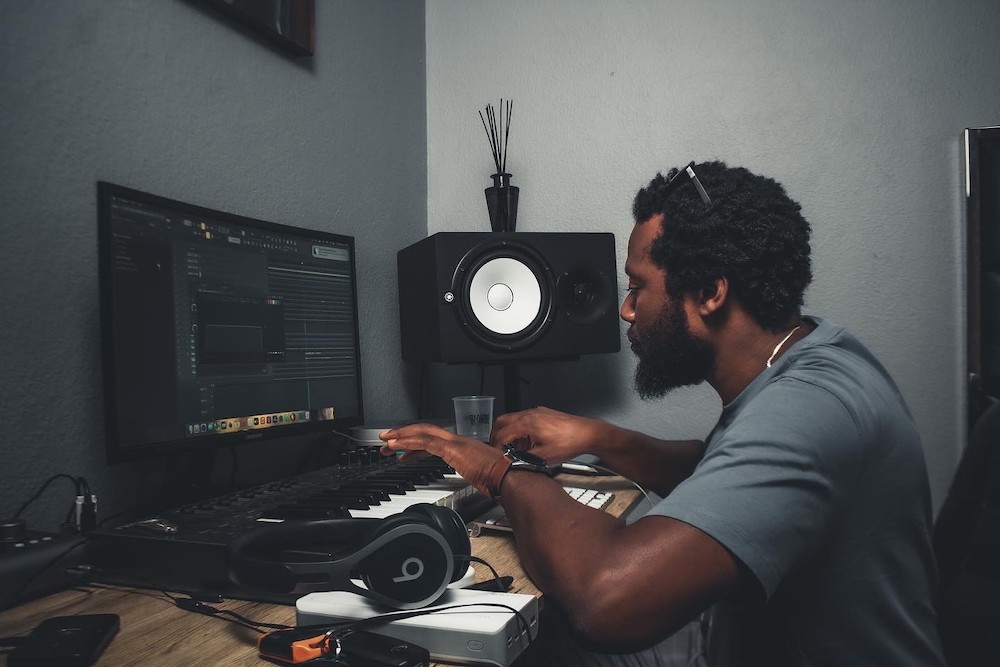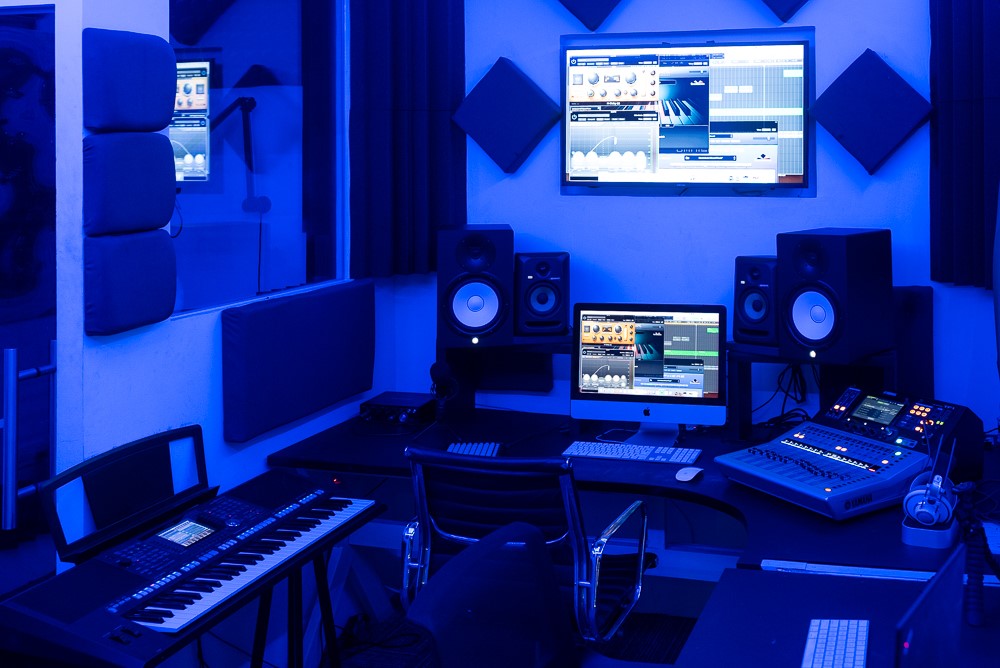 What is your process when working with other people? How is collaboration different in the studio vs working remotely?
Usually I have a folder that is refreshed regularly with my current top 10 beats. Wherever or whenever the opportunity presents itself, I am ready to pitch a demo or collaboration. Because I don't sing myself, I am constantly on the lookout for collaborators. Everything in music happens based on relationships, if you are good with people, you will land some unbelievable collaborations. I am pretty good at keeping the positive vibe going at a studio full of collaborators, so I prefer in-studio sessions. But I must say I have had the chance to be part of some amazing virtual sessions over Soundtrap.
At what point(s) are you comfortable letting other people hear what you are working on?
Except when I am creating with a collaborator, I am only comfortable letting other people hear it at the early stages. Once I am deep into it, I don't share it until I have probably 2 to 3 different mixed versions.
Do you share your work in progress (streams or downloads)? Any technical frustrations?
I have shared my work in progress with a friend producer before who apparently also shared it with his friend without permission, and the next thing that happened was that we both heard my original loop in a commercial song. There is nothing you can do, it's just a shame.
Thanks to Byta, we can now securely control and share streams and downloads in the right file formats.
How do you know when a track/album is finished?
It can be a struggle to know when a track is finished. But I believe it's an area where experience comes to play. It gets better with time. Referencing a track also helps.
How do you listen to the final mixes/mastered work?
It's a bit of both. It depends on who I am collaborating with and the type of project. It is quite exciting when you receive a version of the work and you have to listen to it. If I am in the studio when it comes, perfect. Otherwise if I am driving and the email comes, I am going to listen to it right away, I can't wait. It's a special moment.
How important is pre-release security when sharing new work?
Realistically speaking, there is a chance that your music can be leaked or your sound's been stolen before its public release. It is a problem still being dealt with. A lot is being shared digitally within the art space without permission. So don't get disappointed by raising your hopes so high and have to deal with the law. It's not cheap and you can sue anyone but good luck collecting.
My point is we are not yet as popular as the famous artists, so if our work gets leaked before the release date, at this stage of our career, it might not be that damaging. But if we are careful at this stage, it will go a long way and we can build it into our habits and workflow to protect our work.
Who on your team gets to hear the final versions first and why, what formats do they each need?
At this stage stream and private links are the format. Everyone from my budgeting team to the executive producer hear it, the distributor as well needs to hear it to prepare their pitch for editorial playlisting. When I am very proud of the song, I also play it privately to a friend or two. I think that's it!
Outside of your inner circle who are the people that will need to hear the new tracks next?
Publicists and radio personalities.
Anything you are working on, anyone you are working with and want to share?
On 30th September 2022, I am going to wow the public with a new single called "For Love". You can go and pre-save that right here!
It's a collaboration between TEMPO and the South African renowned DJ, Citizen Deep. "For Love" is a chilled Electronic Dance music to uplift anyone feeling helpless in love. The beat is aggressive, high on emotional dynamics and it features the soulful voice of SA-born singer Savana.