Digging into the creative process, Byta speaks with artists, musicians, producers, DJs and anyone involved with music creation. A conversation about how they create, collaborate and share music. From studio setups to routines, and the first person to hear about the next 'big' work.
Where are you based?
I am based in beautiful Lake Echo, Nova Scotia, Canada.
How, when and where did you start making music? Are you primarily a musician or a producer, or do something else?
I am a musician. I would say I consider myself a singer and a songwriter primarily. Throughout the pandemic, I wanted to become more self-sufficient so I began doing some recording and engineering on my own so that I could produce my own songs if I wanted to. So far that's resulted in a batch of cover songs that I've been releasing over the last 2 years. I am also a painter.
I studied fine art at NSCADU but the recent time at home allowed me the luxury of also getting back into making art. Now I am working with a gallery in Halifax called The Prow Gallery which sells my paintings. I post them online and drop them off. It's a very nice partnership for me. I am also in the midst of building a studio – one side is for painting and the other will be for recording. Before this, I was painting in the kitchen and recording in the baby's room. There's a lot of crying on my solo recordings (check out the intro to my cover of Gord Downie's Chancellor, for instance).
Who would you consider some of your biggest influences when it comes to your "sound"?
To be honest my sound comes from a place that is just my own. There is so much music that I absolutely adore and sometimes I think, god it would be really cool to sound like that… Maybe like Sharon Van Etten or something. But I just come at it from a place that is not that.
Explain your creative process. Do you have a routine?
I recently finished making an album that I co-produced with my husband Daniel Ledwell and this was a Canadian Collaboration project. I wrote songs, and often performed with Canadians who are friends – some who I know well and some who were a bit new to me. This was a very deliberate idea and the approach took a lot of organisation and scheduling. The songs were sometimes written over Zoom sessions, which actually felt very organic during the process. Whereas some were written in person when we were able to meet.
So I can write under pressure, on a deadline, or on a whim. But I most recently had a very special experience just about a month ago where I was just hit with an inspiration that felt almost out of my control and I just got help with my kids as much as possible and wrote 10 songs in 4 days. When something like that happens, it's extremely life-affirming. My friend described it as being closer to God. I am not religious, but I am a very open and 'spiritual' type of person for lack of a better description. And this is just how I felt. I made a painting right after this called 'Talking to God'. It's like a channel is open, and you are there to receive it. It overtook every aspect of my being. I write music and lyrics at the same time unless someone else has already written the music for me! (which is rare but something I did explore with a project I was involved with called Aqua Alta, and some work I've done with my friend Buck 65)
What is your "studio" setup?
My husband has a studio on our property. And I've definitely worked in there and made albums with him in there over the last decade. But I have always worked in the house. This is why I am now getting my own space. Because I am growing my skill set and also we have two toddlers!
What is your process when working with other people? How is collaboration different in the studio vs working remotely?
When I have worked remotely over the past few years writing songs for my upcoming release, I just really did a few things to make it feel comfortable and 'real'. Light a candle, make some tea, burn some palo. That's it. Off to the races.
At what point(s) are you comfortable letting other people hear what you are working on?
There are a few select people in my life that I will share demos with. I love sharing music, but it's a very vulnerable thing to share, which is also what makes it so special.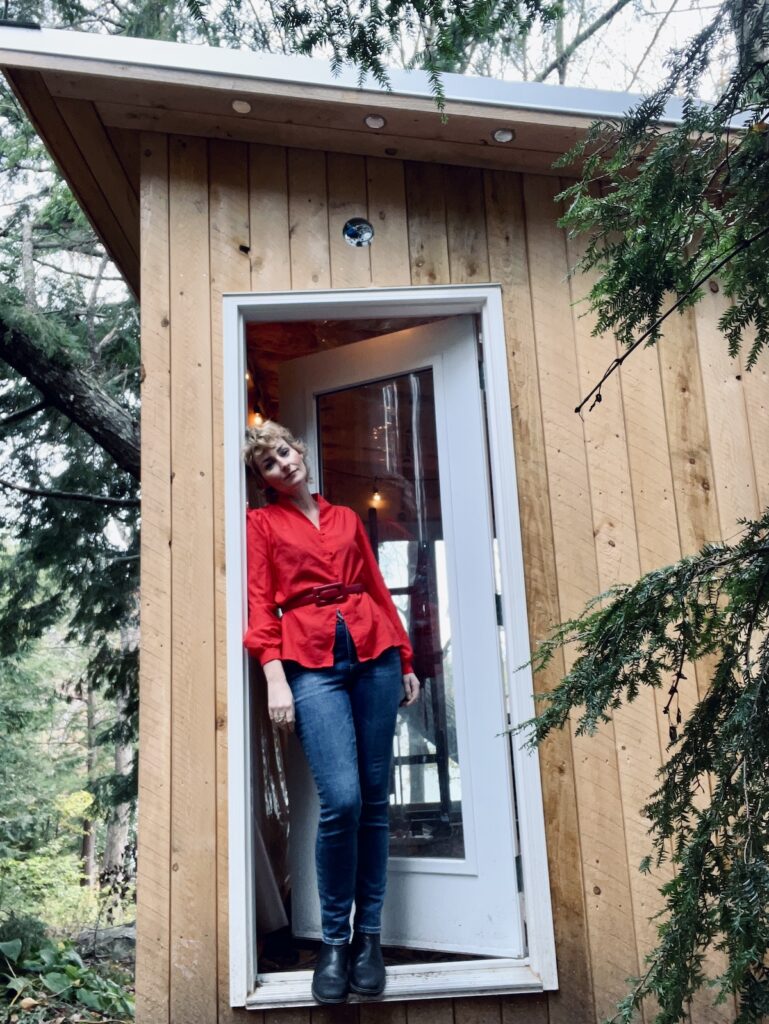 Do you share your work in progress (streams or downloads)? Any technical frustrations?
I am married to a wizard so I really haven't had to deal with too much of this. And I don't share streams or downloads… Unreleased records that are mastered usually make their way to a big handful of like-minded musicians.
How do you know when a track/album is finished?
This is the same as painting for me. It's just about creating that balance where you can sit back and take a breath and think… ahhhh… it's done!
Sorry, these answers are getting shorter my dog won't stop barking…
How do you listen to the final mixes/mastered work?
Well my favourite way to listen is probably driving in the car. Or on a walk with buds in my ears. By myself.
How important is pre-release security when sharing new work?
No horror stories. I literally just sent someone a Dropbox link 5 minutes ago. But that's because they are learning the songs!!
Who on your team gets to hear the final versions first and why, what formats do they each need?
Oh it's just bandmates and friends. And it's just a link to mp3s.
Anything you are working on, anyone you are working with and want to share?
I just shot a video for my first single. My brother Daniel Grant is the cinematographer and my sister-in-law Tessa Fleming is the director. It's currently being edited. But I know it's going to be the greatest thing. We shot it in a local diner and it's got a very special cast of some of my favourite people from Halifax. I can't say anything else yet! But it felt like making a movie with my heroes! You can view it right here!
Also, 'Champagne Problems' is set to release on the Summer solstice!