Digging into the creative process, Byta speaks with artists, musicians, producers, DJs and anyone involved with music creation. A conversation about how they create, collaborate and share music. From studio setups to routines, and the first person to hear about the next 'big' work.
Where are you based?
Newbury, Berkshire, England
How, when and where did you start making music? Are you primarily a musician or a producer, or do something else?
I've played guitar since the age of 8 after being awestruck by the local classical guitar teacher performing in my primary school assembly with his students. Then I got into the electric guitar and was in rock bands as a teenager, which was my first experience of recording and touring. Then progressed to working as a session guitarist for other artists, before starting to write and release my own solo singer-songwriter music in 2017.
Who would you consider some of your biggest influences when it comes to your "sound"?
My guitar playing is definitely a smorgasbord of over 20 years playing all different styles. Classical guitar helped me massively with technique – lots of Bach and Villa-Lobos.
Being in bands and listening to guitar bands in my teens got me really into big lush chord voicings – Kings of Leon, Taking Back Sunday. Listening to Paul Simon and Sting a lot when I studied at Berklee got me into using the guitar as more of a melodic voice. Then getting really into John Mayer, Eric Clapton, Jamie Woon etc. later on not only added a bluesy/soulful element to my playing, but also informed how I wanted my songs and recordings to be catchy and accessible with an upfront vocal, while still leaning heavily into guitar.
I'm very luckily to work with my friend, producer & mixer Sam Winfield who has a 100% success rate to date of taking all those influences in my songs and creating an end result that is exactly what I had in head.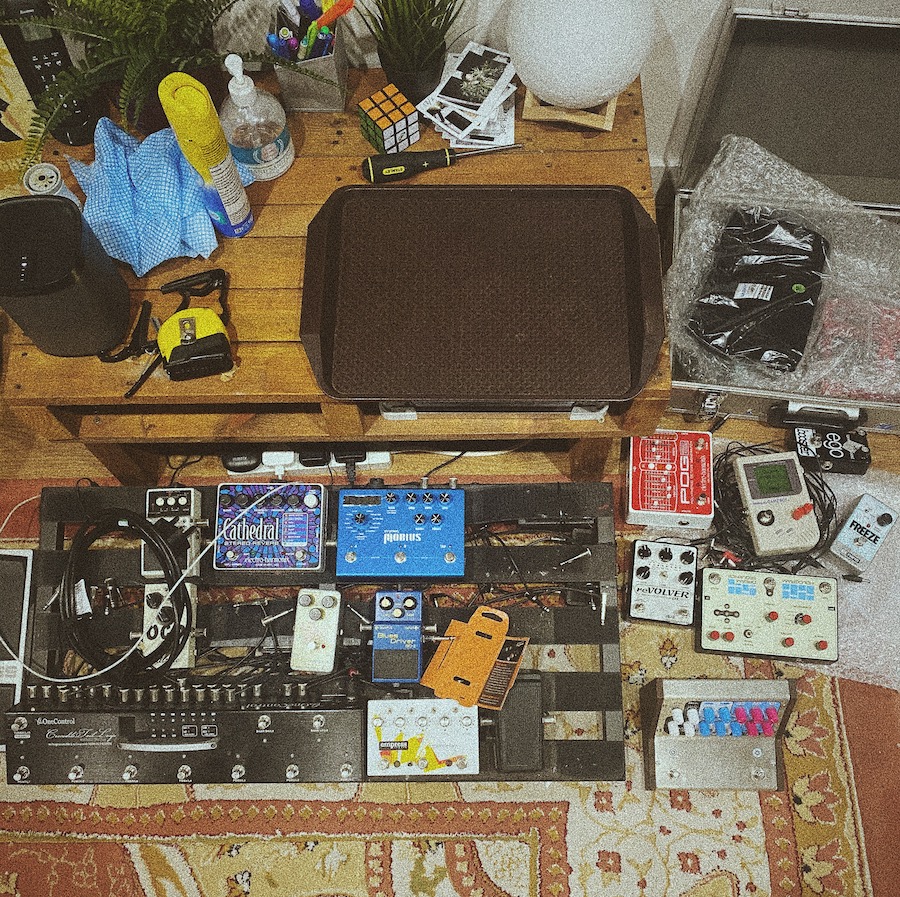 Explain your creative process? Do you have a routine?
I'm certainly in the wrong career – a morning person in a night owl's world. When I'm in writing mode I like to get up at 6/7am and put in a good couple of hours before anything or anyone else can creep into the day. That time is when I feel the most clarity and can really get to the bottom of what I'm trying to say in lyrics. Guitar ideas can come pretty much any time of the day if I have a guitar in my hand – but seemingly only when I'm not trying to find them.
My writing is a two-part process 95% of the time, music first then lyrics later. I'll find something on the guitar I like, and then if I'm able to sing a vocal melody over the top that inspires me, that's when it's a green light to flesh the rest of it out. The hard part for me is finding lyrics that not only tell the story I want to tell, but that fit the melodies I've become attached to during the process.
What is your "studio" setup?
My home 'studio' set-up is very minimal. Just a Rode NT1 through an Apogee One interface into Logic on my laptop so that I can get demo ideas down quickly and easily. The real gearhead is my producer Sam Winfield who owns Studio 91 in Newbury. As you'll see from the photos, he has an incredible setup. Every time I go back to record something new, he has a new piece of equipment – constantly in search of achieving better and better sounds.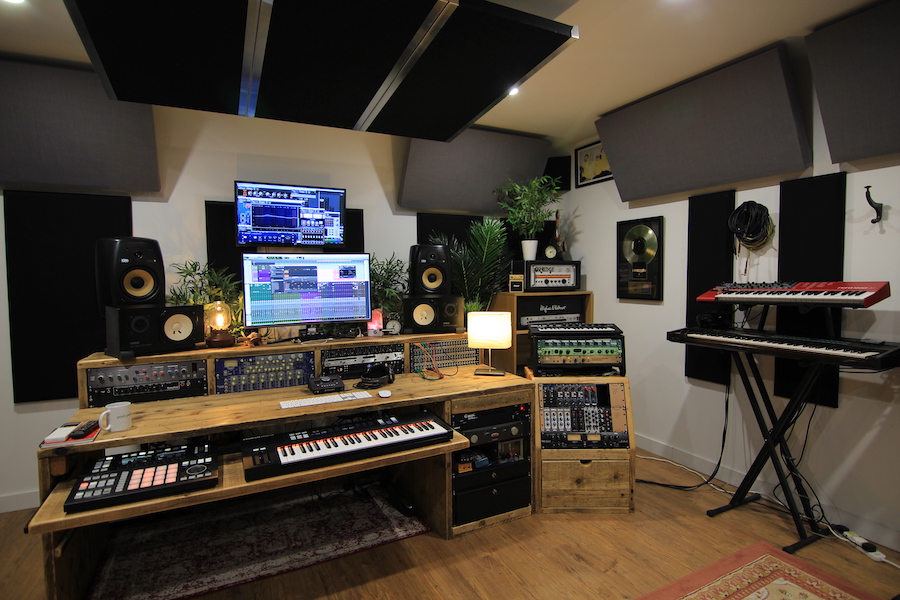 What is your process when working with other people? How is collaboration different in the studio vs working remotely?
My upcoming album is a marvellous advertisement for working with great people. I tend to record pretty fleshed out demos, with groove/part ideas for the direction I want the instruments to go that I don't play myself. The beauty is that the session musicians (drummer Ed Broad, bass player Joshua Rigal, percussionist Tom Millar, Keyboard player Sam Winfield) I use then take those outlines and deliver takes that make the demos sound truly terrible in comparison. There are strings on two of the songs, recorded remotely by the brilliant Barney Morse-Brown. He tracks everything on Cello at home and sends us the files with very little, if any back and forth. It's very different to having someone in the studio, you can't give that instant feedback, but also enables the player to get on and present their full vision for the parts they are recording.
At what point(s) are you comfortable letting other people hear what you are working on?
With the exception of Sam, his assistant Tom Millar and any session musicians I will use on a track, I prefer to not let anyone hear it until at least every part is recorded and we're at the desk bounce stage. Then it's just my team and close friends until the final mix. The exception being that we're in the age of social media, and so I'll occasionally post clips of listening back to an instrument or section of a song in the studio.
Do you share your work in progress (streams or downloads)? Any technical frustrations?
Short of the little Instagram clips – no I don't tend to, not in any permanent forms anyway. I can see myself releasing the demos from this album at some point. I've always liked when artists I admire do that, as you can hear the progression to the finished article.
How do you know when a track/album is finished?
Pretty much if I can listen through it from start to finish and be happy all the way through – not hearing anything I would change. Deadlines certainly help with that. I work better and making final decisions on things if I know I absolutely have to meet a release date, otherwise It's very easy to keep tweaking forever.
How do you listen to the final mixes/mastered work?
With mixes I like to live with them for a while. In my car (terrible speakers), at home on my studio monitors, in my headphones – see how the track feels in each. I'm getting better at trusting my first instinct with mix tweaks. Listening too technically on all those different systems can lead you down a path of wanting something changed to fit one listening environment that you wouldn't be wanting on another. With this album I tried to rely on feel a lot more. When I signed off the final mixes of the album, we had great time listening back through the whole thing in the studio. It meant a lot to hear it all as one with the people who made it with me. I think it's important to have those moments to celebrate as you put so much energy and effort into making a record.
How important is pre-release security when sharing new work?
No horror stories as of yet, touch wood. I tend to only send pre-release links to people I really trust.
Who on your team gets to hear the final versions first and why, what formats do they each need?
When I'm at the point of sharing final versions with people in my team, they all get it at the same time (label, publisher, press, radio, booking agent). I think it's important for someone to be deeply invested in the music they are going to promote, and so the earlier I can get it to them the better. That also helps release ideas and strategies to start bubbling early on. With this album I've only provided high quality WAVs, and no one has asked for MP3s yet – which makes me very happy.
Outside of your inner circle who are the people that will need to hear the new tracks next?
At that point I'm happy for the songs to go out into the world. With press lead times etc. it's often journalists and radio DJs that will hear it next and then on to the general public.
Anything you are working on, anyone you are working with and want to share?
My new single 'Sail Away' came out on the 8th of September, it's taken from my debut album 'The Best I Could Do at the Time' which will be released on the 23rd of September. I can't wait for people to hear it!