Digging into the creative process, Byta speaks with artists, musicians, producers, DJs and anyone involved with music creation. A conversation about how they create, collaborate and share music. From studio setups to routines, and the first person to hear about the next 'big' work.
Where are you based?
LA, USA.
How, when and where did you start making music? Are you primarily a musician or a producer, or do something else?
My dad is a violinist who taught me piano to play at the age 3, and I started writing my first piano piece at age 14. Although I play piano and sing, I consider myself to be mainly a songwriter/composer.
Who would you consider some of your biggest influences when it comes to your "sound"?
In classical, I love Tchaikovsky and Rimsky-Korsakov. I love the sounds of Nat King Cole and Frank Sinatra. I love all styles… My influences are Alicia Keys, Amy Winehouse, Quincy Jones, and Diane Warren. I also love the writing styles of Ed Sheeran and Bruno Mars, they should do a duet together.
Since I'm Lebanese, I love writing Arabian music as well, one particular style is Bellydance music.
Explain your creative process? Do you have a routine?
As we all know, inspiration happens anytime of the day. I try to write during the mornings, but it literally happens anytime. Inspiration doesn't care if you have plans, it will come anytime, anywhere.. And I invite it everytime.
Usually, it's always a melody idea that comes from looking at a picture on my feed, or listening to a far distant beat in a coffee shop…I try to not listen to music to be honest, because I will be inspired too much, and I'll have like 10 songs that i will be inspired to write by the end of the day. So melody happens really fast, usually like 5-10 minutes, and the melody is all done. Now, comes the harder part, the lyrics is what takes time with me… could take between 1 hour up to 2-3 days. I love the process of writing so much… I also know it's not coming from me, but coming through me. I feel like it's almost cheating, I just hear it in my head, and I just play what I hear. I believe we are all conduits, and that creativity is born through us if we are able to align with it. I don't write music what I think it is, I write music based on what "it" is. Creation is not about me, I'm pretty much just delivering what I hear, simple as that. It's a very humbling and amazing experience.
What is your "studio" setup?
I have a home studio with your basic setup, and I also work out of a professional recording studio when needed for songwriting camps, vocal production, and musician recordings. My latest recording session was for a feature film pitch project, I had the vocalist and the engineer, and I was overseeing the vocal takes.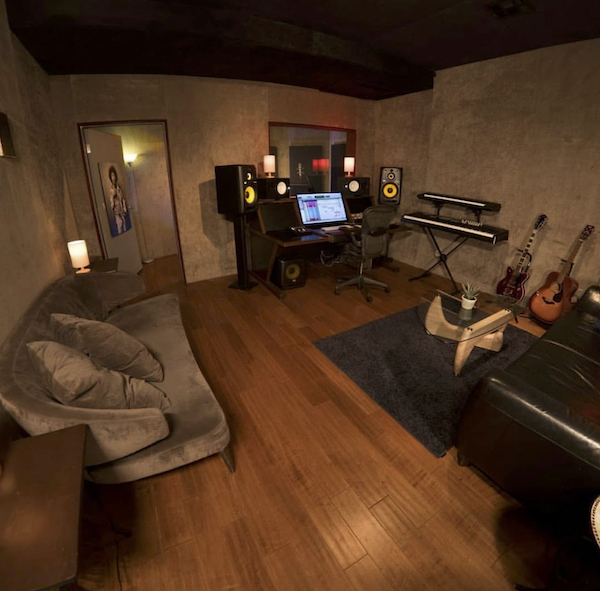 What is your process when working with other people? How is collaboration different in the studio vs working remotely?
At first, I didn't think remote collaboration would even work, and I was really stuck on the idea of working together in person. Of course, the pandemic forced us to all collaborate remotely, and I actually enjoyed it a lot, and it worked out great! I do feel though that knowing the person in advance is essential to see if you're going to both click.
At what point(s) are you comfortable letting other people hear what you are working on?
It depends who is hearing it. If it's pro music people, I could send them a scratch vocal with piano chords. If it's for the music industry, definitely must be all done and perfect with full production and mix/master.
Do you share your work in progress (streams or downloads)? Any technical frustrations?
Sometimes, I use Box as the way to share my work as it's been the easiest so far, but it still doesn't have the platform needed for artists and musicians to share works.
What are the advantages of using Byta as part of your workflow compared to other platforms?
I stumbled upon Byta, it looked very user-friendly, although I didn't get the chance to use it as the main sharing platform, I'm planning to move all my music from box to Byta for the sharing flexibility.
How do you know when a track/album is finished?
When it sounds good to me, and a few trusted music sources that push the green light.
How do you listen to the final mixes/mastered work?
I listen in many ways, though I prefer to do so in the studio.
How important is pre-release security when sharing new work?
I believe it's vital to have the songs secured, because the sharing space is uncontrollable.
Who on your team gets to hear the final versions first and why, what formats do they each need?
Even though I do work solo, and work with co-writers, I'm also part of a female trio songwriter team called "The Fan Club".
I usually let my co-writers hear it of course, a .wav is essentially needed.
Outside of your inner circle who are the people that will need to hear the new tracks next?
Trusted family and friends, as well as music industry people that I trust.
Anything you are working on, anyone you are working with and want to share?
Just finished 2 projects very recently, the first is that I got a chance to co-write on a song with 2 other writers for a charity in LA that deals with helping to stop addiction.
The other is for a feature film pitch project. More news, soon! Information on my music and other projects can be found on my website: Joelle Sahar.