Digging into the creative process, Byta speaks with artists, musicians, producers, DJs and anyone involved with music creation. A conversation about how they create, collaborate and share music. From studio setups to routines, and the first person to hear about the next 'big' work.
Where are you based?
Wrocław, my favourite town in western Poland.
How, when and where did you start making music? Are you primarily a musician or a producer, or do something else?
I started my creative adventure when I was a child. I was introduced to hip-hop culture at a very early age thanks to my older cousin. In parallel I attended music school learning classical piano. To be honest, studying classical material was a bit of a struggle for me so, in the meantime, I found respite in composing my own little tunes. It was my first touch of the creative process. All I needed next was proper tools to record my own sounds. So I used my own double-deck tape recorder glueing instrumental loops from rap songs to freestyle over headphones. All of a sudden, when I was 10, I got seriously ill. It was cancer. So I had to drop all schools. It was a nightmare and blessing at the same time. For half a year I had nothing but my box of tapes, walkman, bed and medicines injected into my veins. To be honest, If I could turn back the time, I would never change this course of events. No matter how pompous it sounds – the music saved my life. When I recovered, even though I never came back to music school, I was certain that I wanted to create music. It was between 1998/1999 when my brother came back from Canada to Poland and he brought pirate Cool Edit and Fruity Loops ripped on CD. It was a total breakthrough. I had a lot of jazz vinyl records I've collected from my family and my neighbours' garbage. I used to sample from these records, creating my own sound libraries to make beats. And then, I went back to playing the piano by ear. Naturally, I've started to use keyboards in my music production and playing in bands. Since then, nothing has changed. Basically, I'm a composer, producer, pianist, keyboardist, educator and vinyl collector. That's my true passion and daily job. I used to play in lots of bands. My main project is EABS (Electro Acoustic Beat-Sessions). Initially, EABS was an event, a jam session. Gradually, it turned into a solid band, so we started to release our music via Astigmatic Records. I also play in the improvised quartet Błoto and duo Zima Stulecia. In the end, I stand alone as Latarnik. Last year I released my debut solo album dedicated to my great- grandmother Marianna.
Who would you consider some of your biggest influences when it comes to your "sound"?
My lifetime inspiration is Gil Scott-Heron and Brian Jackson. Gil taught me how to sing and speak the brutal truth in an entertaining context. Brian is my idol in terms of minimalism and sense of beauty. I also love the sound of our Polish gem Czesław Niemen, especially his 70's electronic, experimental period. I listen to a lot of new music but it doesn't inspire me as much as the music of the roots. Anyway, mere music is not enough to fuel my sound. I've always been looking for some interesting stories. For example, if not for the true story of my grand grandmother's life my solo album Marianna would never exist. It just wouldn't make sense.
Explain your creative process. Do you have a routine?
My alias is Latarnik, which means the lighthouse keeper. I'm a loner. To activate all my creative chakras I need my own secluded creative space. What is more, I love to work late at night. Usually, I like to start with the rhythm section to reach the infectious vibe. When the drums and bass are tight, I layer the harmony. Then I finish it with the melody. It is the most intimate part. While creating melody lines I usually use my own voice to sing it. Then, I translate it to keyboards. This gives the melody a human feel.
What is your "studio" setup?
I have a studio proper and my collection of analog synths and keys. I rarely use instrument plug-ins, because I like limitations and the fact I can really touch the uniqueness of the specific keyboard to make the sound. My set of instruments is divided into six categories: acoustic (Nordiska Bambino Piano), electro-acoustic (Fender Rhodes Mark II and Hohner Clavinet-Pianett Duo), 70 synths (eg. Roland SH-1000), 80's synths (eg. Roland Juno 106), 90's synths (eg. Korg X3) and contemporary synths (eg. Nord Stage 3 or Moog Minimoog Voyager). My secret weapon is my little acoustic piano which appeared in many of my recordings. It will always sound like my private piano. I also like the synthy-organic sound of Roland SH-1000 (the first ever Roland mono synth from 1972), it always takes me back to the vintage wonderland. You can hear it in full glory on "Interstellar Low Ways" from the EABS's "Discipline of Sun Ra" album. What is more, recently I found a new way to use my Nord Stage 3. I'm creating my own sample library uploading samples I've found on vinyl records, so I can play them creating unique harmonies and sounds in the studio or stage.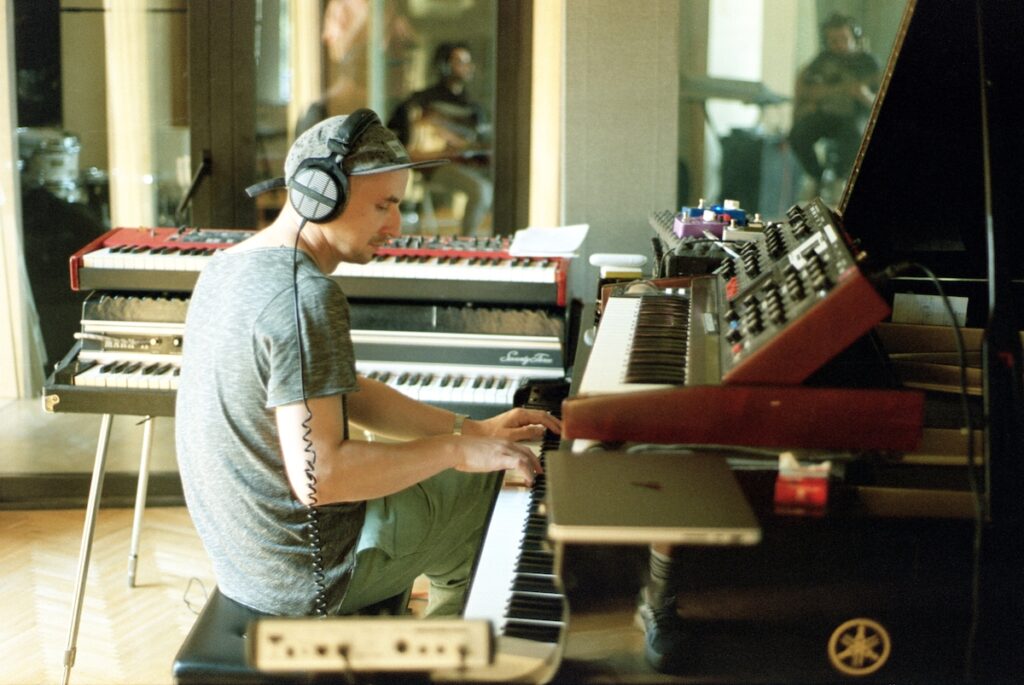 What is your process when working with other people? How is collaboration different in the studio vs working remotely?
I am used to every kind of collaboration.  When I work remotely, it feels like I have more freedom to express myself, so I send back my concept in the package waiting for the reaction of the associate. The reaction is different when the collaboration takes place in the studio. I even like it better because it happens in real time, so then somebody can tell me when to stop if my idea is good enough. Usually, I trust myself but sometimes there is a risk that I miss the golden moment and change it to something less attractive. It always helps if someone's gonna shake me.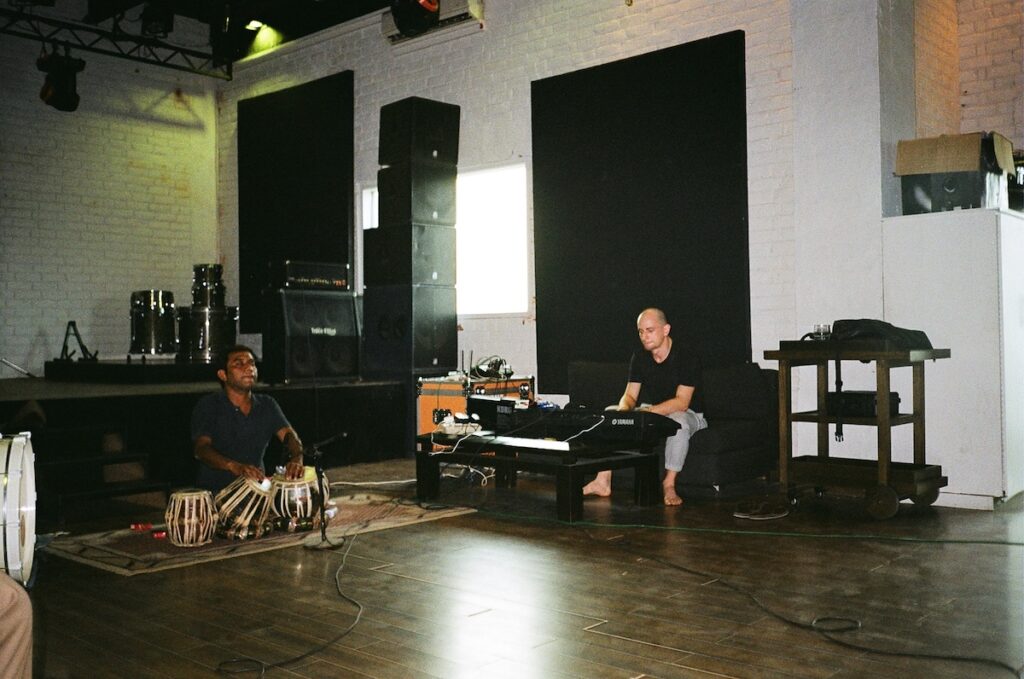 At what point(s) are you comfortable letting other people hear what you are working on?
I'm hardly ever comfortable letting people hear anything I am working on. I'm a shy guy. I'm always trying to make honest music. So, it always helps when I feel like I gave 100% of my spirit, even if it's technically imperfect or unfinished.
Do you share your work in progress (streams or downloads)? Any technical frustrations?
I used to stream my music in progress. It usually happened because I was so excited that I'm in a magical moment – some kind of breakthrough in the process of creation. It's always nice to share it with the community, however, I've learned that it's easy to lose that magical organic creative stream while wasting my time sharing streams and looking for attention, meanwhile…  losing my attention. By the way, I have nothing against anyone else in the room who might be streaming my work.
How do you know when a track/album is finished?
The album is finished when the music is honest and it tells a story. The proper mix and mastering is the issue as well.
How do you listen to the final mixes/mastered work?
I like to mix my music when I'm the only producer. However, when I work with my band, we always hire professional mixers and mastering guys to reach the highest quality. It is also important for us to be present at the whole mixing process in the studio. Mastering is usually sent to us later on.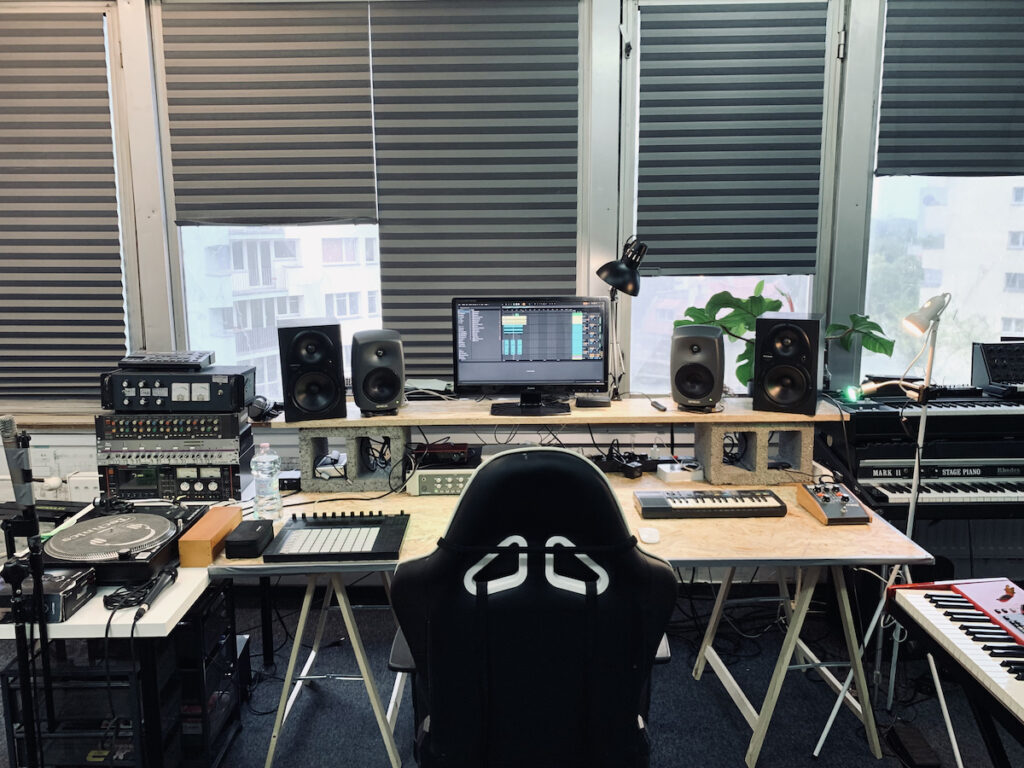 How important is pre-release security when sharing new work?
It's always secure till the release day. Even my parents were instructed how to keep it secret 🙂
Who on your team gets to hear the final versions first and why, what formats do they each need?
We have our manager Sebastian, who also runs Astigmatic Records with two other guys Lucas and Pawel. They are usually first witnesses and always bring first objective reviews.
Outside of your inner circle who are the people that will need to hear the new tracks next?
Closer to the release date Astigmatic crew send mp3s, CDs or vinyls to chosen music critics and radio DJs.
Anything you are working on, anyone you are working with and want to share?
We already recorded 400 minutes of improvised music with Błoto. Soon we will choose 40 minutes to fill the vinyl capacity. There will still be some 360 minutes left for some future moves, maybe for the next album or soundtrack. We also recorded the new album with EABS. It is our interpretation of Tomasz Stanko's album "Purple Sun" to be released next year. Currently, we're on a European tour with the incredible Pakistani band Jaubi. We just released our new album EABS meets Jaubi – In Search of a Better Tomorrow. What is more, I'm composing my next solo album as Latarnik. Also working on my new project with Toni Sauna (from Wildcookie).