Digging into the creative process, Byta speaks with artists, musicians, producers, DJs and anyone involved with music creation. A conversation about how they create, collaborate and share music. From studio setups to routines, and the first person to hear about the next 'big' work.
Where are you based?
Mathieu: Montreal QC
Pietro: Montreal, QC
How, when and where did you start making music? Are you primarily a musician or a producer, or do something else?
Pietro: I started playing french horn very young. Some of my first explorations and attempts at making my own music were with Mathieu. Those improvisations later became the instrumental band "Torngat", alongside Julien Poissant. 5 years ago, I would have told you that I'm primarily a musician, doing lots of tours and live shows, but I've been spending many hours in the studio in the last while, and over the course of the last 5 years it has gradually switched from mainly musician to mainly producer. I've been producing all sorts of music, from loud rock bands to instrumental soundtracks for film to electronic music. I think Mat has had a similar trajectory. We are musical brothers, growing up side-by-side, even when we're not working directly together.
Who would you consider some of your biggest influences when it comes to your "sound"?
Mathieu: The band Harmonia from Germany, The great Brian Eno, Harold Budd, Laurie Spiegel, Suzanne Ciani.
Explain your creative process? Do you have a routine?
Pietro: It has changed a lot over the years, especially since we're long-time collaborators. If we go way back to the start, at first it involved lots of improvisation on the horn and piano. Then we added effect pedals and Mat started playing keyboards (Rhodes, Wurlitzer, Hammond).  Then we started composing more and improvising less.  Then we delved deeper into the wonderful world of synthesisers (Mat first). Then we decided to make our first album "Synth Works Vol.1" which we made separately (we were both touring a lot), so all the ideas we would send each other would go through our own scrutiny before the other would hear it.  And now, for "Synth Works Vol.2" we've decided to interconnect all our modules and synths and gear, to allow our machines to talk to each other, and also allow us to be more fluid and to re-integrate some live improvisation. I guess the next step will be to bring back the horn and piano.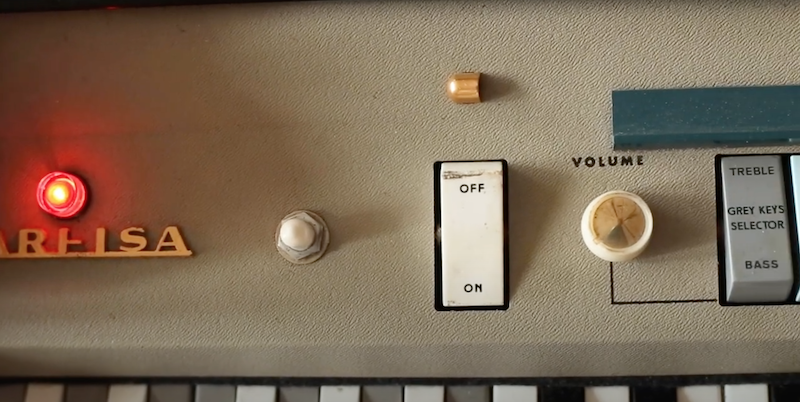 What is your "studio" setup?
Mathieu:   For this record we met for 2 weeks, set up all our instruments in a small room near the train tracks in Montreal and recorded everyday, 1 song a day, until the world shut down on March 17th 2020.  Our set up is modular synths, a farfisa, minibrutes, and a Beatstep pro to act as brain for the beat oriented numbers.  And lots of cables, lots of them.  Everything DI, 6 lines.  Most of the record was live off the floor, minimal edits.  Then we both did work from our home studios, and mixed analog at a friend's perfect little studio.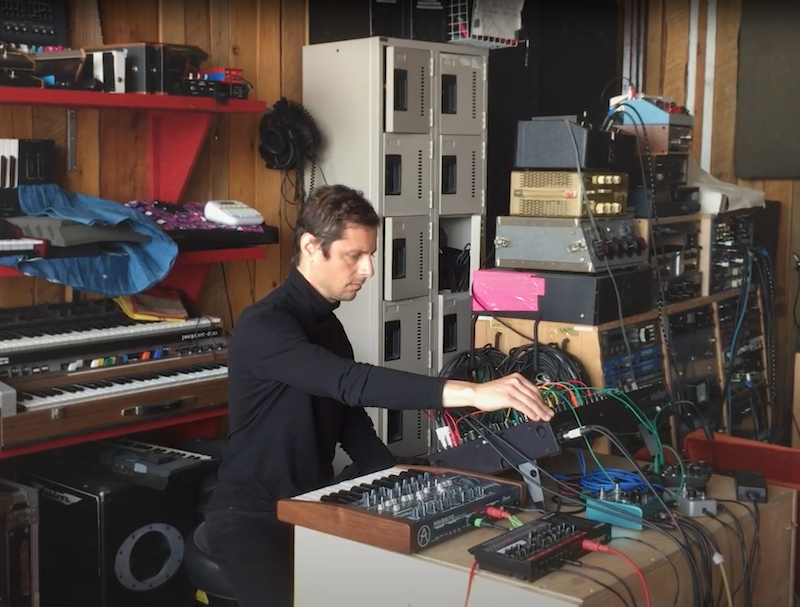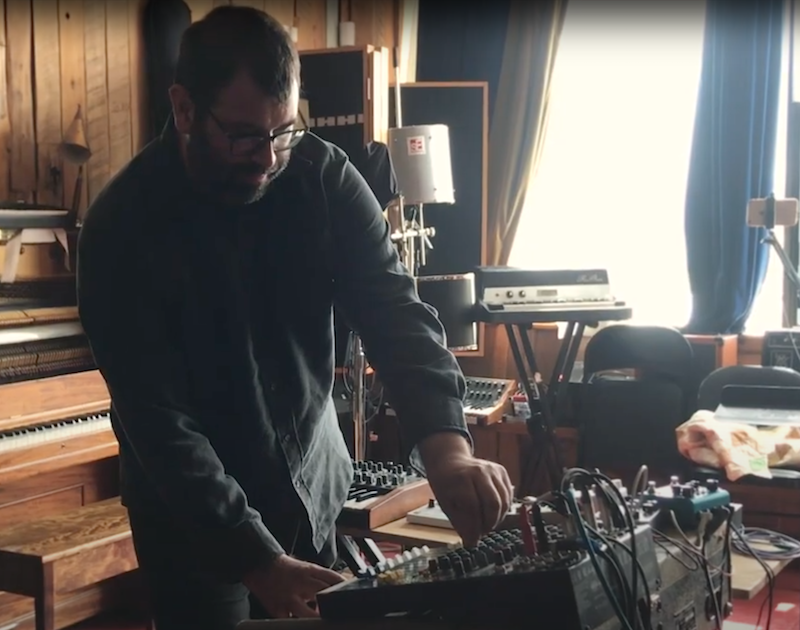 What is your process when working with other people? How is collaboration different in the studio vs working remotely?
Pietro: It depends on where you're at in the process. For Mat and I, we've been playing together for so long that it feels second nature no matter if we're in the same room or not. That being said, when you're starting the process while working on new material, it's always easier if you're in the same room, and that can lead to some happy mistakes and room to grow when one person reacts to a melody or a sound happening. Although throwing ideas at each other in the same room, off the bat is putting yourself in a vulnerable position, it can yield the best results. A collaborator can say with one look or one sound what 10 email exchanges can't'.
At what point(s) are you comfortable letting other people hear what you are working on?
Mathieu: When it sounds good, when we know it's not going to change much. Sometimes right before we master, when mixing is done.
Do you share your work in progress (streams or downloads)? Any technical frustrations?
Pietro: Not with others. Only technical frustration was opening the sessions remotely over video while editing, so we could both see, hear, and edit together. Took a moment but we figured it out.
How do you know when a track/album is finished?
Mathieu: We know a track is done when it brings you somewhere, and it's pleasant, and it sounds good, and it's not boring and not too busy.
We know when a record is done when we have about 30 minutes of good stuff, a series of tracks that make sense together.
How do you listen to the final mixes/mastered work?
Pietro: We did all the editing and mixing together. Some of the editing was remote but we were together for the mixing. Ryan sent us the masters and then I listened to the record from start to finish on the headphones that I know well. Not bad, I thought.
How important is pre-release security when sharing new work?
Mathieu: We don't send files to anyone. We put tracks we want people to hear on Soundcloud, no downloads. We don't go crazy over it. No horror stories, no.
Who on your team gets to hear the final versions first and why, what formats do they each need?
Pietro: We didn't have a label when we finished this album. We uploaded it to Soundcloud and sent it to a couple of labels and some close friends. Our close friends are our teammates. Our new label too.
Outside of your inner circle who are the people that will need to hear the new tracks next?
Mathieu: Everybody! Any format!
Anything you are working on, anyone you are working with and want to share?
Pietro: Synth Works Vol.2 is out now as of last month! We are both excited about that, and to play some live shows. We're both doing some fun soundtrack work as well as producing other artists' albums. It's fun and keeps us both really busy. I had the honour of working on the new Sadies album. I'm very excited for that to come out. Very different type of music than the synth works series, but that's what keeps it fun.