Digging into the creative process, Byta speaks with artists, musicians, producers, DJs and anyone involved with music creation. A conversation about how they create, collaborate and share music. From studio setups to routines, and the first person to hear about the next 'big' work.
Where are you based?
I'm based in London, UK. specifically Ealing in West London.
How, when and where did you start making music? Are you primarily a musician or a producer, or do something else?
I started to make my own music back in the early 1990s in London where I eventually produced and released five albums under the name Outside on Dorado Records which was part of the Acid Jazz boom in the 1990s in London.
I would say I'm both a musician and a producer equally. I play both piano and drums and have done so since the age of around about six or seven where I started learning classical piano and some beats on the drums.
Who would you consider some of your biggest influences when it comes to your "sound"?
From a piano perspective definitely Herbie Hancock and Keith Jarrett.
From a drumming perspective it would have to be Harvey Mason and Steve Gadd.
Explain your creative process. Do you have a routine?
Because of the luxury of having a studio in my garden, I don't really have a routine as such. The days of all-nighters in the studio like I used to do are long gone now. I'll either sit at the piano or the drums and start writing from there as they are my fundamental instruments.
What is your "studio" setup?
My fave bit of hardware would be my MIDAS VENICE F32 mixing desk as it allows me 32 channels to plug all my instruments into and because it has audio converters inside, all I have is 1 cable between the mixer and the computer so makes routing super easy.
My fave bit of software would be the Rhodes v8 – I was involved in the process of both this software version and the actual hardware of the Rhodes instrument which is banging and I hope to own one soon, until then, I trust my Rhodes Mk1 Stage with Suitcase pre-amp upgrade to do the job as it has done on my latest album (software version is for my laptop when I'm on the move).
I'd say my favourite single piece of equipment would have to be my Yamaha C3 Grand Piano.

What is your process when working with other people? How is collaboration different in the studio vs working remotely?
I always prefer to work together with people in the same room as this creates a vibe that can often be hard to achieve when doing things remotely.
At what point(s) are you comfortable letting other people hear what you are working on?
Once I am happy with the "work in progress" music, that's the next step!
Do you share your work in progress (streams or downloads)? Any technical frustrations?
I only share once finished, mixed and mastered.
How do you know when a track/album is finished?
When the label, Ollie Buckwell at Dorado Records, says "time's up"!
How do you listen to the final mixes/mastered work?
On as many speakers as possible, from the 3 studio monitors to the kitchen speakers to the car and so on.
How important is pre-release security when sharing new work?
I think the best option is a low-quality 128k mp3 that states that it is low resolution so that the hope is that people will eventually seek out the higher-resolution format upon release.
Who on your team gets to hear the final versions first and why, what formats do they each need?
I either work alone or co-produce and the record label normally would hear the music first. I tend to share 320k mp3s as they sound almost identical to full quality wav files and are easily small enough to send via email.
Outside of your inner circle who are the people that will need to hear the new tracks next?
I guess just the tastemakers that the record label and PR sends out the music to.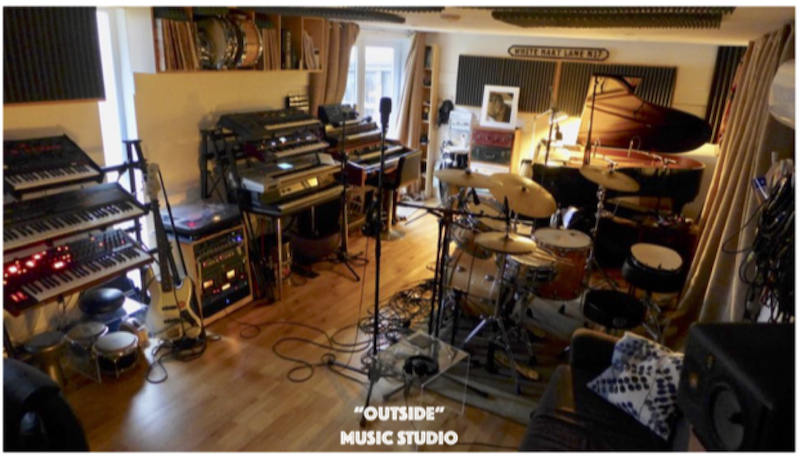 Anything you are working on, anyone you are working with and want to share?
I have a new OUTSIDE album, the sixth studio album, it came out on April 7th entitled "Almost Out" on Dorado Records.
'Almost Out' is a work of downtempo beats and keys, Lo-Fi vibes and basslines and touches of jazz instrumentation across fifteen tracks. I'm flying solo on this album, like I first did in 1993, drawing on my 20 years in the company of soul and jazz legends, while adding a dash of Philip Glass and Steve Reich minimalism.