Digging into the creative process, Byta speaks with artists, musicians, producers, DJs and anyone involved with music creation. A conversation about how they create, collaborate and share music. From studio setups to routines, and the first person to hear about the next 'big' work.
Where are you based?
Manchester, UK.
How, when and where did you start making music? Are you primarily a musician or a producer, or do you do something else?
For as long as I can remember, I've always loved writing poetry and songs. I was definitely a songwriter long before I was a singer, arranger or producer. Growing up, my dad was a musician, and he'd have other musicians at the house all the time – they'd stay up late writing and playing songs on their guitars around the kitchen table. This sparked my interest in music and songwriting. I still have a songbook from when I was eight years old. I'd write in the garden, in my bedroom, in the car watching the world go by.
In my early years of writing, I had a lot of songs but never had the facility or knowledge to create recordings. My dad bought one of those old 16 track desks, and I started demoing my music. We had this little makeshift home studio in our basement. I'd sit down there for hours working on songs in my late teens.
In my twenties, I started working collaboratively with other producers. I'd write songs on the piano and demo them and then work with a producer on the recording and production. Usually, this was done in home studios with people producing electronic music, mainly drum and bass or trip-hop/soul. Most of the music from these years of creative exploration has never been released.
I often found myself creatively frustrated during those days, usually sitting on a sofa behind someone else at the controls. There I learned a lot about music production. Going through the experiences of working with other people was fundamental to understanding my own vision for my music. This ultimately led me to set up my home studio and get into production.
Who would you consider some of your biggest influences when it comes to your "sound"?
I have always loved Soul music. Since I first heard Stevie Wonder as a kid, I've spent years exploring back catalogues of Soul artists. It's music that just moves me. I listened to a lot of R&B in the 90s as a teenager, and later that led me to Gospel music and Jazz. But I also grew up on Folk artists like Joni Mitchell, Tracy Chapman and Joan Armatrading. All of this music has its place in my memory that I draw from when I'm writing.
I write songs to express my thoughts and feelings. Usually, it is just over some chords that resonate with me in the moment. Inspiration, I think, happens on a very subconscious level at that point – all of the things you've listened to over the years, the way people express themselves and what you feel from it all.
With lyrics, I often like to use 'stream of consciousness writing'. This is basically where you hit record and just sing whatever comes out. I've written full songs using this approach, or sometimes I listen back and try to identify words and phrases and build lyrics from there.
Vocally, I think Aretha Franklin has had the biggest impact on me. I remember listening to her sing 'I Never Loved a Man' and how she almost spoke/preached the words. Every syllable had a tone that expressed something different. I hadn't really intellectualised it in that way until that point.
Explain your creative process? Do you have a routine?
My creative process for this album was really varied. As I said, I used 'stream of consciousness' methods for quite a few of the songs, including Heaven Knows, Flashlights and Down River. My Lover was originally a poem which I adapted into a song. Some of the others I wrote on piano and then built demos before they were recorded either in a studio or remotely (once we were in lockdown).
When I'm writing, I'm usually in my studio for hours. I play things round and round, exploring different ideas until I hit on something that sticks. For this album, I was writing in that way for a couple of months, only leaving my studio for food and cups of tea. I get very fixated when I'm in writing mode, where more and more ideas come. For me, writing, recording, creating videos, and doing a campaign have to be compartmentalised for that reason. I get hyper-focus, so it's challenging for me to switch between different creative processes.
What is your "studio" setup?
My home studio is mainly a vocal and editing studio. It is where I write, work on demos, and create musical arrangements. I will record lead and backing vocals or other instruments like strings, brass, harp, and guitar. But other instruments like drums, for example, I have recorded at other studios.
Generally, I use Sontronics Microphones – I have a few of their microphones. I use the Sontronics Aria the most. It was recommended to me by Lewis Hopkins, who engineered a significant proportion of the album. I use an Apollo Twin interface, and I use a few different analogue-modelled compressor plug-ins. Then I work in Logic Pro X.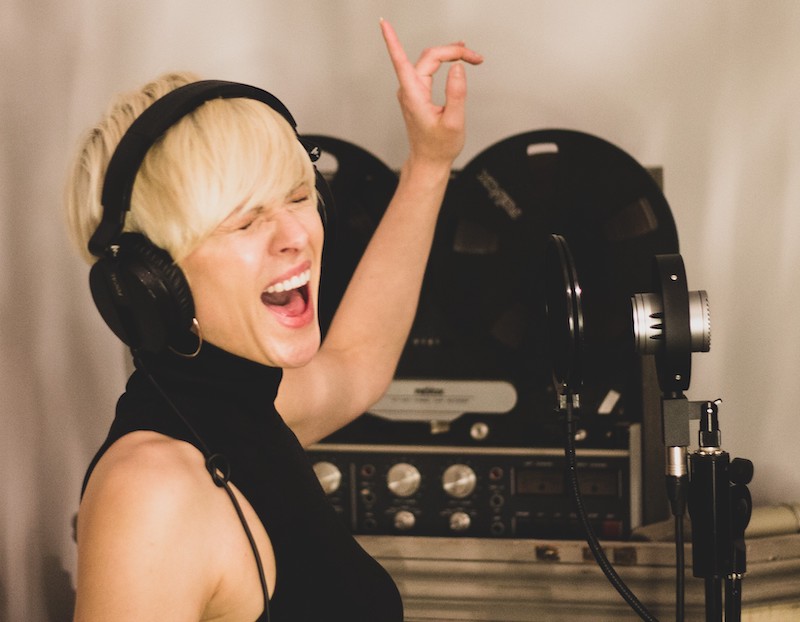 I use a couple of different keyboards. I like the weighted keys of the Roland RD-64, which I usually use with Keyscapes for Piano sounds for demos. The album tracks are mostly all recorded on real pianos. Still, I like to have something as close as possible when I'm creating a demo. For a couple of the tracks of the album, I used keyscapes for piano overlays. I also have a Nord, but I don't use it very often because it's not weighted. And I have a vintage upright piano, but it's salvaged and not in full working order tuning-wise (despite our efforts). It is just used for songwriting, not recording.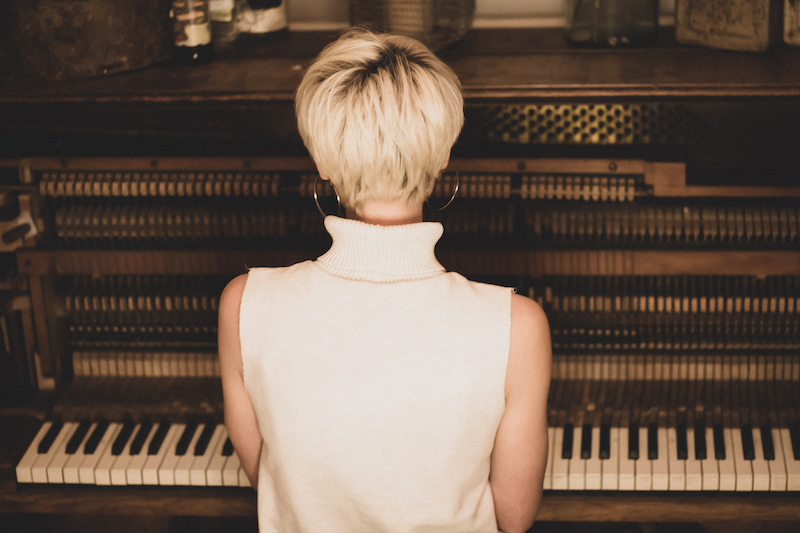 What is your process when working with other people? How is collaboration different in the studio vs working remotely?
With the studio sessions for this album, I wrote the songs and recorded demos or created live references (recordings from live gigs) for the sessions musicians. When you're in the room with everyone playing simultaneously, it's great to get the whole picture. You can explore the song together. You get something special when everyone's in the room together. Initially, that's how I wanted to approach the whole album.
After the first five-day studio session at Middle Farm Studios in Devon, I had to switch to remote recording, where we laid the foundations for the majority of the album. In terms of remote recording, a lot of my songs have very simple chord structures. Sometimes, they are just four-chord structures all the way through. I like writing like this as it gets me into more of a meditative state and also means I have to explore and find new places to go vocally. Along with the arrangement, it's the vocals that lead to the differentiation between sections in a song with a repetitive chord structure, and I think that can help keep the attention on the 'song' and the story you're telling.
Because of this, though, the attention to detail and creating complexity in the structuring of parts and mixing is pretty important, so the songs don't feel linear or repetitive. So even with the live takes we did in the studio, I spent a lot of time in post-production developing the arrangements – particularly the top-end instruments like guitar, backing vocals and organ parts and overdubbing little extras to percussion, sonic elements and underlays.
Remote sessions are great in some ways because you're working on one instrument at a time, so you can give your full focus to what that part is contributing to the overall sound and make sure it does everything it needs to.
But remote recording does come with its own set of challenges. When I was recording the drum section for 'Will I See You Again, for example, I recorded my dad performing the drum part at my rehearsal space at my house. We tweaked and re-recorded until it was exacting. This was then sent as an arrangement reference over to the drummer at Hive Mind Studios in New York.
With a reference, however, it's challenging for a drummer to carbon copy an arrangement like that and remember all of the complexities of the part in a short studio session. You also don't want to lose the stylistic approach of the drummer by writing it out on a lead sheet and having them play it verbatim. There are challenges in getting what you want and need for the arrangement to work and allowing creative freedom to the musicians you've picked because you love what they do – it's a balancing act. You'd both just feel it and adapt the part mutually in the room.
With guitar, it can be a lot more open – you can get more of a general vibe of the style you want. Then you just ask for lots of different takes and pick out all the bits of magic that come out in the process. Editing guitar lines is probably one of my favourite things to do creatively in terms of arranging. I think you can build a really interesting powerful relationship dynamic between the lead vocal and the guitar.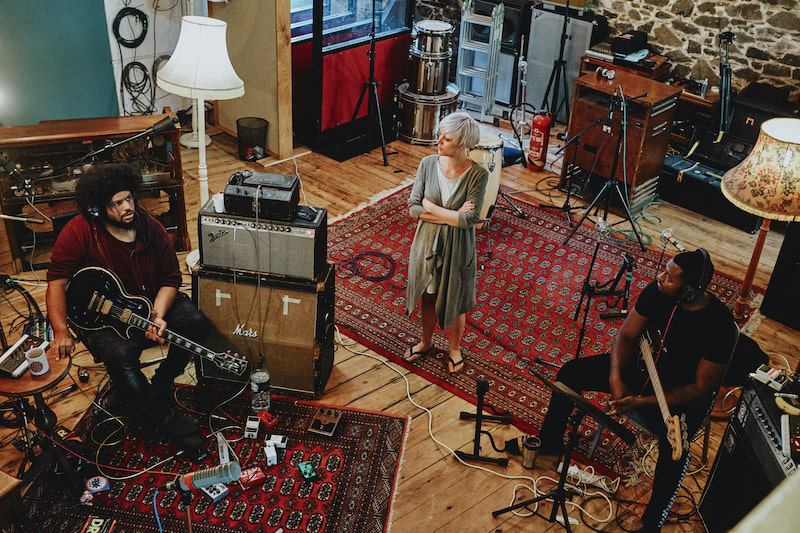 At what point(s) are you comfortable letting other people hear what you are working on?
It really depends on who it is and what I feel about the song. There are certain friends and family that I know I can play ideas to when a song is still in its infancy – my dad is a good example. Being a musician means he understands the creative process and can hear the potential of an idea. Other people need to hear something more finished in order to understand what you're trying to get across.
That said, there are hundreds of demos and song ideas stored on many hard drives and in books that no one has ever heard.
Do you share your work in progress (streams or downloads)? Any technical frustrations?
I wouldn't feel comfortable sharing works in progress outside of my close social circle. I think you have to be ready to let a song "go" when you publish it online – to me, it's a bit like handing it over to the world to interpret and take something from it, so until I'm ready to allow a song to go off on its own little journey, I wouldn't publish it online.
Technical frustrations are very REAL. Not necessarily when sharing (but there's been a fair few of those, too!), but I had an issue during the process of recording the album where I upgraded my Operating System to download some software. After that, I couldn't get my interface to work with the new OS (rooky school-girl error!).
I spent about a week on the phone with Apple support, and I felt like throwing my iMac out of the window at times. Eventually, I had to downgrade my OS back to the previous version, which was no easy task and then I finally got everything working again. It was an absolute nightmare, but I learned lessons. Never again.
How do you know when a track/album is finished?
It took me a long time to say 'Heaven Knows' was finished. But I think you know when you listen through, and there's nothing that niggles you anymore, or at least you've tried all the ways to fix whatever it is that niggles you and come to the point of acceptance that it is what it is.
A few songs on the record took such a long time to get right, and I went through periods where I couldn't see how I would ever finish the album. I think a lot of people around me thought I was being too much of a perfectionist and would never finish it. But ultimately, you have to do it until you feel good about it and love it. Sometimes, you have to get through the barrier of hating it and never wanting to listen to it again before you get there. And sometimes, you never get past that. There are a couple of songs that almost made it all the way to being completed for this album, but in the end, I just didn't love them anymore, and so their journey ended there.
How do you listen to the final mixes/mastered work?
I worked with Brian Malouf on the mixes for this album via Zoom. He mixed the tracks in his studio in LA (USA) and then streamed the live mixes to my studio in Manchester (UK). We could make changes in real time, so it was like being in the studio together. Once we'd finished, I listened to them in my studio and many other places like friends' houses, in my car etc.
The masters for this album were done at Abbey Road Studios. I was in the session working with Geoff Peshe on them, so it was great to hear the mixes there, too, before mastering. It gives you extra confidence in the mixes when you listen to them in a room designed for clarity to highlight any mix issues, and signing off on the masters in the room means the album really is finished when you leave the session.
After mastering, though, you still need to listen again on different speakers and sound systems. It is good to hear it in different contexts and make sure it sounds consistent etc.
I think for major artists, that's probably more of an issue. Still, I just use private links on SoundCloud to share work behind the scenes. I regularly re-set the links so that once people have listened, the music isn't just continuously available to everyone.
Who on your team gets to hear the final versions first and why? What formats do they each need?
My dad and the rest of my family heard the album first after we mastered it. Then I played it to some close mates. Finally, I played it to my team and people in the industry working behind the scenes or in the media.
Outside of your inner circle, who are the people that will need to hear the new tracks next?
People on my team, people in the industry, the media, and then they get released.
Anything you are working on, anyone you are working with and want to share?
The title track for 'Heaven Knows' came out on 29th April. The music video is one of my favourites, we filmed it at Albert Hall in Manchester.
I've also recently announced a headline show at London's iconic Jazz Café on 17th September. I am also playing my biggest hometown show to date at Manchester's Albert Hall on 25th September. There I will perform my album in full.
And… 'Heaven Knows' (the album) is out today!