Digging into the creative process, Byta speaks with artists, musicians, producers, DJs and anyone involved with music creation. A conversation about how they create, collaborate and share music. From studio setups to routines, and the first person to hear about the next 'big' work.
Where are you based?
I'm based a little outside Wangaratta on a farm, in a town called Peechelba, in Victoria, Australia.
How, when and where did you start making music? Are you primarily a musician or a producer, or do something else?
I am a natural performer and singer, production is something I have been doing for the past six years and investing a lot of my time into. I have travelled through different streams of music since I was around 10 years old… did the classic piano and voice lessons, played in some jazz bands, joined the choir – I was writing my own songs throughout this whole process too.
At University, my friends and I started a band called Zoe and The Milkmen, while I studied production at the VCA. This is kind of where my sound took a turn, and started my MOZË project during COVID.
Who would you consider some of your biggest influences when it comes to your "sound"?
Every year I cycle through a ridiculous amount of music and information to help conceptualise my sound. The artist's I circle back to for songwriting are Lianne La Havis, Carole King and Coldplay – however, for production, I love James Blake, Bonobo and Maribou State. I am currently obsessed with Caroline Poleteck – I think her sound has some themes that I really relate to. Her melodies are amazing and the production is so vibrant and free – I love it.
Explain your creative process. Do you have a routine?
Usually, it begins with a surge of passion and feelings surfacing themselves and trying to catch that moment and transform it into a song. When everything is going your way it can be as easy as following your instinct and trusting each creative decision you make to shape itself into the world you are sitting in.
A lot of the time I am searching, listening and learning new techniques and trying to challenge myself to make something new and innovative. I like to change my creative routine in order to see every angle of how a song can be born.
The most natural process for me would be sitting in front of a piano and belting it out, and when I get in the zone sometimes it will be 5 hours since blinking. I do love a midnight session too!
What is your "studio" setup?
I have the studio set up in a really gorgeous space at my family home in Wangaratta. It's the office above the garage and has natural lighting and is super large! My setup includes my laptop and a monitor for the ultimate studio aesthetic. I have my Nord keys, but mostly just use plugins on Ableton – I would LOVE hardware, however, there are just too many things to invest in at the moment and sadly synths are not a priority. As you can see I also have my friends' artwork on display :')
I occasionally go into a decked-out studio in Melbourne for ultimate playtime.
This is my budding studio space in Wangaratta…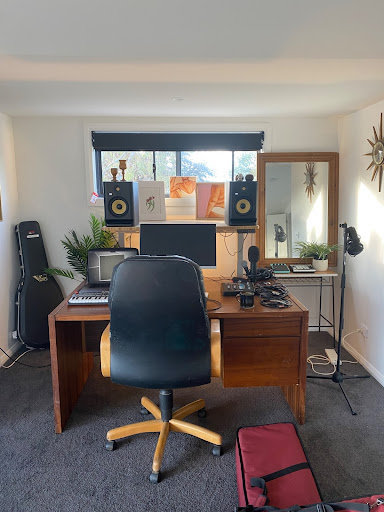 What is your process when working with other people? How is collaboration different in the studio vs working remotely?
It depends on who I'm working with – but usually, every experience is so amazing. I love smooshing two creative minds together to see what weird and wonderful things evolve from the experience. Usually, when I collaborate I am there as a songwriter and a singer, I get extremely shy producing in front of others – I like my space for that. I produce mostly on my own, but there are a few people I am comfortable in front of.
At what point(s) are you comfortable letting other people hear what you are working on?
I actually get really excited about songs very quickly, but try to wait 4 days after making something before showing someone. The initial stage of finishing a song can be really exciting, but I find judgement is clouded by adrenaline sometimes.
I like to see people's reactions and can usually tell pretty quickly if something is hot or not. Erykah Badu said; "It's not whether a song is good or bad, but whether it makes you feel something" and I stand by that. I would only show people something I'm proud of, so much stuff is never heard.
Do you share your work in progress (streams or downloads)? Any technical frustrations?
Yeah I use this website called DISCO – and it's great, so far I haven't had any technical difficulties with it – super accessible.
How do you know when a track/album is finished?
On the back of that quote from Erykah Badu, you usually feel it. I also get advice from other people too. If it gets me/others up and dancing n smiling that's a pretty good sign.
How do you listen to the final mixes/mastered work?
They get sent! I would listen through literally any device possible – a phone, a studio, headphones, earphones, a car speaker. Just to make sure it is all balanced out.
How important is pre-release security when sharing new work?
For me right now, I don't think it's an issue at all. However, once I start getting some more traction, I'll be a little more cautious! Especially in the digital age, I have no clue who's watching.
Who on your team gets to hear the final versions first and why, what formats do they each need?
I have many friends in the music industry that I go to for advice, but mostly I would show the PR, label and distribution services. I always show my family songs, and friends too – but it's kinda nice to have a little surprise for them too. I would definitely show the band, along with teaching them how to play!
Outside of your inner circle who are the people that will need to hear the new tracks next?
MOZË followers I hope! People that are inspired by, or can relate to my music in anyway. I hope other musicians are influenced by my music too.
Anything you are working on, anyone you are working with and want to share?
I have been working with quite a lot of people this year! I made a remix for Velvet Bloom, and am writing with quite a lot of other artists that I won't share just yet… I have my EP pretty much ready for release next year and have finished writing a second EP that I need to produce. Then maybe an Album in 2024!