Digging into the creative process, Byta speaks with artists, musicians, producers, DJs and anyone involved with music creation. A conversation about how they create, collaborate and share music. From studio setups to routines, and the first person to hear about the next 'big' work.
Where are you based?
I'm based in Washington, DC. I grew up in Silver Spring, Maryland which is a city suburb of the District.
How, when and where did you start making music? Are you primarily a musician or a producer, or do something else?
I started making music in about 2001. I'm a musician and producer – in the sense that I produce the music I make. I sing and write songs and figure out arrangements for them. I was one of the founding members of the band Lionize which was active from 2002 to 2019. Now I perform and record under my own name. It's easier to do the payroll this way.
Who would you consider some of your biggest influences when it comes to your "sound"?
There is such a wide variety of influences. It's twofold for me.  I would say my sound is shaped by my first love of soul music and classic rock. When I was younger and getting into music it was CCR, Otis Redding, Sam Cooke, Etta James, The Rolling Stones, Van Morrison, Joe Cocker,  Sabbath, Zeppelin, Motown, O.V. Wright. Then when I hit my teens it was Bad Brains, Nirvana, Soundgarden and Clutch.  The second part for me is really being influenced by live music. I steal so much that I see and hear live.
Getting to tour with bands like Clutch and Lucero or seeing Jimmy Cliff and Toots live – These are all things then essentially folded into my psyche. In my twenties, I got heavy into Willy Nelson, Merle Haggard, Wanda Jackson, Emmy Lou Harris, and Steve Earle. I think my sound is all this mashed up. I think the common thread is Soul. You gotta sing loud. That's really my only technique.
Explain your creative process. Do you have a routine?
My creative process has no rules, but my demo process does. Generally, I sit down almost every day and every night (with a space in between) for writing. The first part of my morning is vocal warm-ups and exercises and then I pick up an acoustic or electric guitar. Sometimes the song comes from that.
Oftentimes I'm driving or in the shower and the melody comes or a phrase. I'm always writing phrases or themes down. I try to pull from wherever I can in this respect. But for the most part, I sit down and try to come up with a full verse and chorus idea. Like anything else, it takes hours or days or minutes to come to something I like. Then this is where the process differs for a lot of people but it really works for me. I like to demo in full. By that I mean often producers or label people want to hear raw acoustic demos, just vocals and guitar or piano.
Me – I want to demo the entire idea including strings and auxiliary instruments. So I generally take the idea and write the drums out in Logic X on easy drummer. Then I lay acoustic or electric over that. Then I lay a bassline down. Once I have the rhythm section demoed – I then start to lay vocals down. Main, Harmonies, all of the ideas. Then I'll use midi and write out piano and strings and synth. Then I'll send these tracks out to various musicians I work with to get the real sounds in their place.
So at the end of the process, I have a full version of how I hear the song in my head. To me, this is much easier than explaining what you hear to people. I once had a potential producer tell me there was no way he wanted to hear demos like this and it really turned me off. It completely discredits the artist's idea of how they hear their own music.
I do this process as many days a week as I can, generally 5. Take a day or so in between. I can be creative whenever it calls to be creative but that works better and more consistently when I'm consistent with sitting down and writing.
What is your "studio" setup?
My home setup is very basic but I've used it for the last few years and I love it. I work almost exclusively in Logic X. My desk is incredibly messy. It is full of music notebooks, various fragrances and trinkets and of course a Macbook Pro.
I have a really beautiful UA LA610 mkii preamp and compressor. Plus, I run a shure SM7b or Cascade Fathead 2 into that. That runs into a Scarlett 212 interface into the Mac. It's super simple but gets a great sound for whatever I'm doing. It's streamlined so I can just sit down and start working with no bullshit. I don't want to fuck about. Then, I have a pair of Yamaha H5 speakers, Sennheiser 300HD Headphones, JH Audio V16 IEMs and a bunch of Banker electric guitars. I have an old stingray bass with flatwounds on it and a couple Gibson LG-2's. One from the '50s and a newer brighter one from 2020. I have a nice victory amp and fender vibrolux.
I can basically get anything I'm looking for but have to outsource the drums. My guy is Tobbe Strandvik in Sweden. He's got the drum set up.  I'm basically in the corner of my bedroom. I love to complete work in various studios. My favourite studio to work at in DC that's really nice is Ivakota Recording run by Ben Green. He's an amazing engineer and the studio is world-class. My favourite studio outside of DC is Vance Powells' Sputnik. He is my favourite producer/engineer right now and that studio is incredible. A bit more spacious than my bedroom for the final product.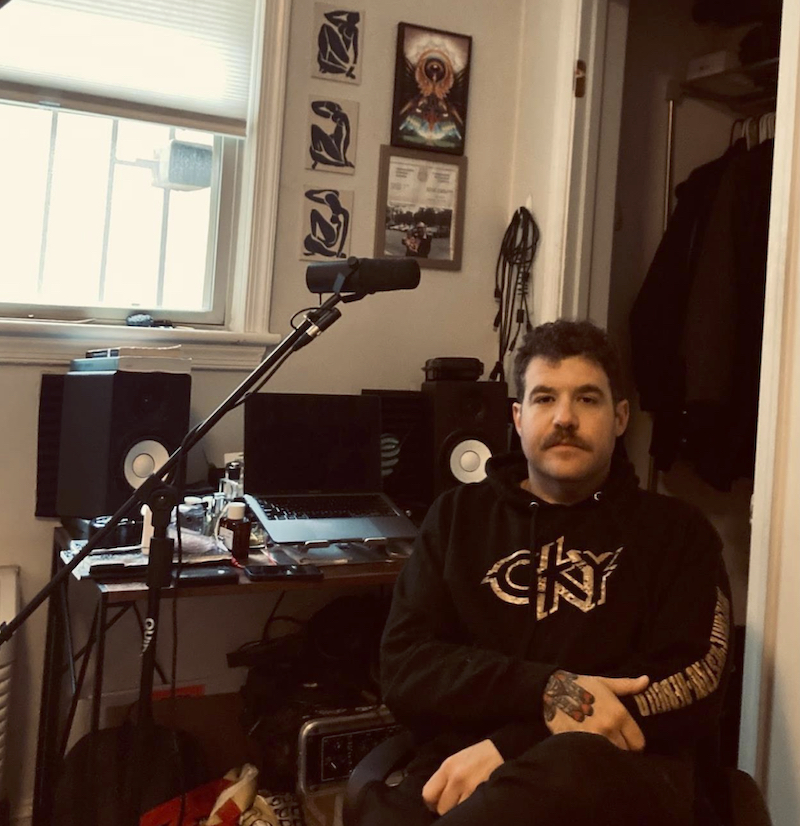 What is your process when working with other people? How is collaboration different in the studio vs working remotely?
I spent about 20 years collaborating in a democratic band process. I've done a bunch of co-writes and collaborations. I prefer to call the shots at this point but there is something really special about being in the room with talented people. I've been very fortunate to work with some of the best. I prefer to work in the studio together and feel the energy.
Remotely works too – my entire last album was recorded almost completely remote. But there's real electricity in the air when you're on the same page with people together in a room. I think the most important tool when you're in charge or collaborating or working alone is listening. Listen to what's happening around you without your ego dictating what gets done. Gently lead it to where it's going. Serve the song and nothing else.
At what point(s) are you comfortable letting other people hear what you are working on?
I've learned over the years to not play unfinished pieces for anyone. No one hears it until the final demo is done. People will claim to understand the songs otherwise but they won't. Give everyone the best first impression of it.
Do you share your work in progress (streams or downloads)? Any technical frustrations?
No. In fact, I think this new thing of streaming or broadcasting the writing process is disgusting and really just a symptom of social media. It serves no purpose other than filling content. Fuck that. I don't care if you're in the studio and something exciting is happening and you want to tease it but for the most part "sharing" the creative process is abhorrent and serves no purpose. Documenting it to share later is fine but at no point whatsoever am I looking for real-time feedback from any audience. It kills the creative process.
There are people who make an entire living like that – but it's not for me. 
How do you know when a track/album is finished?
I think the song is done when it feels good. There's no rule for it. The album is the same way. I'm constantly hearing things I would change on older recordings and demos and sometimes finished stuff. It's a snapshot. That's the best part about being a live and touring musician is the songs can grow and evolve endlessly into something different. That's the most satisfying thing ever. Change the parts you want to live and keep them fresh.
How do you listen to the final mixes/mastered work?
Always in the car. That's the best. Drive around the beltway and crank it. It's how I know whether it's good or not. Car speakers generally suck. At least they aren't great in my 2014 Hyundai Sonata. So if it sounds good in those factory speakers it's good. The speakers are generally flat and dull – so if it's slamming in those – the mix and master is good.
How important is pre-release security when sharing new work?
I think it used to matter when people truly valued music. But the value of recorded music is so low it could almost help. Maybe people feel more inclined to share it but generally, I don't think people care. They pay $10 a month for streaming and if it gets leaked it's not like it hurts record sales. YouTube, Spotify and Apple Music are where most people consume it anyways. Maybe someone will leak my next album and it will go viral and in turn, I'll sell a million vinyls because it's so good. One can only hope for a leak.
Who on your team gets to hear the final versions first and why, what formats do they each need?
The musicians and my manager hear the music first. Then my label and agents will hear the music. Always the guys I play with first because they have to be excited about it and play on it. Then my manager Paul Clegg. He's been around music for so long and has such great taste that I trust his ear.
Then, my booking agents and label. I think everyone has my best interests in mind and my team is very solid. There's not one person whose opinion I would discount in terms of order and songs to keep or shelve. However – I would never ask anyone about what sort of material to write. That has to come from me.
Outside of your inner circle who are the people that will need to hear the new tracks next?
I will send tracks to a few other musicians I am close with. They'll never lie about if it's good or not. I'll know immediately if they are digging it or not. I will generally only share it with people I really respect musically. Otherwise, who cares what anyone thinks?
Anything you are working on, anyone you are working with and want to share?
I'm almost finished writing my next album and I can't wait to share it with everyone when it's done. But you know the order in which I'll share it so you probably won't hear it for a very long time.
Keep up to date with Nate Bergman here: https://www.natebergmansings.com/