Digging into the creative process, Byta speaks with artists, musicians, producers, DJs and anyone involved with music creation. A conversation about how they create, collaborate and share music. From studio setups to routines, and the first person to hear about the next 'big' work.
Where are you based?
Hey, I'm Manu Garcia, aka NIN3S. I am from Spain but based in Connecticut (USA).
How, when and where did you start making music? Are you primarily a musician or a producer, or do something else?
I started playing the piano when I was 4 years old, so a long long time ago.! I started composing and producing my own music back in 1993 and in 1995 I did my first live show. No DAW, just analogue gear. Back then computers were much more expensive than synths!
I would primarily define myself as a musician and composer, then a producer. That would be the order relating to the steps in my career. But above everything, I am a music lover.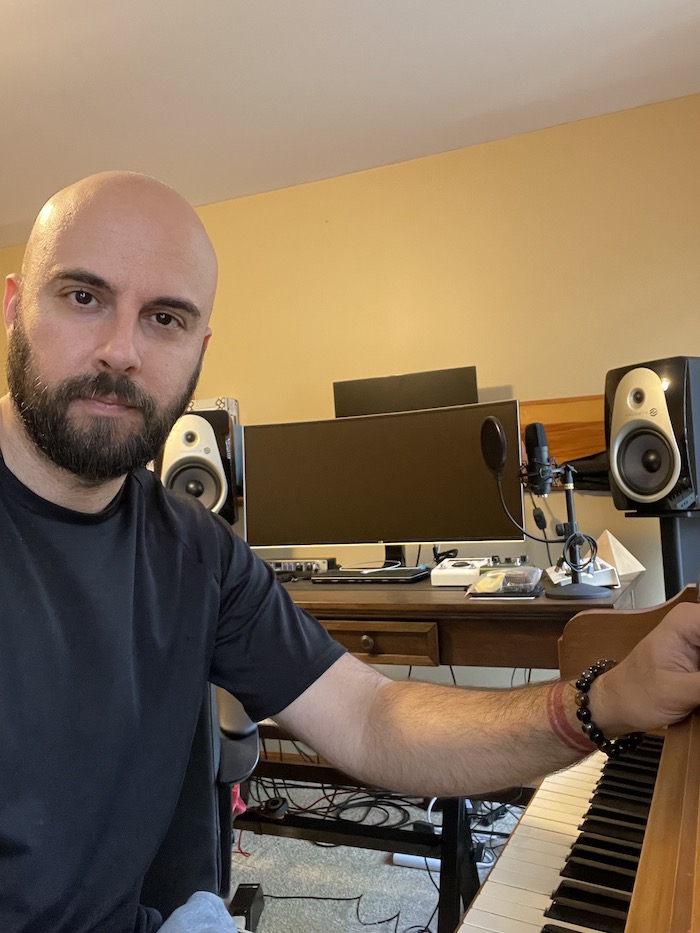 Who would you consider some of your biggest influences when it comes to your "sound"?
I have a lot of influences. My Dad was the main influence in terms of music because he was the one buying vinyl and playing music to me all the time. But Jean Michel Jarre was my first big influence in terms of sound. My father came home one day with a cassette in 1982, with the amazing "Magnetic Fields" and I fell straight in love with electronic music. But also artists like Status Quo, or Queen, or Kiss!! Also New Order, Depeche Mode, Vangelis… and of course, Mozart and Bach.
Explain your creative process. Do you have a routine?
I have a very simple but maybe weird process:
I need silence. I usually keep myself in silence for a couple of days with no music, just "writing" the main ideas of the songs in my mind. "Listening" to the music within me. I need to have the songs 100% done in my mind before I sit myself down in the studio. As soon as I have it, I play it on the piano but also improvise around it so maybe I can naturally find a better or different way to approach this "music" that I hear in my interior. As soon as I get comfortable with it and I feel like "it is myself", I start the production process.
What is your "studio" setup?
I have two home studios (one in Spain and one in the US) with different gear: 4 different audio devices (2 apogee, 1 RME and 1 UAD) so I can achieve the sound that I want from each instrument. I have a piano from 1936, and a brand new amazing electric piano (Dexibell), 2 Roli Seaboard, an Ibanez electric guitar with a small amplifier, a saxophone, a 3 different Waldorf synth, the Dave Smith Prophet6, the classic Korg Prophet (also some more synth that I don't use anymore), 5 different drum machines (even though I prefer to record real drums) 4 different microphones, 4 different headphones so I can listen to the music with different perspective, 3 pairs of studio monitors, and a bunch of midi controllers and some other tools. And of course my laptop is full of virtual synths too.
What is your process when working with other people? How is collaboration different in the studio vs working remotely?
I come from a very small city in Spain, far from almost everywhere. So I have been working on collaborations remotely most of the time. So my process involves trying to find an easier way for everyone.
My first approach is trying to find the right chords and melodies that I am usually recording myself with the piano but I am trying to make it as much open as possible. What I mean is, that I don't want the other musician or singer to be stuck in the middle of a piece of music completely close because I want them to be involved in the process. So as soon as I have some principal idea, we start working on their parts, giving the tracks the shape, following our natural path. As soon as I have the voices, other instruments, etc is time to put myself as a producer and start editing everything. Then, I need to decide if I am going to change the structure, re-record different parts, add something new or even change the whole track!
In the end it is a very creative process, open to doing whatever needs to go because creation is improvisation. Playing live is full of improvisations so I really don't know how it is going to be at the end even when I have a clear picture in my mind.
At what point(s) are you comfortable letting other people hear what you are working on?
Sure! I am 100% comfortable. I feel really confident with my emotions when I am writing music. What I need to see is if the feedback is matching what I am trying to explain. 🙂
Do you share your work in progress (streams or downloads)? Any technical frustrations?
Not too much. Not everybody can understand just a simple idea or a work in progress. It is difficult to try to make someone understand your vision just with an idea. At least, the idea has to be 75% done. But there are certain people that I definitely like to share my work with because I trust them and also because they know me enough that they can understand me by just listening to four bars. But I am going to tell you: I can count these people with just the fingers of one hand 🙂
How do you know when a track/album is finished?
You never finish a song, you just abandon it.
How do you listen to the final mixes/mastered work?
This is a process too… I usually listen to the track through four different pairs of headphones, studio monitors, my phone, the car, my wife's car, and the Alexa speaker hahaha… everywhere!!
So, when I feel that the mix has the same "face", the sound is giving me the same feelings, that is the right moment to stop tweaking it.
How important is pre-release security when sharing new work?
It is very important. I respect art and I also respect the work from labels and my team so I am very careful during the pre-release process.
I had seen people playing music that they recorded from a radio show (I EVEN SAW A DJ PLAYING A TRACK WITH THE VOICE OF THE RADIO DJ OVER IT!!), I saw people even stealing a laptop from a DJ booth just to copy the music. It is crazy. So, yes, I am very careful with this part of the process.
Who on your team gets to hear the final versions first and why, what formats do they each need?
I really like to share the ideas of what I am doing with my team (just talking, not showing the music) with the new projects. And as soon as I have the music almost done (still open to little adjustments) I like to show it to them via Zoom or something like that to hear and see their reaction. But I am really not the kind of person that needs to always have my ego showing everybody every step of the process or every single track that I finish. Just the ones that I decide that are going to be perfect to release at that moment. They also have a lot of work to do, so I can't be annoying everyone every day with music hahaha. I respect their time too 😉
Outside of your inner circle who are the people that will need to hear the new tracks next?
I usually show the tracks to my Wife and a couple of friends, but always in front of me. I like to see the real reaction, not feedback by email or a "cool, sounds good"!. No. A face gives me more profound feedback than an email with 6,000 words.
Anything you are working on, anyone you are working with and want to share?
Biggest thing for me to share is my new single 'Innerlight', out this week! Listen to it right here.
The other part of my time is dedicated to the movie industry. Besides working on soundtracks I am also involved in movie production. We are going to release a couple of short movies and we are involved in very interesting big projects but that is something we can not talk about yet, but soon it will be released! 😀
I am sure you are going to love it!