Digging into the creative process, Byta speaks with artists, musicians, producers, DJs and anyone involved with music creation. A conversation about how they create, collaborate and share music. From studio setups to routines, and the first person to hear about the next 'big' work.
Where are you based?
Queens, New York.
How, when and where did you start making music? Are you primarily a musician or a producer, or do something else?
I started playing the guitar and writing songs around 1995. My good friend Paul Baker and I used to drive around and listen to music and eventually, we wanted to make some ourselves.
It doesn't make sense for me personally to separate being a musician and a producer. I get why people do it but for me growing up in an environment where the music I make is against the grain of what is acceptable, it wasn't possible to find people to work with. The sound and production of the music are part of performing it / being a musician.
Who would you consider some of your biggest influences when it comes to your "sound"?
When first writing music I was really into bands like The Pastels, Heaven Piano Co., My Bloody Valentine, Ashrae Fax, The Normal, Slowdive, and Sonic Youth so those bands and many others really shaped a lot of my aesthetics but a lot of it is just from working on a sound for so many years and it morphing further and further in on itself. I think every time I record something I want to try something different so it is always fresh.
Explain your creative process? Do you have a routine?
I just enjoy creating songs, and mixes and playing music so much that I try to do it as much as possible. It's so fun to be in that world where something magical is happening. I sometimes go on long benders of playing music for 10-hour sessions and sometimes some cool things come out of it. I have found that I'm never sure when I'm going to write a song that I like so if I spend more time writing songs I happen to come across more that I like. I guess it's obvious but the more you do it the more great things will come. If I didn't have anything else to do I would play music from when I awoke to when I went to sleep.
What is your "studio" setup?
I have 2 studios. One at my house which has an 8-channel Behringer interface, a drum machine, a guitar, a bass, and a couple of pedals. The other studio is at the pedal workspace and is also our rehearsal space. It's set up like a space shuttle control room with tons of outboard gear and some I built on my own.
I prefer to work from home because I like to have been the one to create the sounds and I don't have to have any outside influence. I feel like that kind of dilutes my music and moves it to places that aren't natural to me. But I'm strange.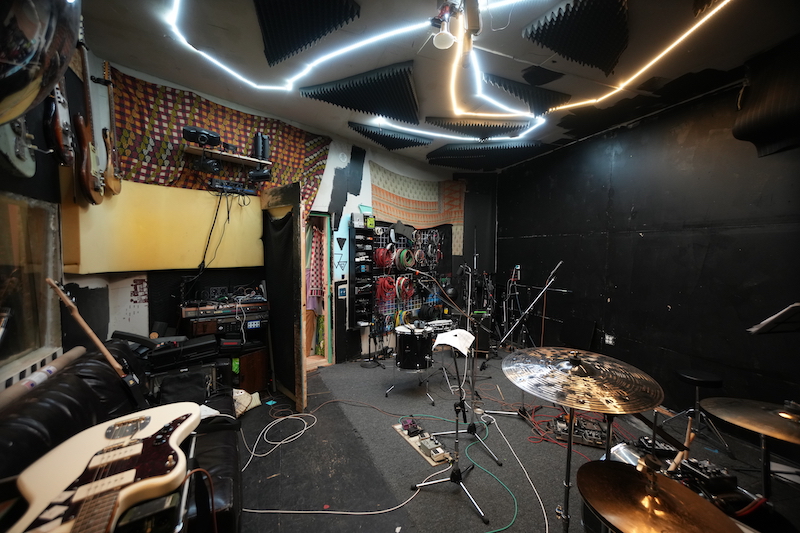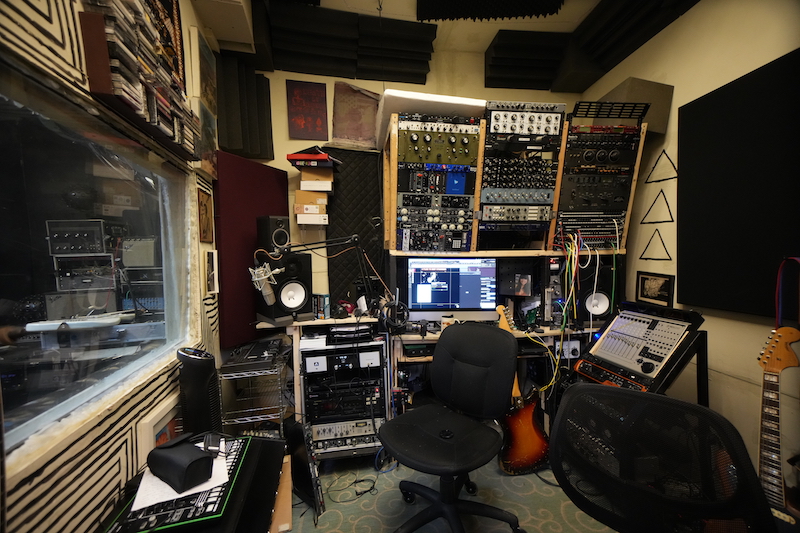 What is your process when working with other people? How is collaboration different in the studio vs working remotely?
Sometimes I'll have people send me parts and such and then I will usually figure out ways to incorporate them into the tracks. So it's all remotely. If I'm doing a remix for someone I'll usually completely butcher it and just leave a track or two and maybe some other bits and pieces. I like for it to be way different from the original material and be sort of a collaboration of me and the artist.
At what point(s) are you comfortable letting other people hear what you are working on?
I don't really like to let anyone hear what I am working on unless I am happy with it. Which usually happens rather quickly, I'm done with working on tracks for years. But, having someone listen to a track with you is a great way to realize what is wrong with a mix or how uncomfortable you are with a part or track.
Do you share your work in progress (streams or downloads)? Any technical frustrations?
I'll share my work, it's fine. I can't remember having any technical frustrations. There used to be a time when other people's work I felt like sounded a lot better because the quality was so low of super-compressed mp3s so it made overproduced music sound more natural. I liked that at least. Not what the artists wanted but I always say add more distortion.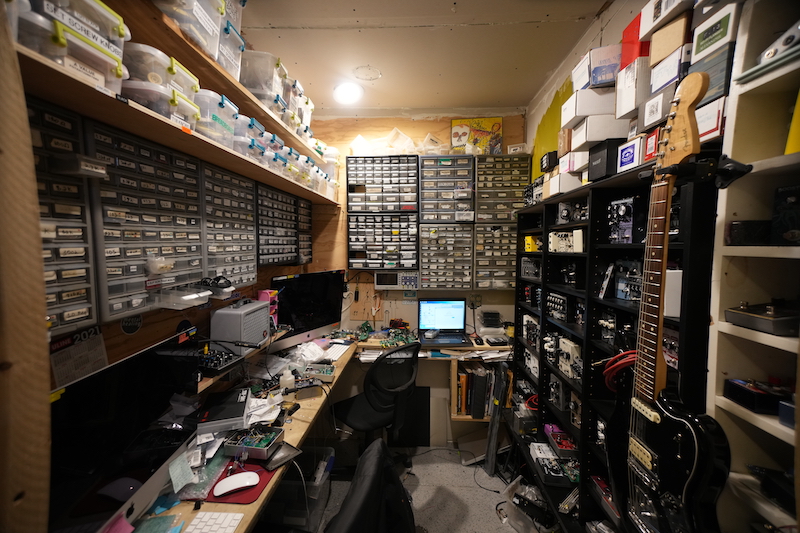 How do you know when a track/album is finished?
There just comes a point in which I feel like there is nothing that I could do to make this sound better and then it is finished.
How do you listen to the final mixes/mastered work?
I mix and master all my music so it is just different ways in different rooms and on different devices and with other people.
How important is pre-release security when sharing new work?
I don't really care. We do keep everything completely secret because that is a lot cooler in my eyes to have things come out as intended but how could I really be that offended if someone found some way to listen to a song I wrote.
Who on your team gets to hear the final versions first and why, and what formats do they each need?
I make sure I mix the record down as 1 giant track so nobody can give me any notes. They still do anyways but it starts to get really confusing fast when everyone thinks different things. An album is something that flows in a very particular way and I follow my imagination. The team is the bandmates, labelmates, manager, and fiancé.
Outside of your inner circle who are the people that will need to hear the new tracks next?
All the people who will be helping out with the record, print pr, radio, internet etc. All downloads.
Anything you are working on, anyone you are working with and want to share?
Check out Dedstrange.com for everything I'm working on!
Here for all things Death By Audio.
Here for A Place To Bury Strangers.