Digging into the creative process, Byta speaks with artists, musicians, producers, DJs and anyone involved with music creation. A conversation about how they create, collaborate and share music. From studio setups to routines, and the first person to hear about the next 'big' work.
Where are you based?
I'm living in Montreal QC, Canada.
How, when and where did you start making music? Are you primarily a musician or a producer, or do something else?
I've been playing drums and some piano as far back as my memory takes me and I used to record little things on my karaoke machine. I didn't take music seriously until the end of highschool I think, after I realized it was more fun than anything else I was doing at the time. When I was around 20 I picked up the guitar so I could start writing/performing my own songs. I write and record music because it makes me feel good.
Who would you consider some of your biggest influences when it comes to your "sound"?
I grew up listening to a lot of Detroit classic rock/oldies radio stations in my dad's mechanic shop, so it was a bunch of the hits. I remember being impacted by Neil Young as a kid and early Modest Mouse at the same time so I guess my sound is just a mess of all these worlds.
Explain your creative process? Do you have a routine?
I just try to find inspiration from the little things and my surroundings. I fall into routine depending on the project I guess. A song can pop out from the strangest places so I just try to keep an open mind.
What is your "studio" setup?
It's pretty basic. It's just an interface and a computer. I have all my instruments around me in arms reach. (I've added a self portrait of me in my space that I drew while brainstorming artwork for the album cover)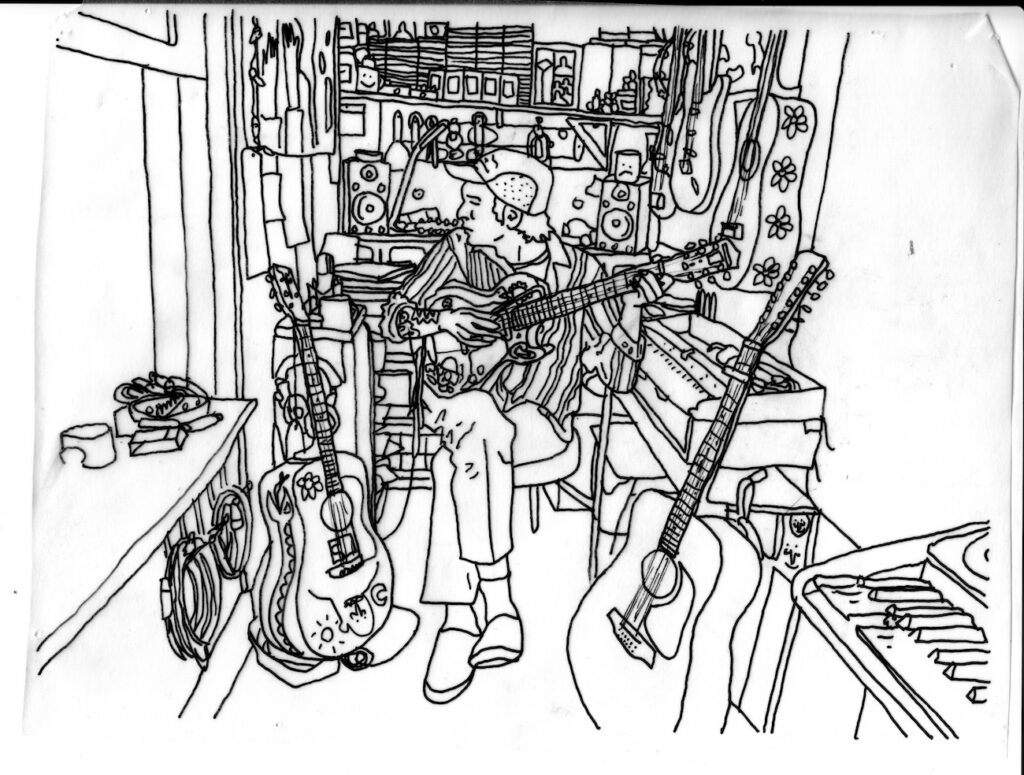 What is your process when working with other people? How is collaboration different in the studio vs working remotely?
I don't have much process involved with working with other people, it's fun to jam and create things in the moment. With writing/recording I really got into it as a thing I can do when I'm alone, so I do really enjoy that too. I guess it's good to have a little of both. Collaborating can be a lot of fun and a good way to get into something different.
At what point(s) are you comfortable letting other people hear what you are working on?
I always want to share what I created right away, I guess that's why I put out so many albums in the beginning. Normally at the end of every day I'd create a private link and send it to all my friends. I've had to learn to have a little self control with that though, If you send your friends tracks every day they'll just stop checking them out.
Do you share your work in progress (streams or downloads)? Any technical frustrations?
I just upload a private mp3 and send a link. Bing bang boom.
How do you know when a track/album is finished?
I know it's done when it gives me a good vibe when all the levels are right, and it has the right punch or whatever. It's hard to say because sometimes I wish I could remix stuff I already put out. Maybe just having a deadline lets you know when things are done.
How do you listen to the final mixes/mastered work?
I like to listen to final mixes in the van.
How important is pre-release security when sharing new work?
I guess it's very Important, I've only had artwork leek so no real horror stories when it comes to the music.
Who on your team gets to hear the final versions first and why, what formats do they each need?
I always show Meag first, and I always just call her over to check out what I'm doing in my studio.
Outside of your inner circle who are the people that will need to hear the new tracks next?
I guess I would need to show my label and management my songs.
Anything you are working on, anyone you are working with and want to share?
I've just been working on my mental health at the moment, this whole covid experience has been pretty tuff and along with it I quit smoking. Realizing cig's were an effective suppressant I've been trying to deal with stuff on my own. I'm still making music and visual art but happiness is my main goal at the moment.