Digging into the creative process, Byta speaks with artists, musicians, producers, DJs and anyone involved with music creation. A conversation about how they create, collaborate and share music. From studio setups to routines, and the first person to hear about the next 'big' work.
Where are you based?
I am from New Delhi, India.
How, when and where did you start making music? Are you primarily a musician or a producer, or do something else?
I am a musician and then a producer (performing and making music is my first love) but over the years producing other artists from all over the country have resulted in some amazing collaborations.
My parents are responsible for introducing me to music, my father plays the guitar so watching him play made me want to learn music! By the time I was 11, I made my first song and even recorded it on a tape recorder. Hearing it back made me obsess about imagining other sounds over it and then making music became an obsession. Being 11 meant the songs wouldn't come that easily and it took a few years in senior school to get musical ideas and convert them into songs and compositions.
I dropped out of College to do music full time and have co-founded 3 acts, Zokova, Tankbund and The Yellow Bucket each having different sounds/genres. Sessions with other acts became the way to go and I figured producing music would be a stable way of doing music every day and sustaining recording my band's music, I got into Jingles, and Film Scores as well. After learning some basic studio chops and gaining some new gear and confidence I started producing artists out of my studio space 'Ghar Ka Studios' which has evolved and existed in multiple places.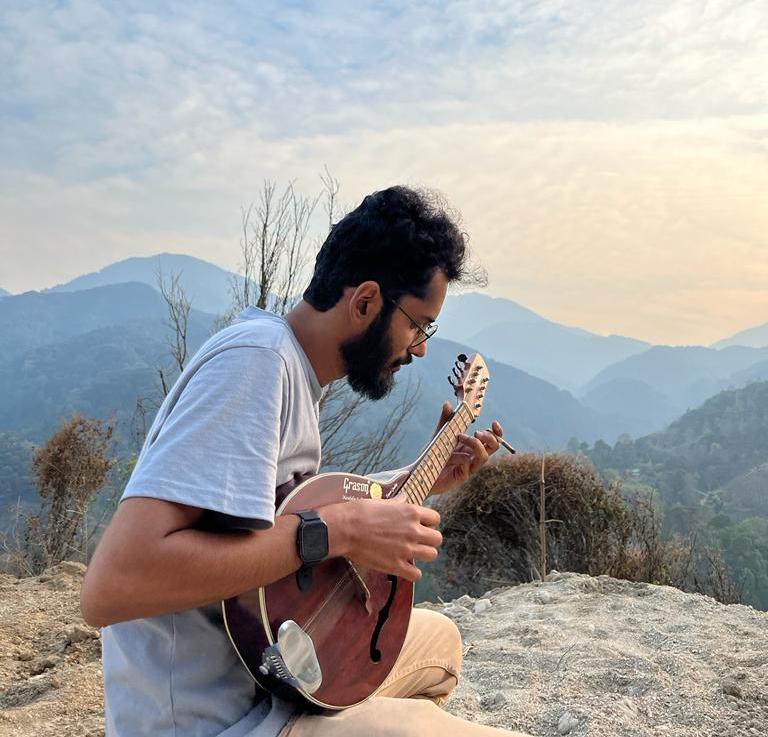 Who would you consider some of your biggest influences when it comes to your "sound"?
I love listening to all kinds of music, and so many artists/producers have created timeless music, which makes it hard to think of a list. However some artists have impacted my playing and even production sensibilities, a few being Jimmy Page, The Beatles, Brian Wilson, Radiohead, Leo Brouwer, Zero 7, Air, Steven Wilson and so many more from all over the world. I think layering sounds with several instruments to make one solid part and how these artists use chords in composition could be some tricks that I've incorporated in producing music.
Explain your creative process. Do you have a routine?
My creative process and routine get divided because of the different roles I play musically. While making music however the music is what comes first for me, then the lyrics, I can probably count the instances wherever the lyrics led to a song. I usually keep a basic idea on a guitar maybe and then keep building on it for a few days/weeks. When I start recording the production ideas on the DAW is when I go crazy experimenting with different sounds.
What is your "studio" setup?
My studio is called 'Ghar ka Studios' 'Ghar ka' means Homey in Hindi and that is the vibe I like sticking to. I had started the setup as a home studio, then expanded to a project studio but post covid have had to resort to a smaller but efficient setup for the kind of work I do.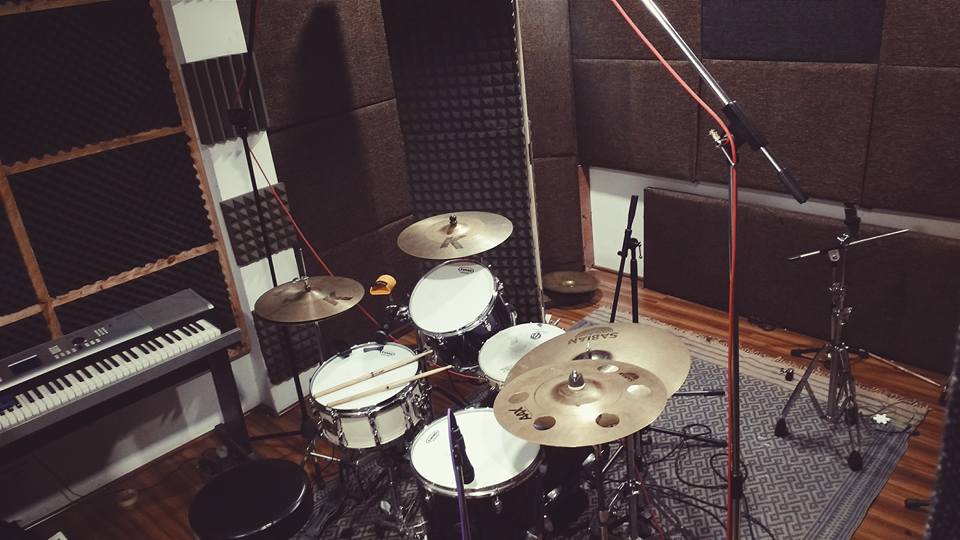 Here are some of my favourite gear from my collection
PRS SE Custom and Epiphone ES 339 and Yamaha CG 171 S for all my production/live work
Orange Tiny terror combo
ART Pro VLA Stereo Compressor
Svaraveena (A Zither-like instrument made in Auroville)
Casio MA 120 (I've had it since 1997 and I try and use it at least once on any record
Earthquaker devises: Avalanche Run and Danelectro Reel Echo are my favourite Noise/Delay making machines
Grundig TK 161: a reel-to-reel recorded with a cool stereo microphone from the '60s!
Arturia Microbrute for all sounds Low and High
Fuzz Pedal for re-amping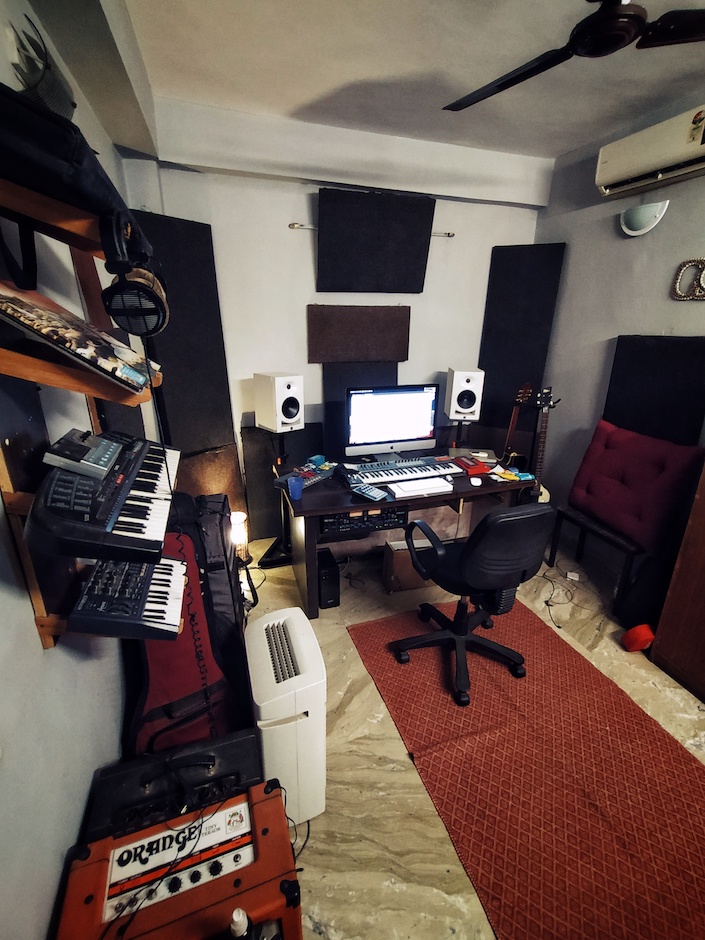 What is your process when working with other people? How is collaboration different in the studio vs working remotely?
When producing I usually start by listening to the demo, most artists usually come with a stripped-down version, and we try and retain the essence and explore transposing, cutting or extending the song, then create the Production Track at my studio, where we go all out exploring several sonic possibilities to come the one we like collectively.
I feel the most important process while working with other people, especially when you are producing an artist's work, is to maintain their essence and not make your solo album vicariously.
Essentially, I like spending enough time on the arrangement with the artist, committing to parts and tones before hitting the studio where the objective is to finalise the song and capture more detail.
We have an amazing music scene in India with amazing session artists and bringing them to perform on a record is a lot of fun. The spirit of collaboration, obsessing about the songs, and playing together makes it a very memorable experience each time.
Always live musicians over programmed stuff for sure!
At what point(s) are you comfortable letting other people hear what you are working on?
Usually, once all the ideas are put together and the song in my head is flowing from start to finish. I love making people hear music just to get a different perspective sometimes.
Do you share your work in progress (streams or downloads)? Any technical frustrations?
Not very regularly but usually just as streams if I do.
How do you know when a track/album is finished?
Good question! I am yet to find the answer to that!
How do you listen to the final mixes/mastered work?
Usually at my space, on multiple speaker systems and or while I am out for a walk. I usually like zoning out of the world for a few hours to listen to the mixes/masters, especially if it is an Album or an EP.
How important is pre-release security when sharing new work?
Before Streaming services came to the picture, we would take a lot of interest in getting CDs printed for distribution during gigs. There was an instance where we were getting the CDs ready a few hours before leaving for a 4-city tour! Feels like an eternity ago…
Who on your team gets to hear the final versions first and why, what formats do they each need?
Usually bandmates and other fellow musicians, I usually share an MP3s and WAVs towards the end of the process.
Anything you are working on, anyone you are working with and want to share?
Zokova, TankBund and The Yellow Bucket will release music over the next year, and the music I will be producing/arranging namely an EP by Taba Chake, and albums with Bharat Chauhan, Shashvat Bulusu and Ali Saifudin