Digging into the creative process, Byta speaks with artists, musicians, producers, DJs and anyone involved with music creation. A conversation about how they create, collaborate and share music. From studio setups to routines, and the first person to hear about the next 'big' work.
Where are you based?
Brooklyn, NY.
How, when and where did you start making music? Are you primarily a musician or a producer, or do something else?
Justin and I (Phil) both play drums and guitar and had a lot of song ideas when we initially met. We shared a rehearsal space building and got to talking and tried a bunch of his guitar ideas with me playing the drums. I was able to also bring my engineering and producing skills to the table while writing and recording. We've always clicked creatively and it's great to bounce drum grooves and riffs off each other and be able to demo things ourselves. There are always new ideas to explore.
Who would you consider some of your biggest influences when it comes to your "sound"?
We've always known this band would have sludgy, thick tones and big drums. We don't chase a particular band's sound, but more so tap into similar tones and energy. We like so many different kinds of heavy music, that it ends up melding into this amalgamation of sound. We're always conscious of not taking something in a specific direction if it's sounding too familiar. Things can sound akin but have to feel new and fresh for us.
Explain your creative process. Do you have a routine?
We're pretty meticulous about demoing at this point. We both write riffs and flesh out song ideas/structures all the time and then when we get closer to recording an album, we narrow it down to what's feeling the strongest and which songs complement each other. Some songs don't make the cut but are still worth exploring next time in a different context. Vocal ideas are somewhat similar, they start phonetically and then we chisel it down once lyrics are in place, which is the last part of the process. We may have lyrics or themes that we've had ready for this step of the process and we try to see what will fit with the energy of each song. We're night owls, usually working late but not for more than 4-5 hours at a time. It's too easy to get burnt out on stuff if you overwork it. We try to let things flow.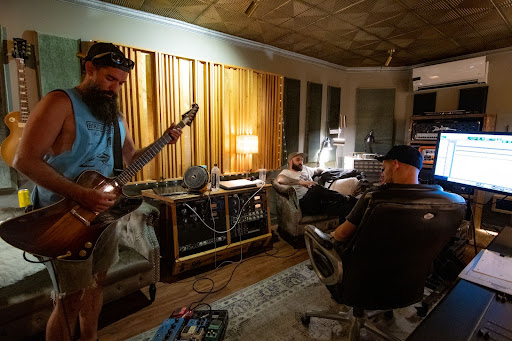 What is your "studio" setup?
It's a wide range of environments throughout the recording. We demo everything in our space on a portable rig and also track vocals for records there as well. I use a Focusrite Scarlett 18i20MK3 interface and the Scarlett Octopre and all Beyerdynamic mics. It's all pretty straightforward stuff and does the job. It's always about getting the best take or performance for us. Gear is fun to obsess about, but can become a distraction as well. For our first couple of records, we tracked drums at Studio G in Brooklyn and then everything else in our rehearsal space. For our upcoming record, we tracked drums and guitars at Silver Cord Studios in Brooklyn and will do vocals in our space again. Silver Cord was amazing, that's Gojira's studio. The energy was great and it was honestly just very smooth and enjoyable. It's sounding excellent so far, very psyched to show people.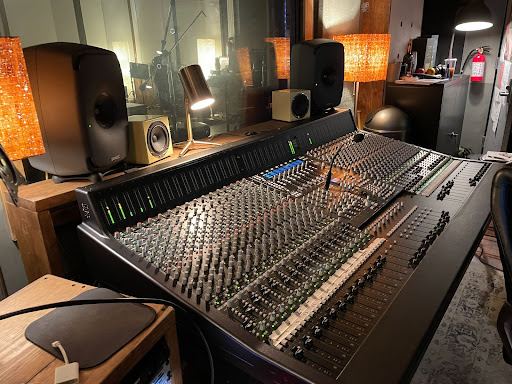 What is your process when working with other people? How is collaboration different in the studio vs working remotely?
We were so DIY on our first two albums, we knew we had to get other engineers involved this time, just to make workflow easier and take our mixes to the next level. Recording DIY is awesome for creativity, but it's good to have pros around as well who can lend their ear and knowledge, as well as be more efficient and let us concentrate on getting the best takes instead of the technical stuff. Our good friend, Justin Mantooth at West End Studios in Kansas City will mix this next record. It's always better to work with someone you know and feel comfortable around and can be straightforward with.
At what point(s) are you comfortable letting other people hear what you are working on?
Depends on who it is… Usually, once there are rough mixes with vocals. It's not always a glamorous or painless process and if too many people are weighing in before they're even hearing a completed song or mix, it can affect how you feel about the song one way or the other and ultimately, you have to trust yourself and your bandmate's vision.
Do you share your work in progress (streams or downloads)? Any technical frustrations?
We like to show footage and photos from the studio, we have a lot more of that kind of stuff this time around and are excited to share it. The most technically frustrating recording mishap was when we played an actual live-streamed set during the pandemic. We played what we thought was a great show and afterwards saw all the unfortunate messages in the comments saying there was no sound and only static the whole time. Needless to say, you'll need to see us live in the flesh for a while!
How do you know when a track/album is finished?
It's a gut feeling, one that you fight but ultimately have to accept and come to terms with. Sometimes it's easier than others but most of the time, there are tiny details you'll notice forever, good or bad. No matter what though, you have to own it and feel like you put your best effort in.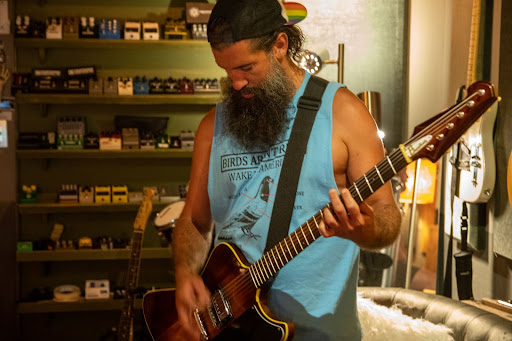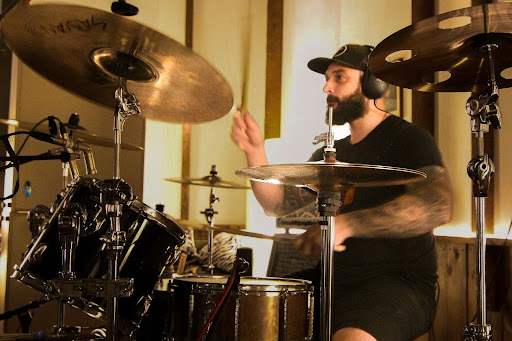 How do you listen to the final mixes/mastered work?
On lots of different systems, monitors and headphones, good and bad. We're very involved with the mixing and mastering process and both engineers are remote, so we listen to a couple of passes and exchange notes until things sit right. Then we'll most likely have a final listening party in a nicer listening environment with a few close friends, this is by far the most rewarding part of it all.
How important is pre-release security when sharing new work?
We've had no horror stories that weren't our own fault. We had some demos very, very early on that got flipped to "public" on SoundCloud, downloaded and published on youtube by a random fan before we'd ever released anything. That kind of sucked cause they were super raw ideas, vocals roughed in, poor sound quality, etc. Can't remember exactly, but I think the person was cool enough to take it down. Oh well!
Who on your team gets to hear the final versions first and why, what formats do they each need?
I'm very involved in the band's writing and recording process and I help produce in general, so I'd say I hear the final version first, but it's very important that both Justin and I sign off on everything. There are a lot of compromises and sometimes it's not easy, but it's always more fulfilling when we're both super stoked about the final product.
Outside of your inner circle who are the people that will need to hear the new tracks next?
Our label, MNRK Heavy. Our manager Powerchild Mgmt, some close friends and family.
Anything you are working on, anyone you are working with and want to share?
We just dropped a single and video for a song called "Coils", on MNRK Heavy. Our next full-length will be out in the Spring of 2023.