Digging into the creative process, Byta speaks with artists, musicians, producers, DJs and anyone involved with music creation. A conversation about how they create, collaborate and share music. From studio setups to routines, and the first person to hear about the next 'big' work.
Where are you based?
Mississauga, Ontario.
How, when and where did you start making music? Are you primarily a musician or a producer, or do something else?
I first started making music when I was in high school – in a band with my friends. After that, I didn't really do much of it, but got back into it in my mid-twenties. That was after graduating from University and travelling around for a couple of years. I went to Toronto to start pursuing music.
At that time, I dived right into the music world, I was playing in as many bands as I could and writing music as much as possible. I am primarily a touring musician and songwriter but I also am a producer and love collaborating with other artists. After a couple of years of living in Toronto and working as a musician and producer around town, I began to step away and start to focus on writing and creating my own music for myself to play and sing. I started that journey about 6 years ago…
Who would you consider some of your biggest influences when it comes to your "sound"?
My new record 'Good Company' is really inspired by the sounds of Bahamas, Jack Johnson, John Mayer, D'Angelo and a bit of the Red Hot Chilli Peppers. We definitely were inspired by guitar ideas, tones, and styles from Bahamas and really tried to get the type of bass sound that Pino Palladino had on D'Angelo's album 'Voodoo'.
Explain your creative process. Do you have a routine?
My creative process can sometimes vary depending on if I'm touring or if I'm grounded. Generally, I get a lot of ideas when I'm on the road/travelling, but I don't usually write entire songs during these periods. Instead, once I get an idea, I quickly record it on my phone, whether it be a lyrics idea, a vocal melody, or a guitar progression. If I get some ideas for lyrics I'll quickly write them down too.
Then usually between touring, I find somewhere to go for a month or so, to really just focus on songwriting. That's when I'll go through all my voice memos, flush out the ideas and try to turn them all into songs to see which ones sound good.
What is your "studio" setup?
I do have a home studio where I can produce artists and work on my songs. However, I do also work at proper studios. The last studio I worked at was RHC Music owned by producer Ross Hayes Citrullo. He has a great studio by the lake in Toronto, a beautiful SSL unit and a great live room. There were plenty of guitar amps, bass amps, drum kits, vintage mics, and more. It was a great experience creating music there.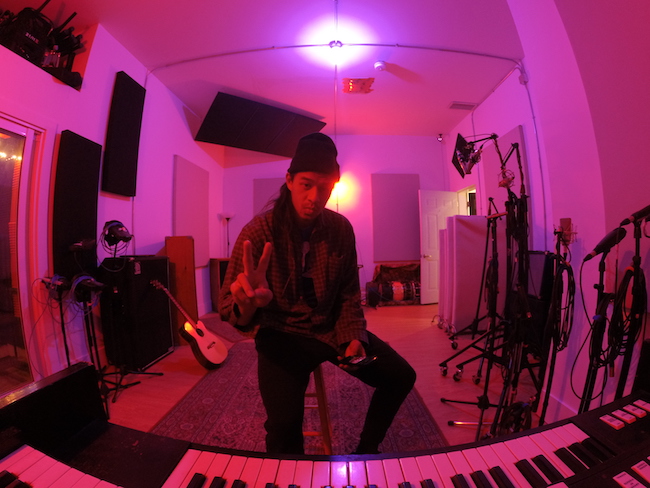 What is your process when working with other people? How is collaboration different in the studio vs working remotely?
We brought in some great session musicians for this record. Darcy Yates who plays in Bahamas on bass, Nicholas Otway & Sam Keating on drums, Rainey Smith on backup vocals and Nathaniel Edgar on keys. Everyone couldn't be in the studio at the same time so we brought them in separately. We pretty much just wrote and arranged parts together with each musician when they came to the studio. We spent about 1 day or 2 with each musician to write and record their parts. It was a fun way to create in the moment.
Working remotely is great too, as musicians can have a bit more time and be in the comfort of their homes to write and create ideas which can be great too. I find that artists sometimes are most comfortable in their home environment, on their own.
At what point(s) are you comfortable letting other people hear what you are working on?
I generally only let a few people in my life hear my music when it is in the progress of becoming a song. However, once I "finish" the song to my ears then I will definitely play them at shows to see how the crowd reacts. This often helps me determine how strong a song is. So for me, when I have a song that is complete to my satisfaction and abilities, I am happy to share it.
Do you share your work-in-progress (streams or downloads)? Any technical frustrations?
I don't usually share my work in progress on streams or downloads. Sometimes I may post videos on social media of what I am working on.
How do you know when a track/album is finished?
I think you really have to trust your gut and the people on your team to decide when a song or album is finished. We could add things to songs forever, but I really think sharing recorded music is about sharing the moments in time of when you created/recorded the piece. I think that is the beauty of it and how people connect to music. So I usually try not to spend too much time on a song, but instead, I get all my ideas recorded and then if it feels good, it's good.
How do you listen to the final mixes/mastered work?
Since I move around a lot, I often listen to mixes/masters on my own and have them sent to me. I will usually listen to them on my laptop speakers, in nice headphones, in the car and then usually on a portable speaker. I try to put myself in the position of the general public and how they listen to music.
How important is pre-release security when sharing new work?
No horror stories about pre-releases so it's not super important, at least in my experience.
Who on your team gets to hear the final versions first and why, what formats do they each need?
Usually, the producer and I would listen to the final versions first. Then I would play it for my manager, close friends and supporters that work as music supervisors, and radio promoters. I think it's good to send to these people, cause they can sometimes help you decide which song would be the lead single, which would be a good commercial radio choice, which would be a good song for sync licensing.
At the end of the day, music is so subjective, so we need to remember to take everything as it is but still trust ourselves in the final decisions. The format is usually an mp3 download or just a private SoundCloud streaming link.
Outside of your inner circle who are the people that will need to hear the new tracks next?
Friends, journalists and music supervisors would be sent private streaming links on SoundCloud.
Anything you are working on, anyone you are working with and want to share?
I will be starting to write my next album very soon. It's a combination of indie folk music and traditional Chinese music. Working with many traditional Chinese musicians in Canada. Very excited for this process but I have no release dates yet!
Keep up to date with Tennyson King here, and on the below socials links!