Digging into the creative process, Byta speaks with artists, musicians, producers, DJs and anyone involved with music creation. A conversation about how they create, collaborate and share music. From studio setups to routines, and the first person to hear about the next 'big' work.
Where are you based?
North Florida, 850.
How, when and where did you start making music? Are you primarily a musician or a producer, or do something else?
I started making music as a kid and wasn't even really aware of it. I would just sit in class writing songs, eventually that grew into a curiosity about the recording process which led me to teaching myself how to engineer, produce, and record. I really do everything in and around the studio and music business. I started releasing my music when I was 14.
Who would you consider some of your biggest influences when it comes to your "sound"?
The main influence is life, just going outside and taking it all in. Musically I grew up on The Doors, Pink Floyd, Kanye West, and Eminem. On the business side, studying the legends like Nipsey Hussle and Russ changed the game.
Explain your creative process. Do you have a routine?
Like Jay Z said "I'm not a businessman, I'm a business, man." I create whenever inspiration hits me but I am always working on the music whether that is on the business side or creative side.
What is your "studio" setup?
I work as an engineer at a couple of studios, shout out Fresco and BPE.  The majority of my music is recorded, engineered, and finished on my home setup though. I've always had to figure out how to make the best quality with what I have and I am still learning with that mindset! Minimize cost, maximize outcome. I don't really have a specific favorite piece of gear, I love everything about the recording process, just being in the studio is my favorite thing.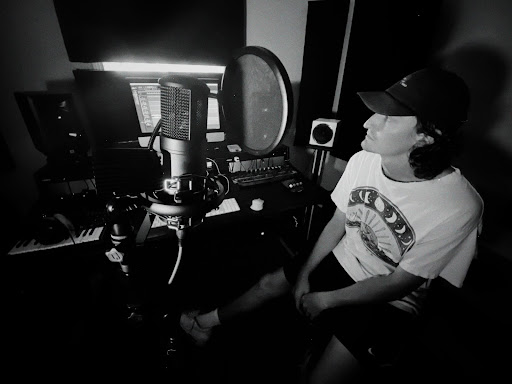 What is your process when working with other people? How is collaboration different in the studio vs working remotely?
Occasionally I'll have ideas ready with an artist in mind, but most of the time my collabs just come together naturally. Timing is everything I've learned and being aware of when the situation is right is key! For me, the music comes first always and as long as there is that connection in/through the music then everything else falls into place.
At what point(s) are you comfortable letting other people hear what you are working on?
This just depends too, sometimes I want to share every detail of the process and sometimes I want to keep it all under wraps until it's time to release it. Every song is different.
Do you share your work in progress (streams or downloads)? Any technical frustrations?
Last September, I started asking my fans for help naming my songs and choosing the artworks for them. I do this by sharing a snippet of the song on social media and my website. It's taken me some time to figure out the best process but it has all started to come together. I started calling it MADEBYUS. Every song title and artwork has been chosen by them since then, it's so simple but letting them make those decisions takes a lot of stress away from me as an artist.
How do you know when a track/album is finished?
When the idea is complete. Sometimes the idea in your head is clear and you're able to execute on it in that moment, other times you really have to sit with it and let it become clear to you. I think with any art you could say it is never really finished, there is always more that can be done but as artists we have to let go at some point.
How do you listen to the final mixes/mastered work?
I like to hear my new songs any way that I can when I get them finished. I'll play them over the monitors in my room/studio, airdrop the song to my phone and test it on any speaker I can find. That's when Final mix1.2 happens and then Final mix1.3 lol.
How important is pre-release security when sharing new work?
I'm always learning better ways to go about every detail of the process, there is always something to improve on as well. Separating the creative side and business side is what some of the best artists are great at. To me, business is the most important piece of the puzzle for longevity.
Who on your team gets to hear the final versions first and why, what formats do they each need?
All the people who help me create the music I usually always send a Dropbox link to. My family and friends will hear it cause I'll play it for them but my team really is just me and the fans, since I started MADEBYUS, they are the first people to hear any of my new song snippets thru posts on my social media and website and then they help me come up with names for them and we choose the artwork together.
Outside of your inner circle who are the people that will need to hear the new tracks next?
After the song title and artwork get selected, the next step is to drop the song! I release my music everywhere that I can, available for streaming on Spotify, Apple Music, Tidal, etc., available for download on SoundCloud, Bandcamp and through my website MadeByDubs.com – every release gives new fans a chance to become a part of the process of naming my songs and choosing their favorite artworks.
Anything you are working on, anyone you are working with and want to share?
I just released a couple new singles MADEBYUS, one of them featuring Mick Jenkins. I have more collabs on the way as well as more MADEBYUS releases! I'll be posting all of the details on my Instagram, Tik Tok, Facebook, Twitter, Youtube and anywhere else you can post music. It'll be your turn to help me name my next song title and choose the artwork for it soon!