Digging into the creative process, Byta speaks with artists, musicians, producers, DJs and anyone involved with music creation. A conversation about how they create, collaborate and share music. From studio setups to routines, and the first person to hear about the next 'big' work.
Where are you based?
Youth: South London.
Gaudi: Central London.
How, when and where did you start making music? Are you primarily a musician or a producer, or do something else?
Youth: My first single in 1978 was 'One of the lads' by 4 Be 2, John Lydon produced it. I stayed up late with the engineer Mark Lusadi and mixed up some dubs. I started out as a bass player, but I certainly now play many instruments and write, as well as play bass.
Gaudi: I approached music at the age of 7 studying classical piano for the following 12 years, this was in my native town Bologna, Italy. I started then my first experimental compositions with my industrial / electronica duo 'Paranoise', using a Moog synthesizer, Korg MS10, Roland tape echo, AceTone drum machine and distorted vocals. We released our single in 1981 and re-pressed it in 2021 on a 7in vinyl for its 40th anniversary. In the course of the years, I've specialized my studies in two main electronic instruments: Theremin and synthesizer. In the late 80s, I started my first approach to music production and progressed then and expanded my knowledge in the course of the following years.
Who would you consider some of your biggest influences when it comes to your "sound"?
Youth: Generally everything from Can to Funkadelic, via Led Zeppelin and Fela Kuti. My influences on the new 'Stratosphere' album I've done with Gaudi range from the Berlin techno scene to Deep house to some contemporary ambient, anything on Kompact Records, to King Tubby and Lee 'Scratch' Perry. We have a unique sound that fuses and blends many styles and genres, but essentially it's dancefloor dub.
Gaudi: The Residents, Erik Satie, D.A.F, Lee "Scratch" Perry and NEU are my main influences, but for this new album we also needed some different music flavours, including a solid dose of psychedelia and roots reggae, so we took elements from psytrance and adapted to a more organic texture, adding the hypnotic "dark feel" of techno and the echoed floaty atmosphere of dub!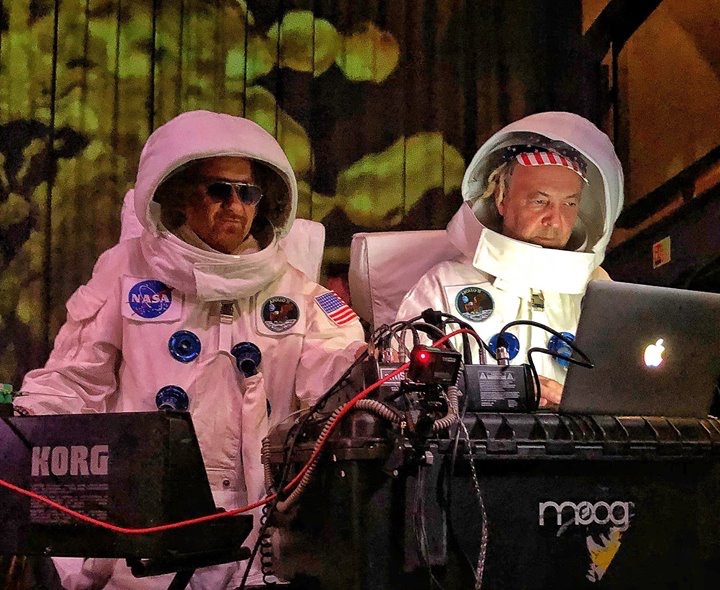 Explain your creative process. Do you have a routine?
Youth: Now let's try something weirder. The process is always different for the Youth and Gaudi stuff, and this is only our 2nd album together. It was created initially in lockdown, we did a lot of sharing files and adding to each other's ideas, and then we came together in person at my home studio in London to add more keys, theremin and layers.
Gaudi: My creative process goes hand-in-hand with my inspirations really, inspirations are pretty uncontrollable and unplanned, reflectively also my creative process does not have specific schemes to follow. For the album 'Stratosphere' and also for our previous one 'Astronaut Alchemists', everything unfolded extremely easily, because both our visions concerning the direction of these 2 albums were naturally sync'd. Youth and I have very similar taste in music, so most of the time we didn't even need to speak about what direction needed to be taken and not even discuss what to do, we sort of knew it, silently and very focused! This is what I call "synergy" between music brains. Sometimes it can happen, other times it doesn't. Youth and I are definitely on the same wavelength.
What is your "studio" setup?
Youth: Space Mountain is my state-of-the-art studio in Andalusia, and I have an amped-up home studio in south London. Both studios have tons of guitars amps and studio wizardry. My favourite bit of outboard is Eventide 3000. I love the MS20, it's the best filter I've ever heard, and I love all the old compressors we have, but mainly I'm into ideas more than gear.
Gaudi: Metatron Studio is where I operate from, my recording studio in central London. I use primarily analogue gear that helps me to achieve the warmth of sound I need in my productions: Soundcraft 32ch analogue desk, Tape echo Roland 501, Tape echo Korg stage, valve compressors, a vast collection of vintage synthesizers such as Arp 2600, Arp Odyssey, Korg MS20, Minimoog (the year 1974), Roland TR909, 808, TB303, Fender Rhodes 88, a series of different Theremins, all the range of Stylophones (as I am endorsed by DubReq, the company which makes them) and many effects racks. For my productions, I generally tend to use all outboards and use the computer primarily as a Music Director only (I'm on Logic X), for editing, coordinating arrangements, a few extra internal plugins to add extra colours here in there and – as Youth says here above, I'm also into fresh ideas more than gear.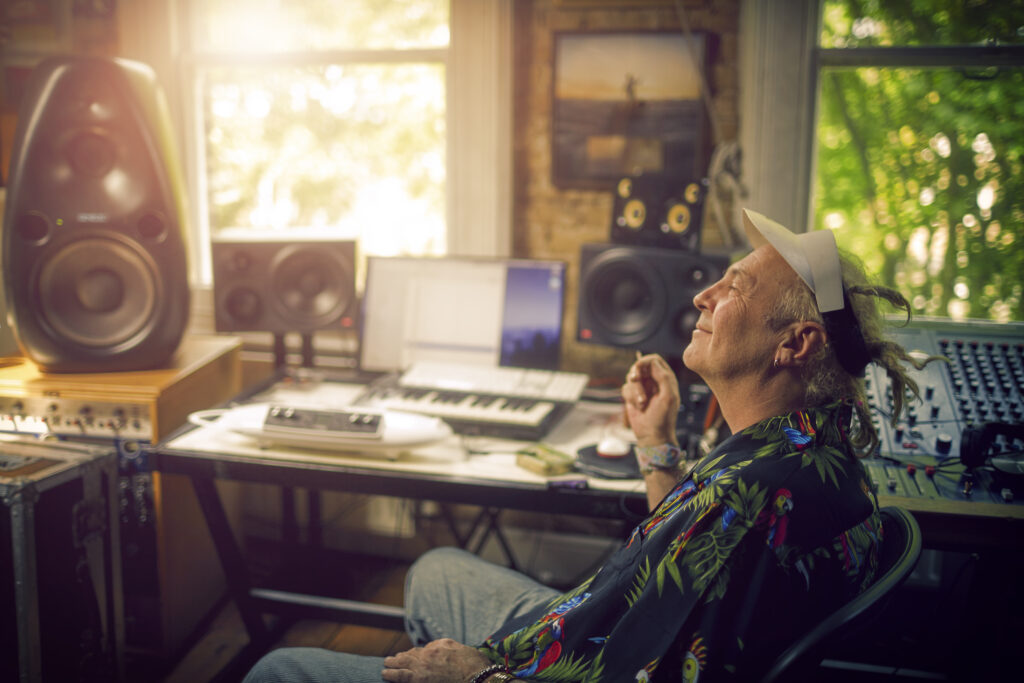 What is your process when working with other people? How is collaboration different in the studio vs working remotely?
Youth: The album was done both remotely at first, then together in London at my home studio meridian where
we mixed it. I liked the remote collaborations I did in lockdown. There are new solo albums imminent from Gina Birch, Laura Logic and Brix, which were all made remotely while I was in Spain and they were in London. As much as having assistants and engineers, which is a big part of my normal recording process, I loved doing it all on my own in lockdown, it felt totally liberating and since then I've started many more. Although I'm still working with many assistants, though sometimes not … Essentially I like people and get a buzz working with different people, I like the psychology involved with people and getting the best out of them.
Working with Gaudi gives me an amazing opportunity to play with many instruments and sounds…. We also use a lot of field recordings of nature … samples were edited and cut into percussive elements, but it's all rooted around the bass. I love playing guitar and programming beats and dropping keyboard parts to Gaudi. He is a keyboard genius whether it's piano or synth so he does most of that side of things, but we still mash it up and have fun …like two kids locked in the toy shop overnight!
Gaudi: Working remotely for this album 'Stratosphere' was absolutely smooth and free. In the first phase, Youth and I exchanged ideas, riffs, beats, and sketches, and then with our own time we individually developed everything into tracks. We exchanged stems in order to be more accurate on the arrangements and structures, then for the final process, we spent time together in the studio recording extra synths and re-recording some more complex theremin parts. Then pass them all to Michael Rendall for the final mix and mastering. For our previous collaborative album 'Astronaut Alchemists', Youth and I worked together in the studio, every session and every recording, as it was vital for us to know each other's compatibility and music flow, something that we've naturally consolidated and subsequently transformed in "remote work" for this new album.
At what point(s) are you comfortable letting other people hear what you are working on?
Youth: No problem no worries… turn it up!
Gaudi: It has happened a few times in the past that I played some work-in-progress productions, yes, but it's very rare and I'm extremely picky on who to play my unfinished material too.
Do you share your work in progress (streams or downloads)? Any technical frustrations?
Youth: There weren't any technical issues apart from that I had limited internet at my studio in Spain, so it was tricky receiving stems, but generally it was fine and I'd go through with the singer the lyrics and melodies with them on zoom and that worked well too. If I need to share my work in progress I wizz off an mp3.
Gaudi: Every time I work remotely on productions I regularly share stems yes, audio files and final mixes to have immediate feedback from clients etc. It's pretty common and usual doing so nowadays, you do it automatically, without thinking too much that only 2 decades ago all of this was science-fiction! I still feel gobsmacked every time I press the "send" button and know that in real time the file has been received and listened to straightaway and immediately replied with more files etc.. The new generation takes this process for granted, but really and truly I still find it completely revolutionary, yes I do indeed! Am I too old? Possible, but hey only 25 years ago each studio session should have been done together in the studio, with musicians playing together, no file-sharing, then for the final mix you go to the post office and send the DAT tape, and wait. Waiting nowadays seems to have become a word that no longer exists, a word that I however continue to consider and give great importance to, when you do not have everything straight away you increase the excitement and you wait for the reply or feedback or whatever, you have time to think, think and reflect, things that for the music I produced are VITAL.
The word "frustrations" used here above in the question doesn't associate with my production works or the music I compose, I do not want to associate these 2 words for principle, there are zero frustrations in my work process, if a file-sharing system for some reason doesn't work (happened in the past yes) the client simply waits a bit longer, or I wait for a bit longer. Not the end of the World is it? 😉
How do you know when a track/album is finished?
Youth: When it's done haha. There are a million ways to finish a track. Songs and productions are easy to start but very hard to finish. Knowing when to leave the party is an art and a skill we all have to learn… it becomes a sensibility after you've done it a few times. It's all about intentionality.
Gaudi: Being quite meticulous with my productions (sometimes even a bit too much to be entirely honest), I personally find it pretty difficult to be able to say "ok this track is finished!", the more I enter into microscopic details the more I realise that new micro-cosmos exists in production, new subtleties appear and new nuances surface, once I organise those miniature details, I naturally zoom-in a bit more to see wha gwan, and new layers appear, and so on…… Basically, in order to be able to say stop, I need to stop zooming, take a break of 1 or 2 days, and then listen all again with fresh ears! After all this process I usually feel clear enough to take a final decision.
How do you listen to the final mixes/mastered work?
Youth: I like to listen in the car… loud.
Gaudi: Same, I like to listen to my own mixes in the car, then from a pair of sh*tty small speakers, I keep in the studio exclusively for this reason. I like to compare these two different sources in order to have a more complete range of sound. For demos or other tracks that I receive, or for final masters NOT concerning my work, I listen from my Tannoy studio speakers, not because they're the most beautiful speakers in the World, but simply because I know them extremely well, pluses and minuses.
How important is pre-release security when sharing new work?
Youth: I'd say it still is important so as to create an impact. These days people throw up early developed ideas as they go along. You can do that sometimes but rarely. You still want an air of mystique about the work. Sometimes it's leaked early, but sometimes the music itself can't be contained and gets itself out there!
Gaudi: Unfortunately yes I did experience a leak of my unreleased productions, nothing related to file-sharing but due to theft I was the victim last November. A few safety-copy hard drives got stolen from my studio (together with other equipment), these contained unreleased productions and remixes I did for Dreadzone, Groove Armada, Horace Andy, Dub FX, Steel Pulse, African Head Charge, Lion D and Capleton… the worst hasn't happened thank God, but some masters have gone forever!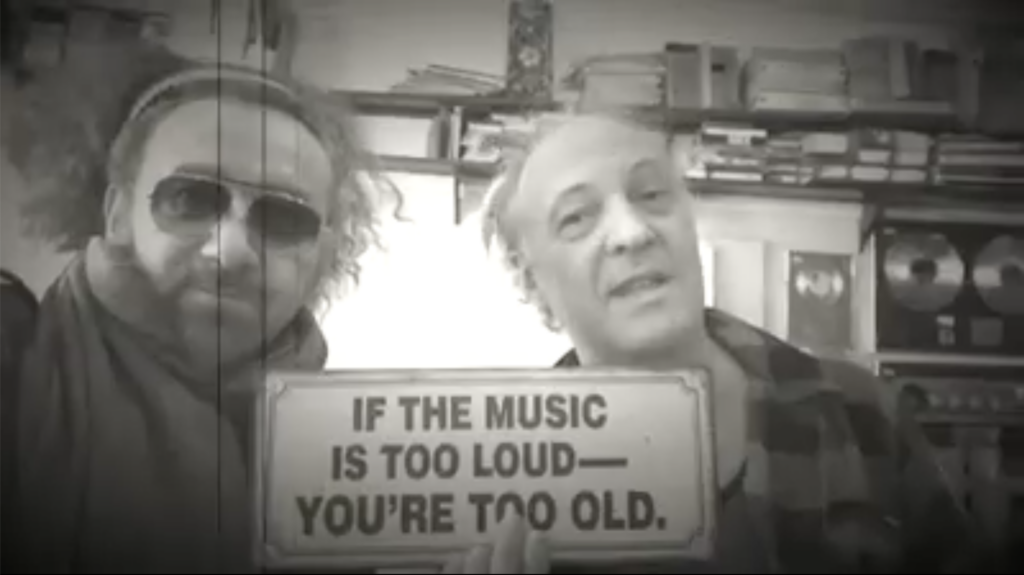 Who on your team gets to hear the final versions first and why, what formats do they each need?
Youth: My team are first, they are working on it. The 'Stratosphere' album features me on bass and guitars as well as samplers and keyboards, Gaudi on analogue synthesisers, pianos, theremin and assorted keyboards, with both of our engineering and programming, working to an intense schedule. Additional recording, engineering and programming were handled by my team of engineers, including Elliot Verrauex, Lore Young and Jake Storm, helmed by Michael Rendall, who also mixed and mastered the album.
Gaudi: My studio assistant Annie Gasiorowski – who helped with the recording of my parts on 'Stratosphere'- was the first one to listen to the final mastered album, and then I sent it to my manager Itay Berger. This is it really, nobody else heard it before the release of our first single 'Dropping The Pressure' last December 2021. My assistant Annie now works at Abbey Road Studios, I'm feeling really proud and happy for her. Go Annie go!
Outside of your inner circle who are the people that will need to hear the new tracks next?
Youth: The rest of our team, it's usually MP3s.
Gaudi: A few selected radio pluggers and music journalists in order to help the promotion when the product is out. I usually send WAVs.
Anything you are working on, anyone you are working with and want to share?
Youth: Lots of writing and producing. Working posthumously with Lee 'Scratch' Perry, as well as La Roux, plus some new songs on the Killing Joke in Dub Vol 3 album, doing some Allen Ginsberg mixing, RDF writing producing and of course the current Youth & Gaudi album 'Stratosphere', which is out now on Liquid Sound Design label here.
Gaudi: Producing the new album in dub for Steel Pulse, remixing Brian Ferry, producing African Head Charge's Bonjo Nyabinghi project (full album), just finished some recordings and co-writing for The Orb's new single, producing Don Letts' album, working on Creation Rebel and Ital Horns new albums for On-U Sound, producing the dub album 'Havana Meets Kingston IN DUB' (out in Dec), production and songwriting for reggae singer Awa Fall (new single 'I Wanna Understand' out in the winter), I teamed up with Alex Paterson of The Orb and produced an experimental full- album under the moniker of MANI TWO (first single 'Mind The Gap' out Sept 26), I collaborated on the 'Midnight Scorchers' the new album by Horace Andy, playing the piano, keyboards and Theremin, and of course the current Youth & Gaudi album 'Stratosphere' out now on Liquid Sound Design.