What does the future of music discovery look like in 2023 and beyond!
#HowWeListen Live: In Conversation with Mira Silver, Nikishe Bailey & Phil Loutsis took place on Wednesday, the 14th of December. 
The following transcript has been edited for length and clarity.
Our last #HowWeListen Live: In Conversation event of the year brings a top-drawer panel together. Hosted by Byta's Marc Brown, they will dissect the music ecosystem's recent past and what the future looks like. Where we are, still standing, after having circumnavigated the epidemic and what should we expect for 2023 and beyond? Three music ecosystem stars as panellists (Mira Silvers – FORT Agency, Phil Loutsis – AWAL, Nikisha Bailey – Nvak Collective). Each of our guests has a unique perspective. They will weigh in on where we are and where we might be headed when it comes to music.
In part one (below), Marc and the panellists chat about what exactly music discovery is. Plus, each guest explains how they find and develop music.
Marc Brown: Hello. This is our last #HowWeListen Live: In Conversation event of 2022. We thought it might be interesting to do something a little different. The #HowWeListen concept was born out of trying to make music discovery a little more transparent. We know that there is no silver bullet. So many of the people who make up the music ecosystem have their own unique way of discovering music. So for this chat, we brought together three different people, each working in different areas within the music industry. Let me, let them introduce themselves. Mira, do you want to go first?
Mira Silvers: My name is Mira and I head the FORT Agency. I'm also the head of another business called Invisible World. We're a female-driven, Brown-owned business. We primarily focus on multi-disciplinary artists in both the live space and management. I also sit on the board of MMF Canada in addition to other work.
Marc: Perfect. And where are you located?
Mira Silvers: I'm in Chicago right now!
Marc: I see, but I think you split your time between Canada & the U.S. right?
Mira Silvers: I do. I'm from Atlanta originally, and I live between Chicago and Montreal and do a lot of travel.
Marc: Phil, do you want to go next?
Phil Loutsis: Hello everyone! I'm currently in London, England and I'm the VP of the Community Support team for a company called AWAL. We focus on supporting indie artists and labels and helping them to develop an audience. I've been working for 10 years, and there's been a lot of changes since I've been here. That said, my heart does really lie with indie artists and helping them grow and develop their careers.
Marc: Perfect, thank you. Nikisha, you're next!
Nikisha Bailey: Hi everyone, I'm Nikisha Bailey. I'm the GM for Nvak Collective which is a management company and record label. We focus on artists from emerging markets as well as non-binary and women artists. We also have a Web3 sector, where we focus on teaching artists how to leverage themselves in the Web3 space. I also sit on the board for Women in Music. Plus, I'm the Vice President of the New York chapter of the Recording Academy.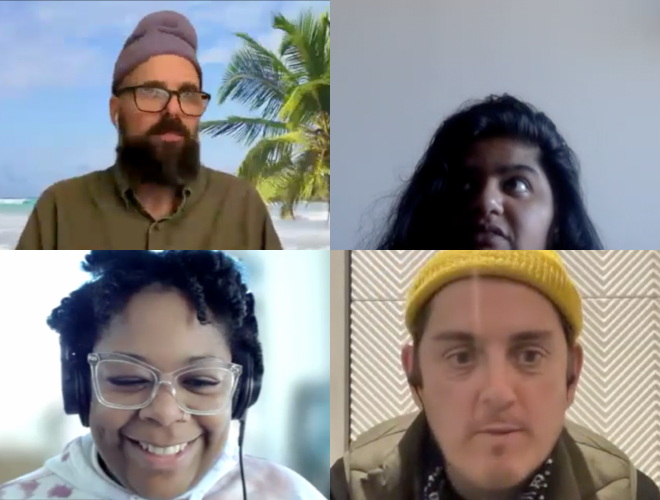 Marc: Brilliant! So we all had a pre-chat before this official conversation about music discovery. Halfway through, Mira made a good point that we should actually define what music discovery is for people.
Mira Silvers: Yeah! It's such a broad term so I think it's important to contextualize and anchor in that definition for people.
Marc: How would you define it?
Mira Silvers: For us, we look at music discovery from the very beginning of the A&R process. We continue to look at it in the way people consume music digitally and live. It also spins off into how people are discovering music through TV series, movies or syncs. I also have a colleague who brought a bunch of artists to my attention through TikTok.
Marc: Nikisha, what does music discovery bring to your mind?
Nikisha Bailey: If I think about it from a creative perspective, it's about how you reach your audience. As well as what tools you use to grow your fan base. On the executive side, it's about where you find music and what tools you use to discover artists.
Marc: When I thought about this panel, I had not really considered the A&R side. It is interesting that you brought it up. Phil, how do you define music discovery?
Phil Loutsis: For us at AWAL, I think of it as audience development. I'm thinking about how to engage audiences on the platform that it makes sense for my artist to be on. I'm taking it from a pretty specific angle, but that's the go-to for me. It might be TikTok, or maybe getting editorial support from Spotify or Instagram. I tend to see it from quite a single-minded digital music focus versus the live music side.
Mark Brown: Right. When you're starting out, you're looking to build a team and get attention and interest wherever you can. If you do find a good label, they're going to help you reach a wider audience. Mira, you mentioned that right away. Do you have a process for how you discover things you want to work with?
Mira Silvers: Absolutely. I constantly listen to music. We dig through lots of music, so SoundCloud was definitely a great tool at the beginning of my career, and the same with MySpace. I regularly create playlists of songs I like, so my team and I will funnel through those playlists and look at the artists as individuals. We operate with the mentality of music first and foremost. I also look at niche playlists from community members who really know their markets. From there, we go through our A&R process of exploring these artists, what their teams look like and whether they're ready for the live space, among other things.
Marc: So you're basically saying learning about music is a very social process as you talk about it as a team and look at other people's playlists. Phil, you were saying that you don't think too much about A&R. Do you find that music discovery is also social for you?
Phil Loutsis: Yeah. I think about it in a pretty straightforward way. For example, I used to live in Sheffield and there was a really cool underground scene there. The way that you'd bring that onto Spotify is that you'd create a local playlist and call it "Sheffield Underground Rock" for example and that would be a way of generating a discovery platform. Through that, you can move a scene from the live space to the digital space. So that's why I'm talking about it in a practical, kind of single-minded way. As an indie artist, I like Spotify because of "Spotify For Artists". It helps you think about how you can create a platform for discovery for certain scenes.
Marc: Nikisha, you run your own label now but you also worked in a major label before so you would have seen music discovery from quite a different point of view. What's your take on this?
Nikisha Bailey: Yeah. I spent a lot of time working for a major label. Personally, I still discover music in a social way so I listen to friends' playlists or let my YouTube algorithm play. At the major level, it is still based on what people send you. So down to networking and connections.
There are also tools that help you find out what's trending. We used Chartmetric a lot. It very much is a numbers game, but there are still artist showcases mixed in. It depends on what kind of A&R types are looking for you. There are some that want the algorithm and what's trending path, and there are also people who want true artist development so they'll seek out artists who don't have a lot of views but who have the potential. What drew me to transition to Nvac is that they go into emerging markets. They run writing camps in places like Armenia or Lebanon so we get to see what the talent is there.
Marc: Right, but if we're thinking about artists who make a record without any support and they want to start encouraging other people to hear about it, it seems like it comes down to having a social network and also seeking out opportunities. Do these same frameworks apply when trying to build an artist? Is the goal still to create word of mouth? Mira, what do you think?
Mira Silvers: It depends. I think for people making music who are specifically trying to fall into the word-of-mouth category, then it really depends on who they're working with. That can mean a specific producer, songwriter or manager that has relationships with stakeholders in the industry. So it would be one of those things where information would spread when a manager or producer is working with a certain artist and people would check it out because of that. That's where my mind goes when I hear word of mouth.
Marc: Does that word of mouth still scale when it comes to creating an audience for those artists?
Mira Silvers: Not really. From the live side, scaling to me is more about entering the realm of the industry and beginning to build your team. It becomes more about putting in the leg work to develop "a fan a day" essentially whether that's digitally or in real life. You have to make sure you're strategic in your live plays and that it's part of your development and it's all funnelling back into whatever you're doing on the recording side. It's about building the layers one step at a time.
Marc: Phil, do you work mostly with artists who don't have managers or have very small teams?
Phil Loutsis: I work with loads of projects that are like that. Not necessarily the majority, but there are plenty. What you've said is really interesting. Scaling and word of mouth can come down to hashtags in the digital space. Take the artist Girl In Red, for example, there was this super powerful hashtag that did the rounds around her first album. It had a huge social impact. Basically, it was word of mouth, people were talking about it in the street. It was very exciting and it gave the album huge cultural importance and relevance. These digital manifestations are sort of the same concept as word of mouth. It can be hugely powerful when it's a hashtag. However, if it comes up on your TikTok only a small percentage of people will actually move from there to Spotify and become listeners.
Marc: I think that's very interesting. The fact that there can be word of mouth online but that it's actually quite watered down. Nikisha, how do you view word of mouth? Is it something that can still happen for an artist trying to create an audience?
Nikisha Bailey: It happens, but it's definitely few and far between. I went to a show last week in Philadelphia to see a local band. It was only $20 to get in, so I wasn't expecting much. I walked in and there were 100 people in the room which really excited me. If a band is able to bring in an audience of that size on a random night, it means they have at least that many engaged fans. When they began to play, everyone knew all of the words. It got me thinking about how you would turn those 100 people into 500 people, and so on.
Word of mouth is harder to do. However, if you're able to capture a small audience, you need to think about what you can do to work those people down the marketing funnel. How do you engage and eventually advocate for yourself and organically grow your audience? That also goes for digital, thinking about what are you doing to engage and grow your following.
Marc: The marketing funnel! It can be a classic music business thing to be embarrassed about actually using those technical marketing terms. I appreciate you mentioning it!
Nikisha Bailey: I know! I didn't really think about it until I became an entrepreneur. As a creative, you really do need to see yourself that way and use those business tools, which is not the fun part!