Where are you based?
I currently move around a lot but Vancouver officially, though you will often also find me in California.
Where do you work? What do you do?
Running Envision Records is my latest job/project. It is the new label side of Envision Management & Production out of Montreal. We have some exciting projects coming up in the next year. Stay tuned!

I also run my own management company, Mar On Music, and manage Partner, Tallies, Kali Horse and poolblood.

I am also a booking agent at Atomic Music Group and book Partner and Rich Aucoin.

And you will also find me weekly playing new music on CHUO 89.1 FM in Ottawa and CHMA 106.9FM in Sackville NB. I have a radio show called Mar On Music.
What are you listening to?
I am ALWAYS listening to the newest music because my music listening consumption is mostly around programming my radio show. This week I just discovered Cones. I'm loving Michael Rault's new album. Das Beat is a new Canadian/German project out of Berlin and of course, the new single from Partner and album from Tallies!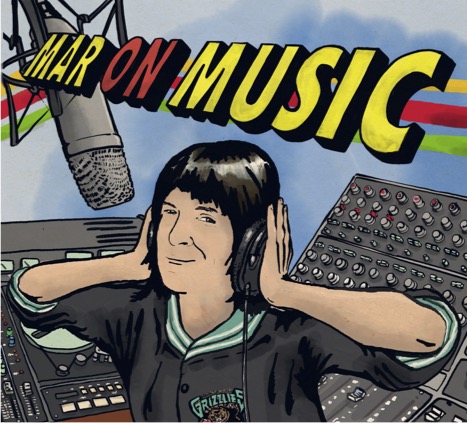 How do you discover new music?
Having worked as a radio person / journalist for a VERY long time, I am on a million PR email blasts / servicing from radio pluggers so I realize my music discovery is very different from most people. I am the person who tells other people about new music, that's been my passion my whole life, to find new/amazing tunes and share them with people, that's why I still do a college radio show after ALL these years of working professionally in radio as well (CBC and BBC), I just can't stop sharing new music.
My number one discovery tool is my email inbox. I sift through 100s of new tracks a week and find the best ones to share on the radio.
Other than my email inbox, I do find new music from social media, friends posting / random sponsored posts (sometimes!), also the auto-play feature on SoundCloud (and even YouTube sometimes) after I walk away from my computer having clicked on a link, I have found some amazing artists randomly by whatever came next.
The one music outlet I do use to discover new CANADIAN artists is Exclaim. Exclaim! has been Canada's free music outlet (monthly magazine and now website as well) that really has all of Canada's independent music covered. It's a treasure trove of information.
What formats do you usually listen to? LP, CD, Cassette, Digital, Streaming Services? Why?
Honestly digital as all my physical music is in storage as I'm living between places. I have a PSA on my twitter to NEVER send me CDs. I hate owning things because I have moved countries and continents a few times in my life. I do love my record collection and can't wait to get it out of storage and be able to put a record on through my stereo system which I bought when I was 15 (in the 1990s!) and it still works. I even still have my dual cassette player which I bought so I could make mixtapes. So I will listen to cassettes too, though now I realize how terrible the audio quality is!!! CDs though… I don't have a CD player attached to the stereo and I had to buy an external player for my laptop, but mostly because I wanted to digitize some VHS to DVDs and then rip them into my computer! I am so NOT into CDs.
I don't use streaming services. I have a free Spotify account which I essentially use to check the artist's accounts that I manage. I listen to music 99% of the time on mp3. I am old and though I hate owning physical products, I like to own the file, I want to be able to listen on my terms whenever I want without data/WiFi and I need mp3 files for my radio show.
"I listen to music 99% of the time on mp3. I am old and though I hate owning physical products, I like to own the file, I want to be able to listen on my terms whenever I want without data/WiFi and I also need mp3 files for my radio show."
Where do you do most of your music listening?
I listen to music at home as I work from home and I love listening to music when I solo hike/walk. I listen just off my laptop/phone/iPod touch. When I get my stuff out of storage I have a great amp and speaker system and I plug my laptop through that, also hooked up is a turntable, a dual cassette player and a radio.
How do you find and listen to pre-release music?
I'm sent all this stuff because I'm a radio host / journalist so my email inbox. I get 100s of emails a week sending me albums and singles often with private streams.
I also pitch music to be covered and use private SoundCloud links or unlisted YouTube videos. For the files I use Google Drive.
What are your frustrations with listening to music digitally? Any benefits?
Laptop speakers really vary in quality. I was using a Macbook Pro from 2011 for 10 years and I couldn't even watch a TV show without plugging in external speakers, the sound was SO bad. Ever since getting a newer laptop in 2021, it's been a game changer, the speakers are almost as good as a traditional stereo!
I tell all bands / publicists etc to always send a stream with an option to download! As mentioned above, I need the actual 320 mp3 file to program my radio show but I also don't want to download excessive amounts of music just to hear it. My favourite music sharing sources have the option to stream and download individual songs rather than an entire album. Also ALWAYS have the option for 320 mp3 and wav, I hate wav files personally, they're waaaaay too big and take up way too much space on my computer, 320 mp3 is broadcast quality, it's fine.
How do you keep track of everything you are listening to?
iTunes playlists, email inbox folders/labels.
Do you tip other people off to new music? How?
My radio show, which I archive on Mixcloud – https://www.mixcloud.com/marsellars/
And social media, texts and just hanging out in real life and being like "let me play you this song!!!"
Anything you want to "promote"?
Tallies just released their second album Patina, if you like dream pop this is for you! Out on Bella Union / Kanine Records / Hand Drawn Dracula. https://tallies.bandcamp.com/album/patina
Partner have a brand new single "Fear That Closes the Heart" out on You've Changed Records. Cartel Madras directed the video – https://youtu.be/Ao22hgdK_6k
poolblood's latest single "twinkie" out on Next Door Records – https://youtu.be/OpMG_rQLoTQ
So much other stuff but it's not out yet so I must keep tight lipped til the future…. Follow Envision Records to keep posted.