Byta vs.
Generic File Services
Everyone, from the smallest of artists to the largest record companies uses Generic file services to privately share their music.
Services such as Dropbox, Box and WeTransfer are well designed products but weren't specifically built for music. As such they suffer from poor streaming capabilities and lack the features that artists and their teams require.
Byta is designed specifically for audio files, offering everyone the ability to send & receive streams and downloads in a clean and efficient way.
Compare our features to Dropbox, Box and WeTransfer then Sign Up to Byta and see for yourself.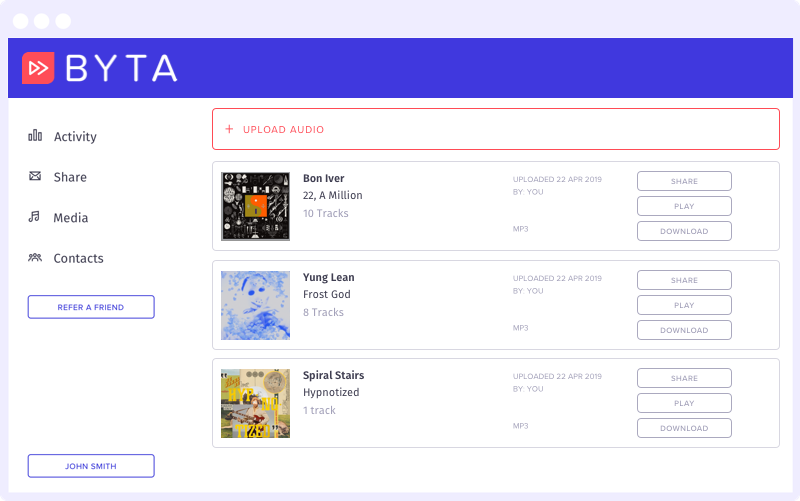 Compare Byta's Features
Go to our desktop site to view a full breakdown of all features
Upload multiple file formats
Read/write audio file metadata
Download multiple file formats
Send watermarked and non watermarked audio
Share any combination of singles and/or albums
Streaming capability

Limited

Limited

Limited
Advanced share features (set expiry, number of downloads)
Track recipient streams & downloads
Cheapest Paid Account

$15.00

$12.00

$10.00

$12.00
It looks like you are using
Internet Explorer
Byta no longer supports updates on Internet Explorer. For the best experience using our service we recommend using a more globally supported browser such as Chrome or Edge.