Byta vs.
Watermarked Music Promotion Services
All musicians and their teams use Generic File Services for privately sharing their music. Larger music companies - record labels, distributors and managers also need added security when privately sharing new and unreleased music.
For years "Music Promotion" or "Watermark" services have been used to privately share streams and downloads to media and other close contacts. These services continue to receive criticism for being clunky and poorly designed.
Byta is designed specifically for audio files, offering everyone the ability to send & receive streams and downloads in a clean and efficient way.
Compare our features to Promojukebox, Haulix and PlayMPE then sign up to Byta and see for yourself.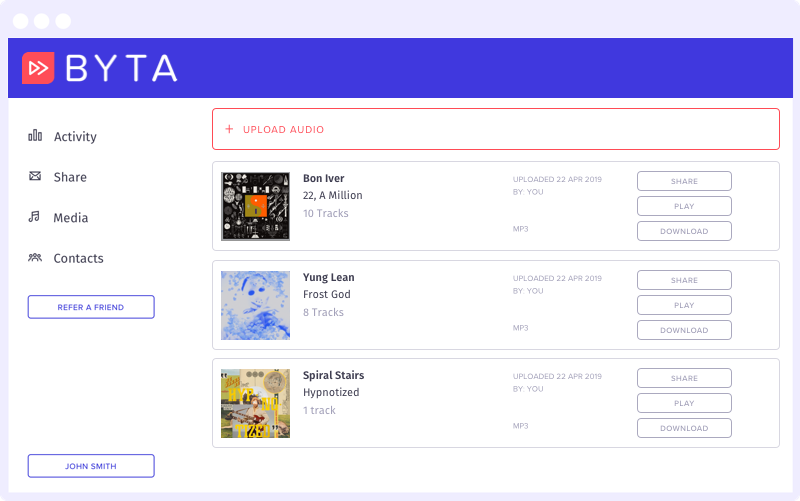 Compare Byta's Features
Go to our desktop site to view a full breakdown of all features
Upload multiple file formats

Limited

Limited

Limited
Read/write audio file metadata

Limited
Auto-updating Links (re-upload tracks and edit metadata)
Share any combination of singles and/or albums

Limited
Share in an alternate file format

Limited

Limited

Limited
Share with or without Watermark
Advanced share features (set expiry, number of downloads)
Track recipient streams and downloads
Upload and detect watermark in app
Send & receive from same personal account
Cheapest Paid Account

$15.00

$34.00

$19.00

??
It looks like you are using
Internet Explorer
Byta no longer supports updates on Internet Explorer. For the best experience using our service we recommend using a more globally supported browser such as Chrome or Edge.